Hide away in a Hobbit house built for humans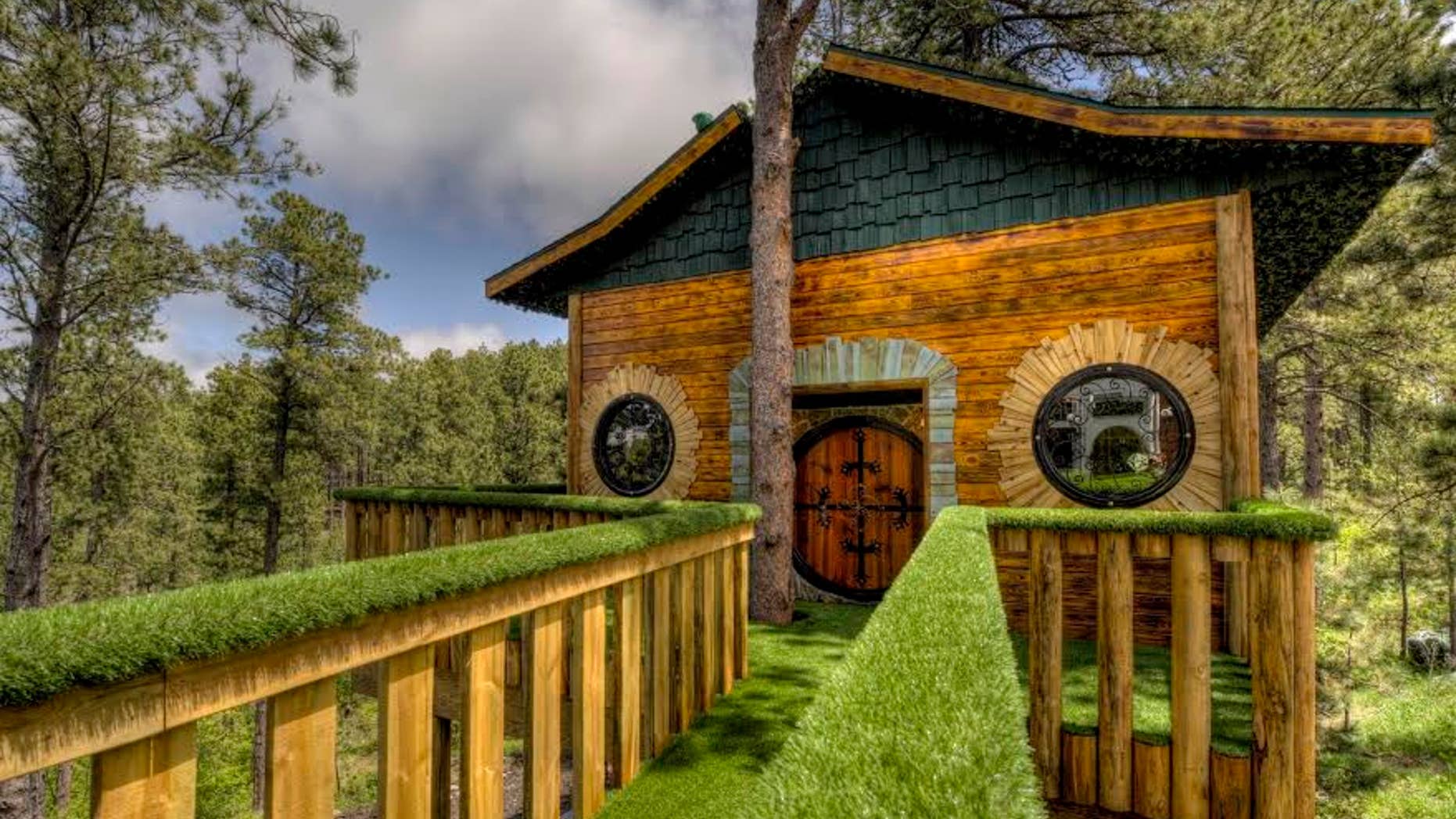 Would-be hobbits, wizards, elves and human friends no longer have to travel to New Zealand to get a taste of the "Lord of the Rings" lifestyle.
Gordon Mack of Black Hills, South Dakota, has re-imagined all the charms of Bilbo Baggins' Shire house in a tree house home that can sleep up to five people.
The tree house connects to a larger property known as "Chateau de Soleil," which comfortably sleeps up to six people and  features a hot tub, three decks, three and a half bathrooms, and a Pac-Man-themed game room with arcade machines.
But with limited running water, two full beds and a large television, we're guessing guests have more fun holing up in the smaller tree house that rises16 feet above ground. The entire property is available to rent through HomeAway and goes for $645 a night.
Mack spent 10 months and $70,000 building the Hobbit-inspired property with a friend. He's thrilled that so many guests have enjoyed staying at his unique home.

FoxNews.com: When was the house built?
Gordon Mack: The house was built in 2005 and became the Chateau de Soleil in 2012.
FoxNews.com: Why a Hobbit house? Are you a big "Lord of the Rings" fan?
GM: I built the tree house because I have always been fascinated with round doors.  LOTR was not even a part of the design until half way through the build.  Tony [Mack's friend] thought that bringing a theme to the Hobbit Tree House would be a fun thing that kids and adults could relate to.
FoxNews.com: Can people actually sleep in the treehouse? 
GM: The tree house will sleep four to five people.  There is a loft with two full size beds and even adults as young as 70 years old have spent the night in the tree house with their grandchildren.
FoxNews.com: What's the longest stay ever booked at Chateau?
GM: The longest a guest has stayed with us would be three weeks.
FoxNews:com: Aside from the beautiful round doorway, what other Tolkien secrets can be found throughout the property?
GM: Tolkien items you can find around the house include the weaponry used in "LOTR," and Gandalf's pipe.  I custom built a display tower with the Ever Watching Eye of Sauron with Sauron's helm, Sauron's gauntlet with the golden ring and a backlit map of Middle Earth.  The "Ring Verse" hangs above the fireplace and  there is the "Speak friend and enter" sign written in Elfish above the door that leads you down the walkway to the Hobbit House.
FoxNews.com: Any fun guest responses?
GM: We have gotten an overwhelmingly positive responses from most, with one comment stating "It was better than Disneyland!"  People are just amazed at the detail in the house.  Many are already planning to come back with their families.  With the tree house being completed and people discovering it, we know this will become a very popular place to stay.