Hard Rock to reignite 'Music Row' with first New York City hotel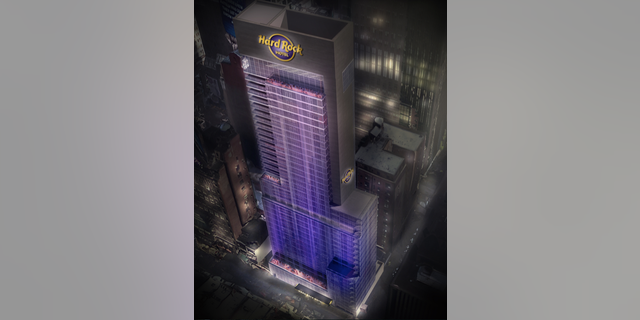 NEWYou can now listen to Fox News articles!
Hard Rock International is expanding its Big Apple presence with a new flagship hotel set to rise in a block of Times Square previously known as "Music Row."
The flagship hotel will be just four blocks from the city's Hard Rock Café, which opened in 2006.
In a press conference Monday, Hamish Dodds, chief executive officer at Hard Rock International said the Hard Rock brand is shifting focus away from its cafes in the U.S. and looking to expand upon its hotel and casino empire domestically.
"We're interested in iconic destinations, we want to focus on really great places," said Dodd. "We've been trying to get into New York for a long, long time."
Hard Rock currently operates in entertainment and dining venues in 68 countries including 162 cafes, 23 hotels and 11
casinos.
New York's Hard Rock Hotel will feature 445-rooms and plenty of splashy amenities including an underground speakeasy, a rooftop lounge for live music events and deejays (which Hard Rock officials say will be designed to appeal to both New York City locals and out of town guests), a signature spa and gym facility and plenty of iconic music memoriabia throughout public spaces and hotel rooms.
"The memorabilia will showcase both contemporary artists who call New York home, as well as iconic musicians in key moments in New York City music history," said Dodds. "We have over 80,000 pieces so I think we will find a few that fit in this property."
The area between Avenue of the Americas and Seventh Avenue on 48th Street in Manhattan where the new hotel will be built was previously dubbed Music Row for its numerous guitar sellers, musical equipment repair shops and studios frequented by rock legends, such as Jimi Hendrix, Eric Clapton and the Stones, as well as aspiring artists.
In addition to the usual hotel amenities like room service, guests can also enjoy Hard Rock's Sound of Your Stay music program, which features Fender guitar and DJ-equipment rental delivered right to your suite.
The hotel will also feature a new restaurant-- but won't be closing down the Times Square Café just a few blocks away.
Hard Rock's New York City hotel is slated to open in the spring of 2019.