Guest goes overboard on P&O cruise: It was 'worst thing I've seen on a cruise,' says passenger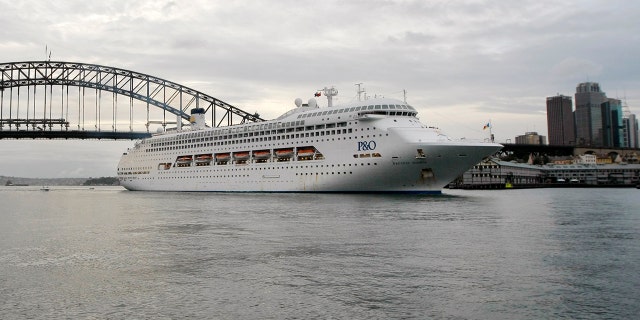 A horrified P&O Cruises passenger speaking about a woman who went overboard on Thursday claims neither a rogue wave nor a listing ship caused her death.
The Pacific Dawn was in the middle of a week-long cruise of the Pacific islands when, at approximately 4 p.m. on Thursday, a crew member spotted a female passenger go over the side of the ship near the Pacific archipelago of New Caledonia, the Australian Broadcasting Corporation reported.
MSC CRUISE SMASHES INTO DOCK UPON ARRIVAL IN HONDURAS
A spokesman for the cruise line told the outlet that a "person overboard" response was sent to the bridge crew, who immediately reversed course to search for the passenger. Life preservers were also thrown in the woman's direction, per News.com.au.
"[It was] by far the worst thing I've seen happen on a cruise," said a fellow passenger identified as Ms. An by the Australian Associated Press (AAP).
Ms. An also refuted any notion that the ship was listing at the time the woman went overboard, and said she was "unaware as to how [the passenger] fell."
"The rails are all chest high on me and I'm 5-foot-4," added An.
Previous reports also suggested the woman was suffering from sea sickness and had been vomiting over the side, but a representative for P&O said there was "nothing to suggest anything of this kind," according to the AAP.
PREGNANT WOMAN UPSET WITH DISNEY CRUISE LINE AFTER FAMILY ESCORTED OUT BY ARMED OFFICER
The Pacific Dawn continued search and rescue efforts throughout Thursday night and into Friday morning, with the search officially called off at 7:45 a.m., after medical professionals deemed it "not possible" that she could have survived.
The captain later informed guests of the decision to continue on with the cruise.
"I have an update on our search and rescue mission overnight for one of our guests that fell over the side yesterday afternoon. It is with a very heavy heart that I need to let you know that we have been unable to locate our guest."
The captain added that weather conditions made the search "extremely challenging."
"Our thoughts and prayers are with the guest and her family at this time," said P&O in a statement obtained by Fox News.
FOLLOW US ON FACEBOOK FOR MORE FOX LIFESTYLE NEWS
Ms. An further said the crew handled the unfortunate situation very well, and asked guests to respect the privacy of the victim's family.
The Sydney Morning Herald added that the woman has since been identified as a 47-year-old woman from Brisbane.
The Pacific Dawn is expected to return to Brisbane on Sunday morning.