Florida doctor has bizarre airport meltdown to 'prove a point' about police use of force: 'If I was a black person, I'd be terrified'
One Florida man recently threw fit at the American Airlines ticket counter at Orlando International Airport after staffers summoned police for his "erratic" behavior ahead of his scheduled flight.
After police arrived on the scene, the doctor, 59, staged a meltdown that he later claimed was to "prove a point" about police use of force and said that "if I was a black person, I'd be terrified."
On August 16, Jeffrey Epstein arrived at the ticket counter at 6 a.m. to check in for his 6:24 a.m. flight to Philadelphia, a rep for American Airlines confirmed to Fox News.
WARNING: Video contains expletive language.
Set to be rebooked for the next available flight, Epstein became "irate" at the airline staffers as well as at "other passengers and children in the area," the spokesperson said, and they summoned law enforcement.
UNITED AIRLINES PLANES COLLIDE ON THE GROUND AT CHICAGO O'HARE AIRPORT
When police arrived on the scene, the Lakeland man began to scream and foam at the mouth, Fox 35 Orlando reports, and went off on the officers in an expletive-laden meltdown.
"This guy's trying to provoke me. Do you have training, genius?" Epstein taunts an officer in footage captured by a bystander. "There's no alcohol, you want to test me? Want me to count backwards?" he asks, as he throws up his arms.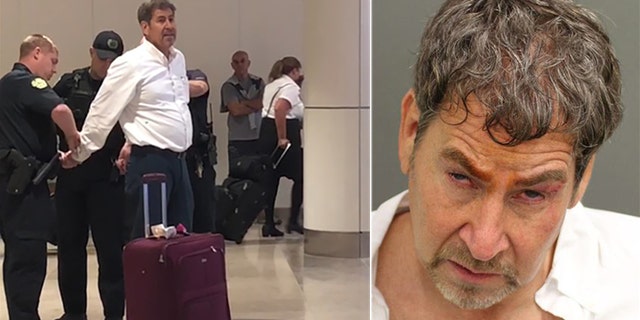 "Come arrest me," he chides, as police move in. "They're arresting me. They're arresting me. They're really de-escalating things," he yells, as he throws himself onto the ground, brining three law enforcement officials down with him.
"Oh my god I can't believe they are doing this," Epstein exclaims as he is handcuffed, as airport travelers watch the scene confusion. He continued shouting that he was ""not resisting, you are treating me like a f---ing black person!"
The man later charged with battery, resisting arrest, trespassing, disorderly conduct and possession of marijuana less than 20 grams, NBC News reports. Since returning home after bonding out of jail on bond, he told WESH 2 news that he staged the scene to "prove a point."
FOLLOW US ON FACEBOOK FOR MORE FOX LIFESTYLE NEWS
"If you're going to do this to a white doctor, who's 59-years-old, for doing nothing, then why would black people trust you?" he said.
"I'm a conservative Republican, I'm a Trump guy. But until the police fix this problem, I don't blame black people for being upset when they get arrested," he told the outlet.
He also shared similar sentiments with Fox 35.
"I figured a white guy getting arrested at an airport might get some attention to these black people who I think are legitimately concerned. If I was a black person, I'd be terrified," Epstein said.
He says that he hoped the stunt could teach the carrier a lesson in customer service.
"I was no danger. I was being loud because I wanted everyone to see. I wanted everything to be out in the open. Big companies have to take care of their customers, and when they call the cops in, they got to deescalate, not escalate," he said.
Representatives for Orlando International Airport did not immediately return Fox News' request for additional comment on the story.