Ferris wheel catches fire at new dinosaur theme park in Bangkok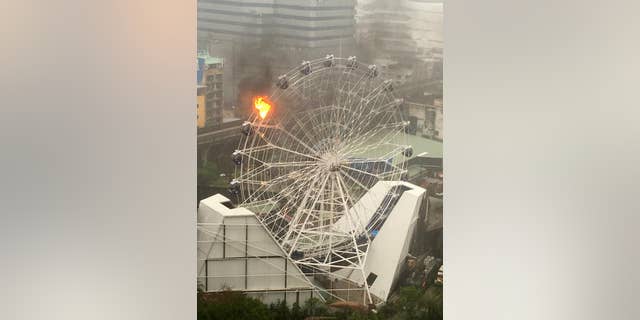 Is this how the dinosaurs went extinct?
On Saturday, the ferris wheel at a newly opened dinosaur theme park in Bangkok caught fire, but at the time of the blaze no one was riding the attraction and no injured were reported, according to park officials.
The fire broke out following an afternoon thunderstorm in the Thai capital, says the fire and rescue department of the Bangkok Metropolitan Administration.
"At the time of the incident, no one was on the ferris wheel," the park said in a statement on its Facebook page. "As standard protocol, we stopped all operations of the Dino Eye before the rain, which is one of our safety measures for Dinosaur Planet."
Officials are still investigating the cause of the fire but they suspect that an electrical short-circuit was the problem, according to the Bangkok Post. The Dino Eye is one of the amusement park's central attractions and rises five stories in the air.

Photographs posted on social media showed fire rising from one of the capsules toward the top of the ferris wheel, as black smoke billowed up. Video clips showed visitors fleeing the park after the fire and the ride has been temporarily closed following the fire.
Dinosaur Planet, which opened March 25, has been a popular attraction with residents and tourists.
The Associated Press contributed to this report.