Family claims Delta prioritized cats over allergic passenger: 'That's appalling to me'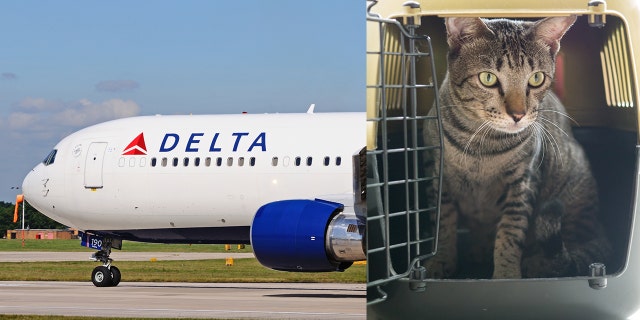 A family is calling out Delta Airlines for allegedly prioritizing cats over a passenger with a severe allergy.
Jackie Reckline was flying with her husband and daughter from Atlanta to Oklahoma City when they saw two pet carriers on board.
Reckline's husband reportedly has a severe cat allergy, so she alerted the flight attendants to the situation.
"My husband will go into anaphylactic shock in the air. It was almost a three-hour flight. He can't stay on board if the cats are going to be on board," she told 11Alive.
UNITED AIRLINES FLIGHT MAKES U-TURN BECAUSE AIRCRAFT WAS 'TOO LARGE'
The carriers apparently didn't fit under the seats, so Delta crew members made space for them in the front storage closet, which Reckline said was close to where they were sitting.
When her husband notified the flight attendants that he wouldn't be able to fly with the animals on board, Reckline claims they made a joke about it over the intercom.
"Joining us tonight are Atlanta-based flight attendants and Milo and Roxy... and then chuckles," she said they announced.
Reckline and her daughter remained on the flight, but her husband had to wait for a different one. While the airline couldn't get him a flight out that night, they booked one for him the next morning and paid for his hotel accommodations.
"You chose cats over a human life, and that's appalling to me," Reckline said.
A spokesperson for the airline said passengers are encouraged to let the airline know ahead of time if they have any serious allergies, which should be listed in the "special request" section when they book.
The family was also refunded a portion of their tickets and given additional monetary compensation as an apology, according to 11Alive.
The spokesperson released the following statement to Fox News: "The comfort and safety of every customer who flies Delta is our top priority and we work hard to ensure those with allergies are well taken care of. We have reached out directly to this customer to better understand his and his family's experience and apologize for the inconvenience this situation may have caused."
FOLLOW US ON FACEBOOK FOR MORE FOX LIFESTYLE NEWS
Cat allergies are among the most common, with an estimated 12 percent of Americans allergic to the animals, according to Medical News Today. While symptoms typically include mild respiratory problems or rashes on the body when a person comes into contact with the allergen, rarely people can develop a more severe reaction of anaphylaxis, which can be life-threatening.