United Airlines flight makes U-turn because aircraft was 'too large'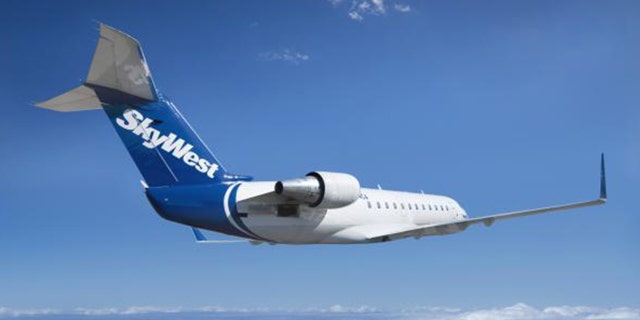 A United Airlines flight en route to Chattanooga, Tenn., last week made a U-turn midflight — not because of any bizarre passenger antics this time, but because the plane was "too large" to land at its destination airport, as one passenger summed up.
A last-minute aircraft swap due to a mechanical issue in Chicago O'Hare International Airport put passengers of SkyWest flight 5277 on a 76-seater Embraer 175. The airport in Chattanooga, the pilot explained on the intercom, doesn't have the logistics to assist with ground operational requirements for that type of aircraft.
Passenger Vince Fallon told USA Today the pilot's announcement was met with a "collective grumble" from the 50 passengers on board.
Reps for SkyWest confirmed to Fox News that the plane was a SkyWest aircraft operating as United Express.
INTOXICATED PASSENGER AT ORLANDO AIRPORT FILMED FIGHTING WITH JETBLUE STAFF, RESISTING POLICE
Landing in Chicago at 4:29 p.m., passengers were met with snacks, water and a new flight scheduled to leave within the hour.
Two text messages were also sent to the passengers explaining the situation, the International Business Times reported. One of them said the flight was "delayed because of unforeseen circumstances. This is an unusual situation and we're working hard to solve it."
"We're sorry for returning to Chicago. The airport in Chattanooga is unable to assist with ground operational requirements for your current aircraft type. We assigned your flight a new plane," read a subsequent text message that affected travelers received.
According to the outlet, the passengers proceeded to board another plane, which eventually made it to Chattanooga around 8:30 p.m. – more than three hours after the original estimated arrival time. The passengers received refunds for the flight, and a $300 flight voucher or air miles as compensation.
Representatives for SkyWest return Fox News' request for comment with the following statement:
FOLLOW US ON FACEBOOK FOR MORE FOX LIFESTYLE NEWS
"On October 16, SkyWest flight 5277 operating as United Express from Chicago to Chattanooga, Tennessee returned to Chicago to change aircraft. The flight landed safely in Chicago, departed for Chattanooga on a different aircraft and landed safely in Chattanooga," a spokesperson said. "We apologized to our passengers for the inconvenience and worked with our partner, United, to provide compensation."