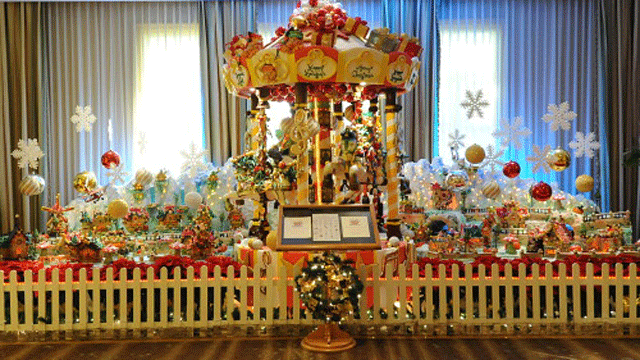 Gingerbread is not just for cookies anymore. Hotels and tourist attractions nationwide stage tremendous, spicy-sweet-smelling, candy-studded displays to entice holiday crowds.
Gingerbread-making and decorating classes and teas take place at some travel venues, while others host competitions to test the creativity and engineering abilities of professional bakers and hobbyists throughout the U.S.
Here are of the top places to sample all things gingerbread this holiday season.
Asheville, N.C.
Asheville has been vying for the title of Gingerbread Capital since 1993, when it first began hosting the National Gingerbread House Competition.
The Grove Park Inn Resort & Spa invented the event, which brings tens of thousands of people to the resort during the six weeks (Nov. 16, 2011, to Jan. 1, 2012) the houses are on display.
The public is invited to view the displays Sunday through Thursday from 10 a.m. to 10 p.m.
"We now receive hundreds of entries from across the country, and it has blossomed into a true holiday tradition," said Ronald E. Morin, vice-president and managing director.
This year, The Grove "Bark" Inn Gingerbread Doghouse Competition & Display adds a new element to benefit local pet charities. Entries must be dog-edible.
To keep in theme, the resort's spa offers a line of gingerbread treatments throughout the season--using aromas of cinnamon and nutmeg in facials, pedicures and body wraps. "We're a little like a cult here when it comes to gingerbread," said Heather Brannan, special events manager.
The inn conducts behind-the-scene tours ($12; kids ages 6 and younger free) and delivers the finished houses for display around town in a custom gingerbread-wrapped Lincoln Continental.
Another famed gingerbread exhibit resides at the Biltmore Estate – a replica of "America's Largest Home" nestled into a village setting. It goes on display during Candlelight Christmas festivities Nov. 11 through Dec. 31. Christmas tours cost $79 per adult and $39.50 for ages 10 to 16, and are free for younger kids.
Is your home a winter wonderland? Whether it's a life-sized menorah or a Christmas tree the size of Rockefeller Center's -- we want to see photos!
The Inn at Biltmore Estate holds a Gingerbread Tea from 3 to 5 p.m. on Dec. 19 and Dec. 21. Each guest receives pieces for assembling a gingerbread house, with help from the inn's pastry chef. At $35 each, the tea includes an assortment of sandwiches and tea service.
Walt Disney World: Lake Buena Vista, Fla.
Displays around the "wonderful world" overachieve with such drama and magic as a life-sized, twirling gingerbread carousel with chocolate ponies at the Yacht and Beach Club Resorts. At the Contemporary Resort, there is a replica of the hotel complete with a chocolate monorail zipping through.
A 17-foot gingerbread holiday tree also graces the Contemporary Resort, where guests can munch on ornaments, shingles, and other cookies. New this year at the Yacht Club Resort: a gingerbread lighthouse brightens the scene. The Beach Club displays also a miniature gingerbread Magic Kingdom castle and sells gingerbread houses.
At Disney's Grand Floridian Resort, a 16-foot-high gingerbread house opens for business mid-November to sell gingerbread wares and other sweet holiday treats and to stage gingerbread-decorating demos. At Epcot, a different life-sized gingerbread structure, Santa's Bakeshop, sells fresh Christmas cookies and beverages.
Charles M. Schulz Museum: Santa Rosa, Calif.
What says "holiday season" more endearingly than the Peanuts characters? In that spirit, the Charles M. Schulz Museum, which honors the cartoon's creator, began hosting Snoopy Gingerbread Doghouse workshops in 2006.
"Our gingerbread doghouse workshops were inspired by Snoopy's first-place win in the doghouse decoration contest in A Charlie Brown Christmas," said Museum Director Karen Johnson. "The workshops were so popular that they have become a holiday tradition at the museum."
Three age-categorized workshops take place on Saturday and Sunday, Dec. 17 and 18. Kids design their own doghouse, covering it with colorful candy and completing it with a marshmallow Snoopy on top. Cost is $25.
A life-sized, working carousel centerpiece amidst a village of 20 miniature houses – all made of gingerbread and chocolate -- fulfills a higher purpose than mere decoration and fantasy at the Four Seasons, and has for 13 years.
"Each piece of 'real estate' in the display is for sale, with all proceeds benefiting Nevada Cancer Institute," said General Manager Mark Hellrung. "Since its inception, the display has raised more than $70,000 toward cancer research efforts in Southern Nevada. This makes the Holiday Village even more significant to the Four Seasons family and to the Las Vegas community."
The magical winter scene does, nonetheless, bring in crowds and wows, he says. "Each year people flock to the display, marveling over the smallest details."
The resort's Executive Pastry Chef Jean-Luc Daul models the village and its mountain backdrop to reflect his Alsatian homeland. You might find a train station, bed-and-breakfast, old-fashioned bakery, church, and other traditional village buildings.
Daul holds a gingerbread house decorating class for children ages 5 to 12 on Sunday, Dec. 11, for $40 each, which includes adult supervision.
The Roosevelt Hotel: New Orleans, La.
The century-old Roosevelt is new to the gingerbread game, having baked up its first display just last season – a New Orleans Snow Village. This year the kitchen has something a little different in mind.
"We have seen great success with the gingerbread village which we started as a new tradition last year to coincide with our beloved Waldorf Wonderland Lobby attraction," said Tod Chambers, general manager. "This year, we thought it only right to pay homage to what makes New Orleans a destination for people near and far -- the food."
The 6 x 11 foot display will replicate some of the town's most famous and infamous restaurants, including Camellia Grill, Commander's Palace, Creole Creamery, Galatoire's and Pascal's Manale.