Disney unveils Shanghai Disneyland plans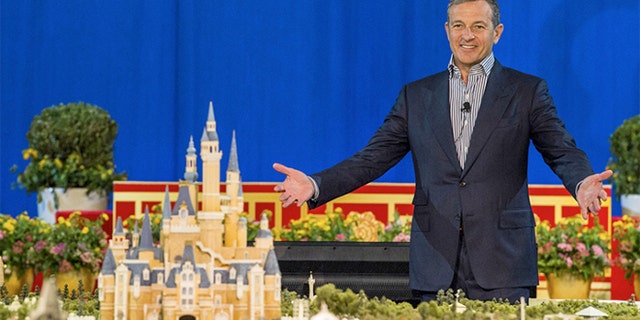 Walt Disney Co. unveiled new plans for its new $5.5-billion Shanghai theme park, its first ever in mainland China.
Speaking at a press conference Tuesday, Robert Iger, Disney's chief executive and chairman, said the splashy new park will feature attractions based on "Star Wars" and Marvel superheroes when it opens next year.
The 1.5-square-mile area will include six themed lands, including Treasure Cove, an area devoted to the hit "Pirates of the Caribbean" and Adventure Isle that will have more fast-paced rides like Roaring Rapids, as well as a "Soaring Over the Horizon" experience.
Comics' superheroes, including "Iron Man," "Spider-Man" and the "Hulk" will be on hand, as well as something called the Star Wars Launch Bay, described as a celebration of the Star Wars galaxy where guests will meet heroes and villains.
In addition, Shanghai Disneyland will feature "distinctively Chinese" attractions like the Garden of the Twelve Friends, in which animals of the Chinese Zodiac are re-interpreted as Disney and Pixar animated characters. There will also be a Chinese version of Broadway hit show, The Lion King, two hotels and the "tallest, largest and most interactive castle at any Disney theme park."
Disney, which already has theme parks in Japan and Hong Kong, is looking to expand it reach to the world's most populous country — with roughly 1.3 billion people. But it hasn't all been smooth sailing. Disney delayed the opening of its Shanghai park from the end of 2015 to the first half of 2016 in order to expand its plans.
Have a look at some the park's new ads to see what those plans will look like.
[youtube J-TSQFNtf3k]