Delta passenger suffered 'painful' cartilage damage after child on flight repeatedly kicked her, she claims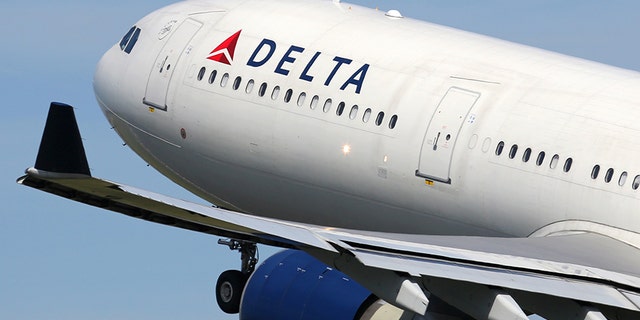 NEWYou can now listen to Fox News articles!
A Delta passenger has claimed she suffered bruised ribs after a child repeatedly kicked her on a Minneapolis-bound flight.
Sally Canario was on an overnight flight from Los Angeles to Minneapolis on April 2 when the violent incident occured, The Sun reported.
"I was up against the window, trying to get some sleep on a red eye flight," she said to The Sun. "A stranger's daughter was trying to sleep on the plane with her head in her mother's lap and her feet in my face, in my side, and on my lap. The girl threw a bad tantrum — screaming, crying, and bicycle kicking while she was trying to sleep, [but] the airline would not accommodate me for a safer, comparable seat."
DELTA AIR LINES HACK MAY HAVE EXPOSED 'CUSTOMER PAYMENT INFORMATION'
The mother of three claims she sought the help of a flight attendant, but was allegedly told he could not help her.
"I flagged down a flight attendant to file an injury report," she told The Sun. "His response was, 'I am not a babysitter, you two parties need to work things out. This is a full flight. I do not take injury reports... you aren't injured."
Canario also said the flight attendant accused her of being the problem.
"'I heard you were causing trouble and harassing the family next to you,'" she claims the flight attendant told her.
According to Canario, the mother of the kicking child assured the cabin crew members that she was not being harassed, The Sun reported.
Canario said the incident on the flight has left her with cartilage damage.
"I am hurting on my chest from my sternum to my right rib cage," she told The Sun. "It is visible asymmetry of my rib cage. My doctor assured me cartilage will heal but be painful for the next week."
However, Canario said she does not blame the family, but instead blames Delta's seating policies.
FOLLOW US ON FACEBOOK FOR MORE FOX LIFESTYLE NEWS
"Towards the end of the flight, the mother explained to me that her husband bought discount tickets for spring break where Delta does not allow seat selection 24-hours prior to boarding," Canario said to The Sun.
"Why don't they sit families together? Had I known her husband was on the flight, I would have gladly traded with him and spared myself this painful injury and hellish nightmare," she added.
A Delta Air Lines spokesperson told Fox News they are currently investigating Canario's claims.
"We regret to learn of the experience and discomfort described by this customer on a recent flight. We are in direct contact with this customer while we gather more information about the situation," Delta said in a statement to Fox News.
According to The Sun, the airline will also review the matter of seating families together.