Delta flight makes emergency landing: 'We left a tire in NYC,' says passenger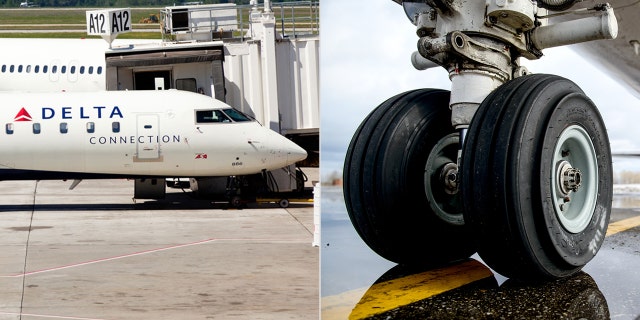 A Delta flight out of LaGuardia Airport was forced to make an emergency landing at Dulles due to the plane having "left a tire" back in New York, according to a passenger.
The Delta Connection flight, which was operated by ExpressJet, was headed from New York to Richmond, Va., on Tuesday when the crew reported problems with the aircraft's landing gear, a spokesperson for ExressJet confirmed to WTOP.
TRAGIC SOUTHWEST FLIGHT MARKS SECOND 'HORRIFIC' TRIP FOR CARRIER THIS WEEK
The plane made an emergency landing at Washington Dulles International Airport in the early afternoon. All 46 passengers and four crew members deplaned safely. The airline transported the travelers the rest of the way to Richmond — approximately 120 miles — by charter bus.
Jason Chow, a passenger aboard the flight, later tweeted out that the plane "left a tire" in NYC, along with a photo of the aircraft seemingly missing one.
"Extended my amazing #AERA18 with an overnight delay and an emergency landing in Dulles bc we left a tire in NYC," wrote Chow.
HOW CAN A PASSENGER BE SUCKED FROM AN AIRPLANE
Chow also thanked the plane's crew and pilot for how they handled the landing.
ExpressJet has since extended a statement regarding the incident, as well as an apology to passengers.
"ExpressJet Airlines Flight 5507, operating as Delta Connection from LaGuardia to Richmond, Virginia, elected to divert to Washington-Dulles International Airport, due to a reported problem with one of the aircraft's wheels," said ExpressJet spokesperson Jarek Beem in a statement obtained by Fox News. "The safety of our customers and crew is always our top priority and we sincerely apologize for any inconvenience this may have caused for our customers," he later added on behalf of the company.
FOLLOW US ON FACEBOOK FOR MORE FOX LIFESTYLE NEWS
The Delta flight's emergency landing comes the same day Southwest Flight 1380 was forced to make an emergency landing in Philadelphia following the explosion of an engine mid-flight. Southwest confirmed on Tuesday that one female passenger died as a result of the incident.