Delta Airlines prevented woman from singing national anthem on flight with fallen soldier, she claims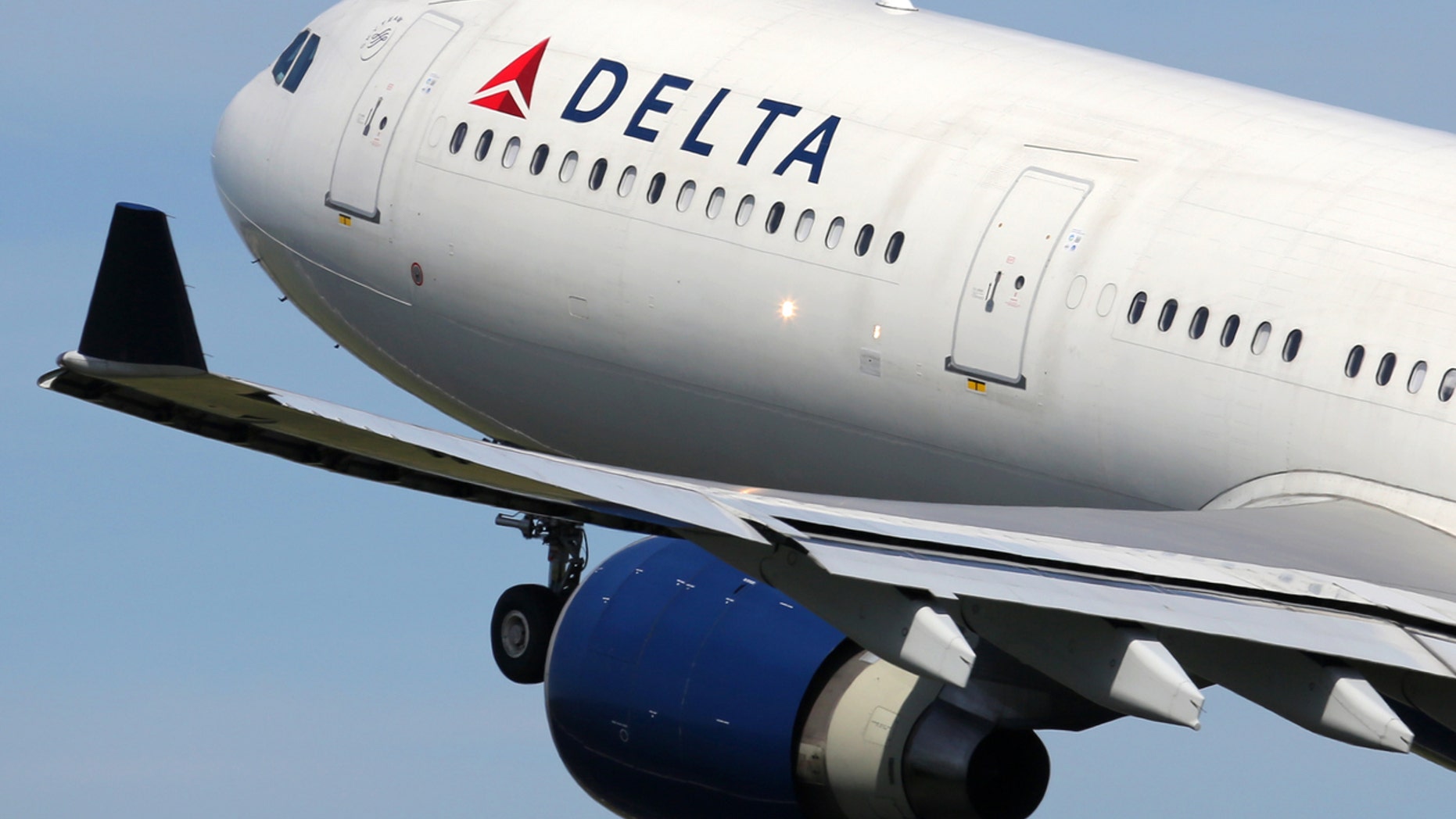 A Georgia woman says she and her fellow Delta passengers were prevented from singing the national anthem as crews unloaded the casket of a fallen soldier at Atlanta's airport last weekend.
Pamela Dee Gaudry was on a flight toward Hartsfield-Jackson International Airport when she says she learned that the body of a fallen soldier — 29-year-old Army Staff Sgt. Dustin Wright — was on her plane.
DELTA AIRLINES PAYS WOMAN $4,000 TO GIVE UP HER SEAT
Gaudry, the wife of a deceased Navy captain, wanted to honor the Special Forces soldier who was among four U.S. troops killed in an attack in Niger on Oct. 4, by singing the national anthem. She then went around the cabin asking each passenger if they would join her in singing for the fallen soldier, reports Fox 5 Atlanta.
"I thought it would be so amazing if we sang as they were getting off," Gaudry said in a Facebook video. "It's a great honor to the boy's parents, wife and perhaps children."
Gaudry says some people were enthusiastic about singing, telling her they would join in, while others chose not to participate.
CHELSEA HANDLER TO 'BOYCOTT' DELTA AIRLINES OVER MISTAKEN 600 PERCENT PRICE INCREASE
As the flight neared its destination, however, Gaudry says the chief flight attendant came up to her and informed her it was against Delta's policy to sing the national anthem. Gaudry claims the attendant then explained how some of the passengers were from other countries, and may be offended by them singing the national anthem. The staff also made an announcement to the cabin, instructing everyone to stay in their seats and remain quiet, she says.
Gaudry alleges that many of her fellow passengers were upset by the announcement, and one passenger told her "all we can do is pray."
"I'm humiliated by my lack of courage to sing the national anthem in my own country on American soil, with a deceased soldier on the plane. I wish I could have been an example for my children," Gaudry said. "I'm glad my former husband is deceased because he would have been profoundly disappointed in me."
Angered, Gaudry posted a video on Facebook once her plane landed, explaining the incident. Her video has since gone viral, garnering nearly one million views and the attention of Delta.
FOLLOW US ON FACEBOOK FOR MORE FOX LIFESTYLE NEWS
In a statement obtained by Fox News, a spokesperson for Delta Air Lines has confirmed that Delta does not have a policy the prevents people from singing the national anthem, and that they have reached out to Gaudry regarding the incident.
"Our employees worldwide take great pride in Delta's longstanding support of the military. The respectful ceremony of the Delta Honor Guard is one symbol of Delta's pledge to the men and women of the armed forces, and it represents our broad commitment to our veterans and active-duty service members," writes Delta in its statement.
"Delta does not have a policy regarding the national anthem. We have reached out to the customer and are looking into this situation."
Gaudry says the airline did indeed contact her about the flight, offering an apology and explaning that the flight attendant had been misinformed — it is not company policy to prevent passengers from singing the national anthem.
"Evidently, they had a flight attendant that made some bad decisions in trying to make this situation go away. They are going to do some training for the future," she said. "Delta was very reverent and let the honor guards do a wonderful thing to honor each and every soldier that comes home with this beautiful tribute. For just this reason, I personally do not believe in a boycott of Delta."
"Delta has apologized to me. Profusely. I accept. Like many things in life … it should have been handled differently. I am not throwing any stones," she added.
Gaudry said she was also contacted by Dustin Wright's family, who thanked her.