China is building a vertical forest to fight pollution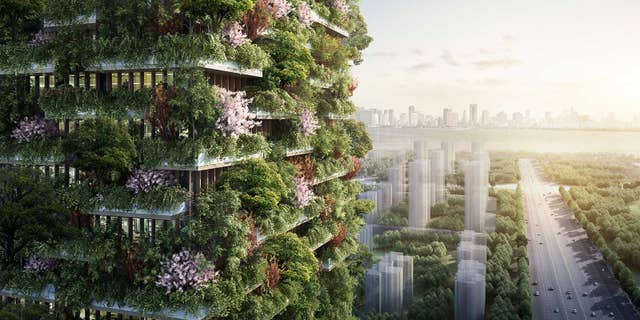 China is out to build a fleet of the most nature-incorporated architectural structures in the world. After a never-ending series of record-breaking glass bridges — and even a glass bathroom — construction has begun on Asia's first vertical forest in Nanjing.
The forest will be built with alternating levels of "green tanks and balconies," in a similar style to Milan's famous Vertical Forest building, which will rise over 650 feet.
The project is named Nanjing Green Towers — a fairly succinct and straightforward choice. Two green towers will stand over the city, covered in over 1,100 trees and 2,500 cascading plants.
The greenery, which will cover a 6,000-square-meter area, is expected to absorb 25 tons of carbon dioxide each year while producing 130 pounds (60 kilograms) of oxygen each day.
More From Travel + Leisure
The taller of the two towers will have offices on the eighth through 35th floors. Elsewhere in the building, there will be a museum, a "green architecture school," and a private rooftop club. The smaller tower will be a 247-room Hyatt Hotel, complete with rooftop swimming pool.
A podium below will contain shops, a food market, restaurants, a conference hall and event space.
The vertical forest is due to complete construction in 2018.
The architects behind the project are the same that designed the vertical forests in Milan, Italy and Lausanne, Switzerland. The architecture firm, Stefano Boeri, has designed several other eco-friendly and green projects around the world, including a "mountain forest hotel" in China and "urban tree lounge" in Italy.