Cedar Point announces world's tallest, fastest dive coaster for 2016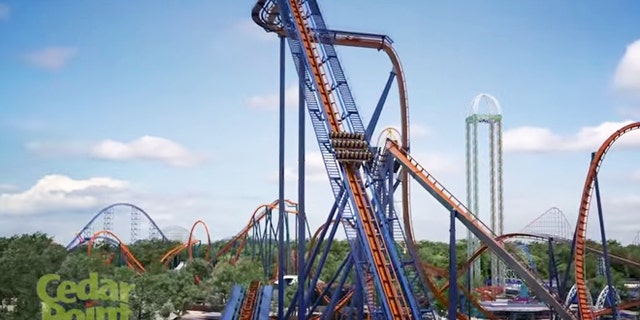 A new record-breaking roller coaster will be introduced next year at Cedar Point amusement park in Sandusky, Ohio.
The amusement park announced Wednesday that the Valravn dive roller coaster will debut in May 2016. It will be over 3,400-feet-long and include a drop of over 200 feet, making the ride the world's "tallest, fastest and longest dive coaster in the world," reports the Detroit Free Press.
A dive roller coaster is one that includes a free-fall 90-degree drop. Park officials say the coaster will travel at a top speed of 75 mph. The coaster, which is named for mythical Danish ravens that consumed the bodies of the dead on a battlefield and gained supernatural powers, is also set to break several world records for Cedar Point including:
--Most inversions on a dive coaster (three)
--Longest drop on a dive coaster (214 feet)
--Highest inversion on a dive coaster (165 feet)
--Most roller coasters taller than 200 feet at one amusement park (five)
--Most rides at one amusement park (72)
Valravn will be the park's 18th coaster. Cedar Fair, based in Sandusky, owns and operates Cedar Point and 10 other amusement parks, three outdoor water parks, an indoor water park, and five hotels.
Check out the action in the animated rendering.
The Associated Press contributed to this report.