Best of Disney's Epcot's Food and Wine Festival
Are you a fan of food from around the world?
The 19th Annual Epcot International Food & Wine Festival at Disney at Walt Disney World in Orlando, Fla. lets guests taste food from around the globe without having to pull out a passport.
On a recent trip, I got a behind-the-scenes look at the event that draws about 1 million people for its unique food bites at the 36 booths that ring the park's World Showcase Lagoon.
The event, which started Sept.19 and runs until Nov. 10, is a 53-day feast of food and drink from 30 countries and six concept booths, including new comers like Patagonia and Terra, the first-ever all-vegan booth.
It takes over 200 chefs to complete the dishes, and wine experts and cookbook authors are hand to talk about the different cuisine.
"A lot of guests wait for this time of the year and the amazing thing is how we put everything together. It's like we are opening 28 new restaurants, and the beginning of the festival is our opening day," said Yelitza Acevedo, Epcot International Food & Wine Festival's guest services manager.
The food fest is free with park admission ($94 for ages 10+), but visitors pay for each tapas-sized portion, which are priced $3.00-$8.00 each. Drinks are additional. Guests are given a paper passport with food and beverage offerings that can get stamped along the way.
Here are some of my favorites.
1. Roasted Verlasso Salmon with Quinoa Salad and Arugula Chimichurri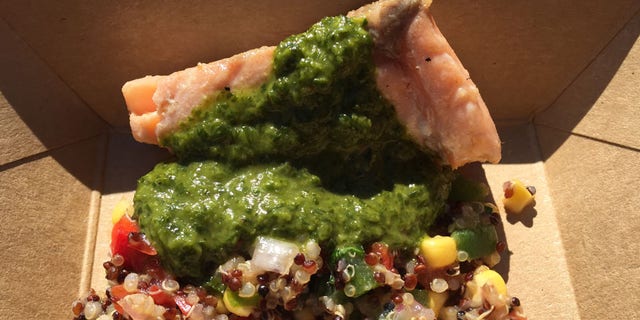 From Patagonia, this dish had all the flavors of South America. Not only was the fish tender and moist, but the quinoa was flavorful and soft. The arugula chimichurri was a delicious addition to the salad.
2. 'CraB'less CraB Cake,' Pepper Slaw and Cajun Remoulade Featuring Gardein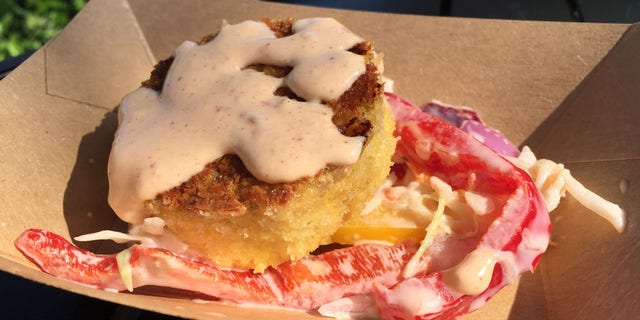 From Terra, the all vegan station, we tried a crabless crabcake made with chickpeas. It was very flavorful and the texture was incredible. The peppers and sauce added a nice touch to the overall taste of the dish.
3. Carne Guisada Con Arroz Blanco- Slow Braised Beef with Puerto Rican Grown Rice (Gluten-free)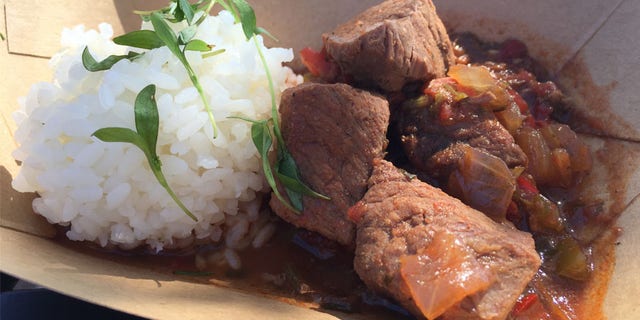 From Puerto Rico, this dish was tender and full of flavor. The rice garnished with fresh herbs was a nice touch. Acevedo, who is a native of Puerto Rico, said that representatives from each country help craft the menu. She said the dishes don't get more authentic than this.
4. Kerrygold Cheese Selection: Reserve Cheddar, Dubliner with Irish Stout, Skellig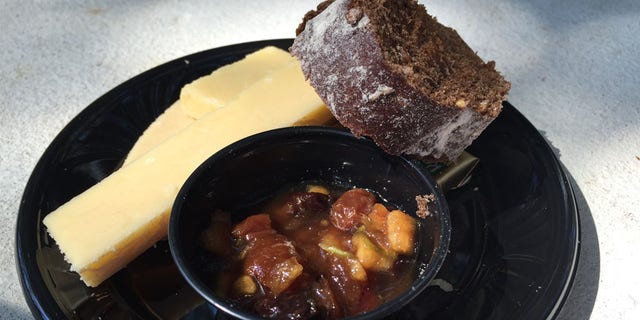 From Ireland, each of the three cheeses had such a distinct flavor and smell. They were all delicious, and we also enjoyed the piece of pumpernickel bread and raisin chutney.
5. Creme Brulee Caramel fleur de sel- Sea Salt Caramel Creme Brulee Topped with Caramelized Sugar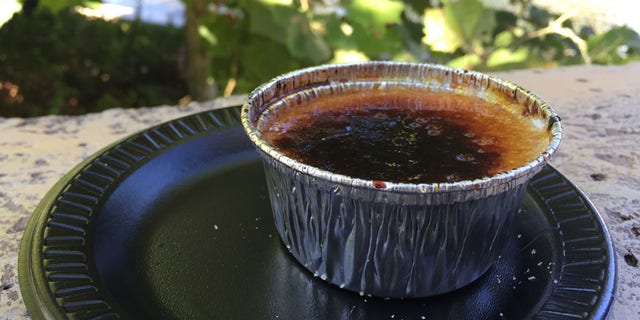 This delicious and decadent treat represents France's wonderful dessert tradition. Once you crack through the caramelized sugar coating, the inside is somewhat of a pudding consistency. You can taste the flavors of the salt and caramel.
6. Canadian Cheddar Cheese Soup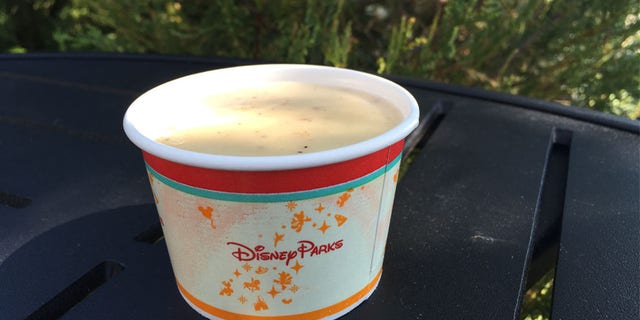 Acevedo said that this dish is a crowd favorite every year. When trying it, I can see why. It had a nice smokey flavor and chunks of cheese and vegetables gave it a nice consistency.
7. Tartlette aux Escargots- Escargot Tart with Garlic, Spinach, Bacon and Parmesan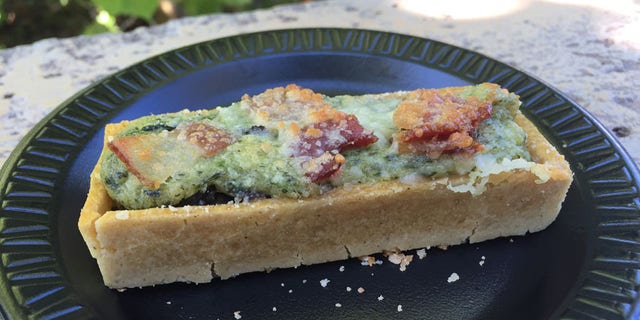 From France, the escargot was placed in a tart and garnished with spinach, bacon, and butter. You could taste each flavor and the snails were chewy and tender. If you are adventurous, you must try this dish.
8. Chirashizushi- Salmon, Shrimp, Crab and Egg served over Seaweed Salad and Ginger Rice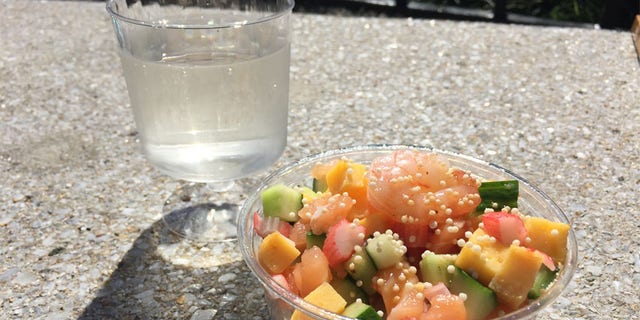 From Japan, this seafood dish was a combination of flavor and texture. The rice broke up the intense flavor and the seaweed salad on the bottom was a nice surprise to find. We also tried Kikusui Ginjo sake, which was a delicious pairing with the seafood.
9. Chocolate-Blood Orange Cupcake with Tofu Icing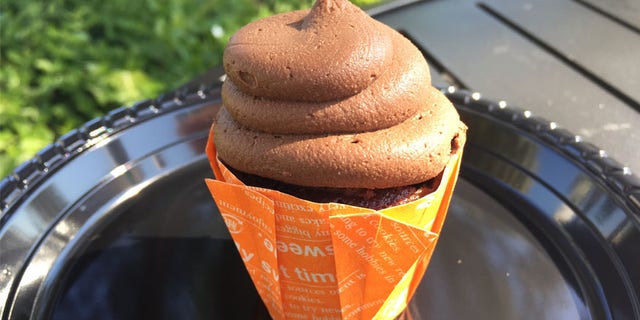 From Terra, the vegan marketplace, this cupcake was very different. The cake was incredibly moist and it had a filling that made you want more. The tofu icing tasted like rich chocolate frosting.
10. Kalua Pork Slider with Sweet and Sour Dole Pineapple Chutney and Spicy Mayonnaise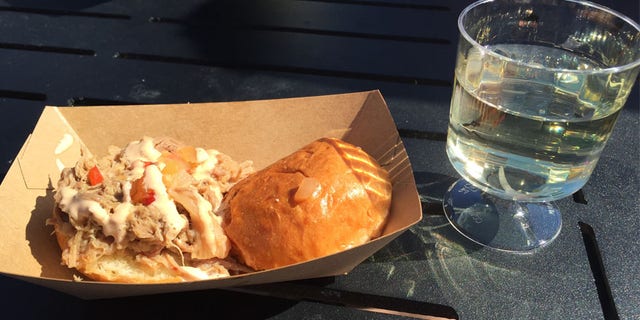 From Hawaii, this dish was similar to the American-style slider favorite. It was extremely flavorful and tender, and the Maui Splash Sweet Pineapple Wine was a sweet addition to this dish.