Annual Japanese snow art festival uses real frozen fish in controversial display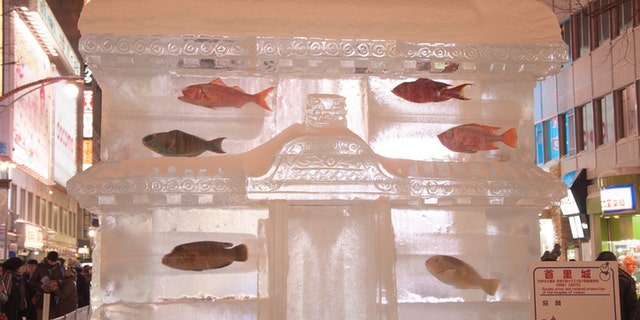 NEWYou can now listen to Fox News articles!
An annual winter festival in Japan is fighting off controversy for displaying a work of art featuring dead, frozen fish fish suspenses in ice.
The Sapporo Snow Festival in Hokkaido, now in its 68th year, has featuring some type of showcase with frozen fish for nearly half-- 33-- of those festivals. Event organizers stand behind the decision to use frozen marine life as works of art.
"The displays are art, and we would like to continue producing them in the future," Seiichi Shinoda, the chairman of the Susukino Tourist Association, told Japan's Rocket News 24.
Most of the displays at the festival feature larger than life carvings from snow. Some of the most famous figures this year include snow sculptures of President Donald Trump, Star Wars characters and even a giant Cup of Noodles.
But one of the largest displays with fish was created by members of the tourist association. It features nine blocks of ice measuring more than three feet long and almost two feet wide. It incorporates nine different types of sea life typical to Hokkaido, including salmon and snow crabs.
Despite the fact that this isn't the first time that the Sapporo organizers have used frozen fish in art displays, many online are speaking out against the attraction.
But some don't seem bothered by the display at all.
If the controversy over the displays sounds familiar, that's because a similar incident caused a social media outcry last December with a Japanese skating rink. Japan's Space World theme park, which used thousands of dead fish frozen under the ice, was forced to close amid backlash.
More than two dozen different species of fish were inserted into the attraction – termed an "ice aquariaum" by the owners - at the park in Kitakyushu, Japan. After the rink opened, the backlash on social media ensued with many labeling the attraction "sinful" and a "desecration of life."
Some concern dissipated after it was discovered that the fish used were sourced from seafood markets where they were deemed unfit to sell for consumption. But the initial alarms were still powerful enough to have the rink closed down. "We wanted customers to experience the feeling of skating on the sea, but after receiving criticism, we decided that we could not operate it anymore," a manager said at the time.
Regardless of that controversy, there are no plans to ditch the exhibit at the snow festival. It will be shown in the Susukino display area, near Sapporo Station, for the festival's closing on Feb. 12.