Amsterdam officials crack down on excessive, 'naughty Disneyland' style partying
Officials in Amsterdam hope to crack down on excessive party antics from locals and tourists alike, as residents claim that increasing numbers of merrymakers are ravaging their city like a "naughty Disneyland" and bringing down the general quality of life for all.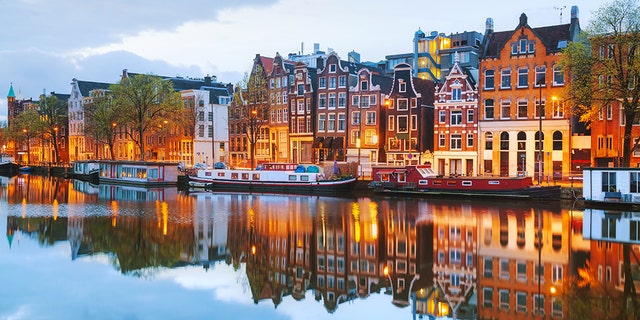 On Oct. 15, a former deputy mayor for the city of Amsterdam suggested that local politicians currently in office even consider banning bachelor parties and their "drunk, puking" mischief altogether.
"Amsterdam can better focus on banning groups of drunk, puking bachelor parties, for example from England. That is what really causes trouble," Frits Huffnagel, a former official, told The Sun.
Huffnagel further claimed that bachelor parties in the historic, canal-laced city, been getting more and more "out of hand" in recent years as they attract revelers from all over Europe. Though less than one million people call Amsterdam home, over 20 million tourists are estimated to have visited by the end of 2018, NPR reports.
Meanwhile, a city rep said that though Amsterdam welcomes tourists from all walks of life, change is needed – and plans to restrict the all-too-frequent consequences of excessive partying were set in motion back in May.
"Amsterdam is an open and tolerant city that welcomes everyone, but of course we do like our visitors to behave themselves when visiting. That's why we started the campaign 'Enjoy & Respect,'" Amsterdam city spokesperson Lisa den Oudendammer told Fox News on Oct. 18.
POPULAR TOURIST ISLAND IN PHILIPPINES REOPENING TO TRAVELERS AFTER BEING DEEMED A 'CESSPOOL'
In May, a new city coalition government proposed the campaign, which includes a slew of serious measures to crack down any out-of-control behavior in the nightlife hotspot.
From restricting beer bikes, Segway rides and boozy boat trips to diverting cruise ships from docking in the city's center and altogether banning Airbnb hosts from creating short-term rentals in the most chaotic areas, the campaign means business.
In addition, a widespread "tourist tax" is set to leap from roughly 5 percent to 7 percent, which is estimated to generate $105 million a year by 2022. A $260,000 campaign called "Enjoy and Respect" is also set to combat problematic behavior. Meanwhile, hefty fines for various kinds of depravity – penalties of $109 for public intoxication, and $162 a pop for urinating in a canal, disturbing the peace, or littering – intend to curb bad behavior.
While the measures may seem intense, Amsterdammers say such reform is a long time coming – and much needed.
"It's a city where freedom is important and you have to accept a degree of nuisance, but it's now out of hand," Stephen Hodes of the independent thinktank Amsterdam in Progress told The Sun on Oct. 15. "The crux of the problem is that there are too many tourists. The only thing to do is to take radical measures, otherwise, it's a consumption ghetto, not a city where people live."
Meanwhile, two college-age tourists openly acknowledged that many in their age group treat the storied city like a "naughty Disneyland," NPR reports.
"People our age come here because the flights are cheap and Amsterdam has this reputation of being a kind of Sin City," Londoner Callum Challinor, 18, told the outlet.
"But we won't. We're just here for the weekend, and we want to remember it," his girlfriend Emillie Whitelock, 19, said. "Even my parents told us to go to the Red Light District."
FOLLOW US ON FACEBOOK FOR MORE FOX LIFESTYLE NEWS
Things are apparently so bad that the local council has proposed removing the city's famed "I Amsterdam" signs from around the city – which, ironically, were erected in 2004, in hopes of improving tourism, The Sun reports.
Amsterdam's exhausted politicians, residents and law enforcement officials share similar sentiments with locals in Venice and Barcelona, where many are fed up with so-called "over-tourism."