American Airlines passengers film 'fuel pouring' out of plane wing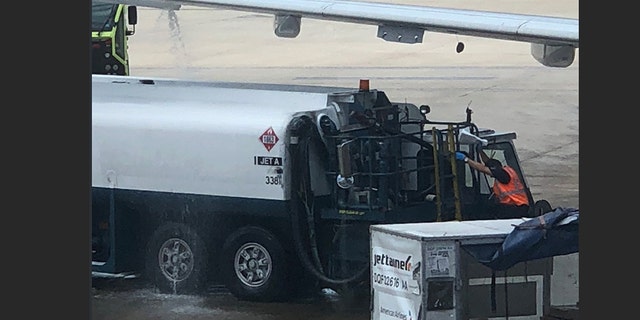 An American Airlines flight was delayed after fuel was seen leaking from the plane wing while parked at the gate at Philadelphia International Airport.
The Los Angeles-bound flight was reportedly "pouring" fuel from the wing while passengers watched from the terminal.
AMERICAN AIRLINES PASSENGER SPARKS MID-FLIGHT BRAWL AFTER DENIED BEER, THREATENING TO KILL SEATMATE
American Airlines officials confirmed to Fox News there was an issue with the plane, but claimed it was a minor spill.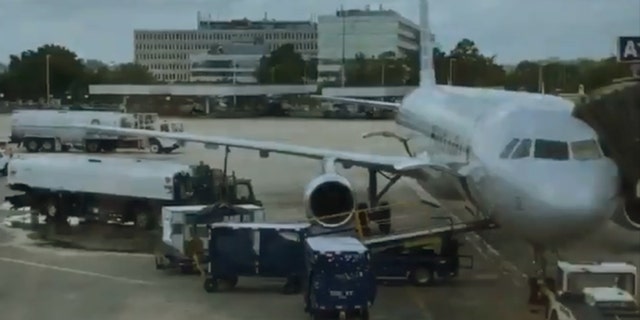 "A mechanical issue was encountered during the fueling process, which resulted in a minor fuel spill at the gate. Our maintenance team in evaluating the issue, and we anticipate the aircraft will return to service this afternoon."
According to a passenger on Twitter, emergency responders reported to the scene and tried to clean up the leak with paper towels -- though she later admitted she had said that as a joke.
Passengers later tweeted that another flight was brought to take them to LA, over an hour after the flight was supposed to take off. However, the passengers were ordered to deplane soon after boarding the new aircraft. It is unknown why.
FOLLOW US ON FACEBOOK FOR MORE FOX LIFESTYLE NEWS
American Airlines responded to passenger reports on Twitter, saying the team was aware of the matter.