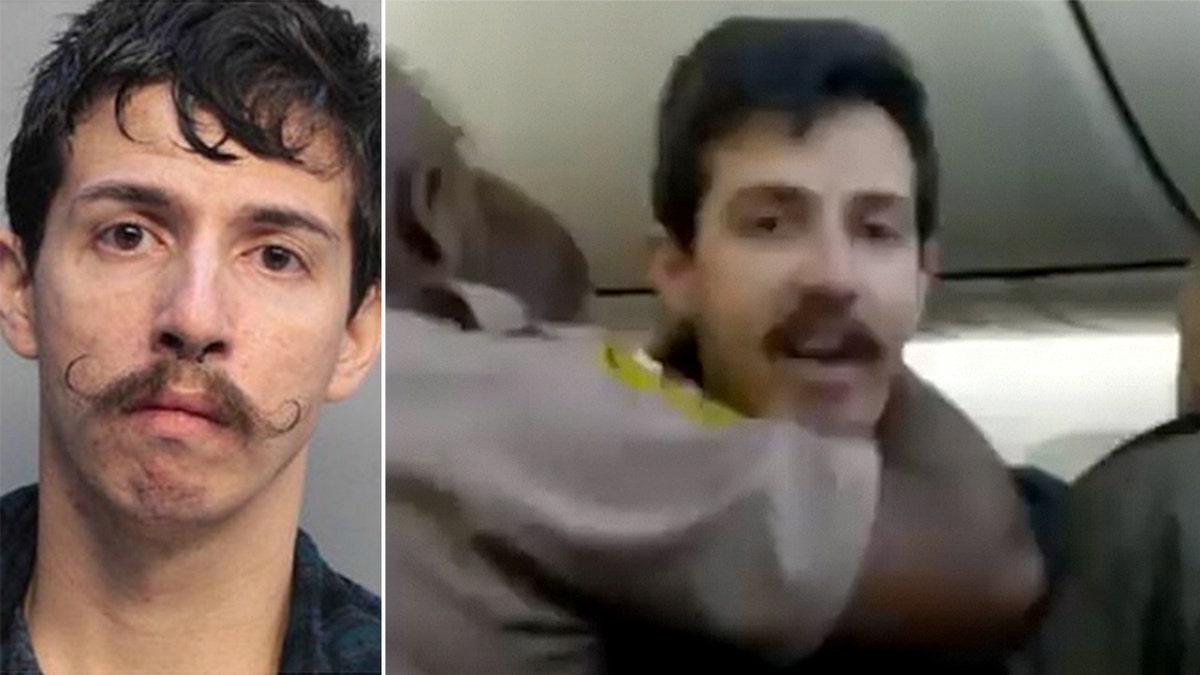 A man aboard an American Airlines flight from Miami to Chicago Sunday night had to be shocked with a Taser and forcibly removed by police after allegedly assaulting another passenger.
Before departing, someone on the flight contacted the authorities, accusing Jacob A. Garcia of touching a woman inappropriately, the Miami-Dade Police Department told NBC News.
MILWAUKEE RESTAURANT APOLOGIZES FOR NOT SEATING NBA STAR AFTER PLAYOFF GAME
The flight crew then began deplaning the aircraft after Garcia refused to get off on his own. During this process, he got into a physical altercation with another passenger and police had to intervene, according to a statement released by American Airlines.
Three officers came onboard the aircraft to arrest Garcia, but he "began to resist and pull away," Miami New Times reports. Video of the incident was posted on social media, which shows Garcia fighting against the officers and refusing to get off the plane.
Garcia can be heard asking the officers, "What is the reason why you are removing me from this plane?" several times as he struggles against being detained.
"Well you just assaulted a lady, for one. You're a racist for two," another passenger says.
Unable to gain control of Garcia, one of the police officers tells him unsuccessfully, "Do not fight. Do not fight." The officer then grabs a Taser and shocks Garcia ten times until they are able to handcuff him, according to the Times.
Garcia was eventually removed from the flight and taken into police custody where he is being held on a $9,000 bond pending his hearing. He's been charged with five counts including battery, resisting arrest and depriving an officer of their means of protection, NBC News reports.
FOLLOW US ON FACEBOOK FOR MORE FOX LIFESTYLE NEWS
A spokesperson for American Airlines said in a statement, "We will cooperate with the Miami-Dade Police Department on this matter. The flight, which was scheduled to depart at 9:30 p.m. ET, departed at 10:34 p.m. ET with all remaining passengers. We thank our crews and airport customer service team for their excellent work in this situation."