Airlines Raising Domestic Fares Again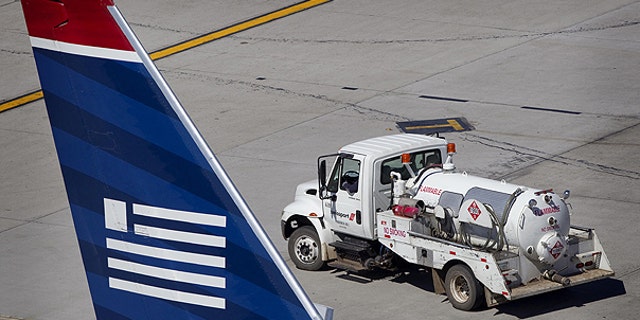 DALLAS -- Airfares at major U.S. airlines are climbing again, continuing a dizzying pace of nearly weekly increases on both penny-pinching vacationers and expense-account corporate fliers.
The airlines are raising fares to cover higher jet fuel prices, and the strategy seems to be working. US Airways said Thursday that if the trend toward higher revenue continues, it will be able to cover foreseeable increases in fuel costs.
Jet fuel prices are over $3 a gallon, the second-highest reading in March behind only 2008, when oil prices surged to record levels and U.S. airlines lost billions of dollars.
Delta Air Lines touched off the latest fare hike by adding up to $20 to the price of domestic round-trip flights for tickets bought on short notice. American Airlines choose a more modest increase of $10 per round trip but applied it to virtually all tickets for travel within the 48 contiguous states.
By midday Thursday, Delta, United, Continental and US Airways had all settled on matching American's $10 increase.
None of the low-cost airlines -- including Southwest, JetBlue and AirTran -- had raised prices, according to Rick Seaney, CEO of FareCompare.com. If they continue to hold out, he said, Delta and the other big airlines could be forced to scale back their increases on some routes. Low-cost airlines have blocked some previous fare hikes by refusing to match them.
Some analysts think if prices go any higher, leisure travelers -- and maybe some corporate fliers -- will just stay home. Hudson Securities analyst Daniel McKenzie said higher fares will force companies to burn through their travel budgets and freeze or reduce travel later this year.
Seaney doesn't share that view yet. "It is pretty clear that demand hasn't softened enough to prevent airlines from testing new highs for base domestic ticket prices," he said.
US Airways President Scott Kirby said Thursday that travel demand in February remained "exceptionally strong," allowing the company to generate enough revenue to offset higher fuel prices.
Traffic on Kirby's airline rose more than 4 percent and a key measure of revenue per mile rose 10 percent in February, compared with a year ago.
Rising fares, combined with fewer flights and more fees for passengers, helped the airline industry in 2010 post its first moneymaking year since 2007. The government estimates that the country's eight largest airlines are likely to earn more than $5 billion this year and $5.6 billion in 2012.
But while the airlines are making money off the baggage fees, it turns out the resulting increase in the number carry-on luggage is costing taxpayers about a quarter-billion dollars a year.
But Homeland Security Secretary Janet Napolitano told Congress this week that the luggage fees have prompted more passengers to hold onto their bags, which means more items for Transportation Security Administration officers to inspect at security checkpoints at a cost of about $260 million annually.
Napolitano was asked whether airlines should help make up for some of the extra costs. Without commenting on the question of airlines paying more, she said an increase in airport security fees -- passengers pay up to $5 for each one-way ticket -- would bring her department about $600 million a year.
A security fee increase has been proposed nearly every year since it was first introduced in 2002 but Congress has never approved it.