Airlines canceling thousands of flights amid fourth nor'easter this month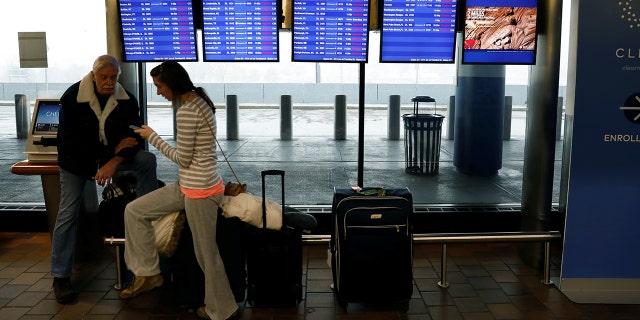 Several major airlines are grounding flights across the Northeast during the region's fourth winter storm — or technically, its first spring storm — of the month.
As of 12:15 p.m. on Wednesday, the flight-tracking website FlightAware had reported more than 4,700 flight cancellations and over 8,100 delays in the United States, many of which could be traced back to Winter Storm Toby, which is expected to continue bearing down on the Northeast through Thursday.
USA Today reports that at least 320 flights have already been preemptively canceled for Thursday, as well.
WHY THE UNITED STATES DOESN'T HAVE ITS OWN NATIONAL AIRLINE
The New York area's major airports ‒ LaGuardia, JFK and Newark Liberty ‒ were among the most heavily affected, according to USA Today.
As of Wednesday at 9 a.m., New York City's LaGuardia Airport announced that 850 flights out of LGA had been canceled. An hour and a half later, the airport added that it expects airlines to "cancel all flights" out of LGA by noon. The city's JFK Airport added that it has already canceled 618 flights as of 10:48 a.m., with more cancellations possible.
By 9:30 a.m., Newark Liberty Airport in New Jersey announced via Twitter that nearly three-quarters of its flights had been canceled, and half all flights at nearby Philadelphia International Airport were canceled as of midday Wednesday, adds NBC Philadelphia.
Washington Dulles International Airport and Baltimore's Thurgood Marshall Airport also announced cancellations, both confirmed and expected.
FISTFIGHTS, NUDE MASTURBATION AND DEAD PETS: WHAT'S GOING ON WITH AIRLINE TRAVEL?
Many of the airports, as well as nearly every major airline operating out of the region, has issued alerts for customers planning to travel in the coming days, urging them to check the status of their flights via each airlines' online resources.
Many larger carriers, including American, Delta, JetBlue, Southwest and United are also issuing fee waivers or refunds for travelers flying out of specific Northeast and Mid-Atlantic airports between March 20th and 21st.