Air China investigating after flight drops 21,000 feet, pilots accused of smoking in cockpit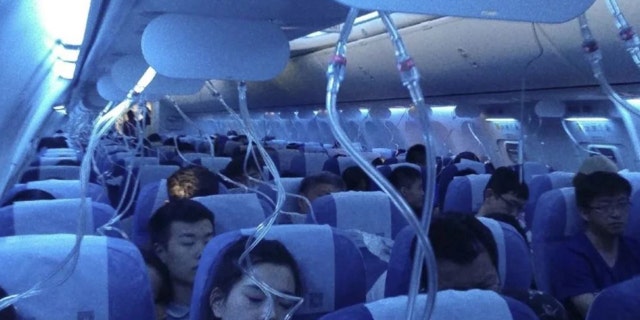 Air China has reportedly placed pilots from a Tuesday flight under investigation amid claims that the aircrew was smoking in the cockpit, causing cabin decompression and forcing the plane to drop 21,000 feet in 10 minutes.
Flight CA106 from Hong Kong to Dalian in China lost altitude a half an hour into the scheduled 5:55 pm trip. The drastic drop triggered the release of oxygen masks from the cabin ceiling, which was captured by a passenger and posted to social media.
According to one of the passenger on board, "The announcement from the cockpit said the ability to increase oxygen in the cabin malfunctioned so the plane lost pressure."
PASSENGERS CLAIM SPIRIT AIRLINES LEFT THEM STRANDED AT LAX ON 'TRIP FROM HELL'
During the announcement, the pilots said the aircraft was carrying out an emergency descent due to cabin decompression, South China Morning Post reported. The aircraft dropped from 35,000 feet to about 14,000 before the plane levelled off and began climbing to cruising altitude, according to the flight tracking site FlightAware.
The flight continued as scheduled and landed in Dalian without incident.
Cathay Pacific Airways pilot and air safety expert David Newbery, who is also president of the Hong Kong Airline Pilots Association, said to the Post that the pilot reacted appropriately in the case of depressurization.
"The norm would usually see an aircraft suffering from depressurization landing at the nearest suitable airport – not least to calm down the passengers, who would be severely frightened," Newbery said. "However, if there were nothing structurally wrong with the aircraft, the commander could elect to continue to a more distant airport."
However, Communist newspaper the People's Daily, said the crew was suspected to have been smoking in the cockpit, which caused the drop.
FOLLOW US ON FACEBOOK FOR MORE FOX LIFESTYLE NEWS
Air China did not immediately respond to Fox News' request for comment, but released a statement on Weibo, confirming the pilots were under investigation by the Civil Aviation Administration of China, the Post reported.
"If the investigation reveals that the crew has violated regulations, the company will seriously deal with the responsible person with zero tolerance," Air China said on Weibo.
The plane is being investigated. Some Air China flights scheduled for the Boeing 737 were cancelled Wednesday.