Aer Lingus plane towed by airport workers smashes into concrete pole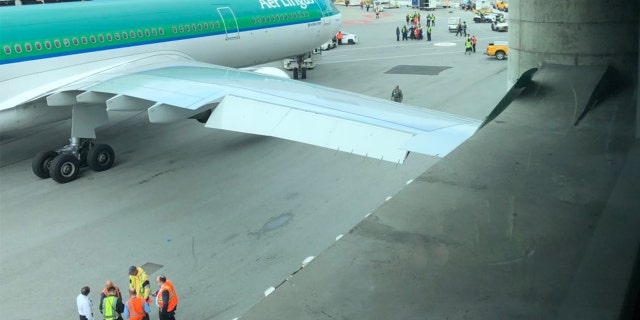 An Aer Lingus plane ran into a concrete pole at San Francisco International Airport Wednesday afternoon while being towed to the gate.
The aircraft, which had just landed from Dublin around 3:15 pm., clipped the structure with its right wing tip before reaching the terminal, resulting in damage to the plane.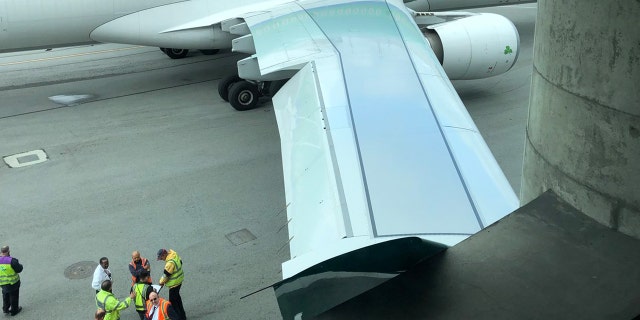 Passengers were on board at the time of the collision, though no one was hurt, an Aer Lingus spokesperson told Fox News.
SOME 42 MILLION AMERICANS SET TO TRAVEL MEMORIAL DAY WEEKEND - AND GAS PRICES ARE HIGHEST SINCE 2014
"We can't leave until they take pictures for insurance and assess damage. Everyone is okay but we were so close to leaving the plane! Can't wait to get off," one passenger tweeted.
A spokesperson for SFO confirmed the accident, releasing the following statement to Fox News: "At 3:15 p.m. on Wednesday, May 23rd, Aer Lingus Flight 147 from Dublin was being towed by tractor into Gate G91 at the SFO International Terminal when the right wingtip made contact with a concrete post. The flight was rescheduled to depart on Thursday night, and departed at 9:20 p.m."
Due to the incident, the flight scheduled to head back to Dublin shortly after was delayed while the damage was being assessed. Travelers affected by the interruption shared their frustrations on Twitter.
"Stuck in SFO after damage to plane earlier. No communication to passengers about whether flight is cancelled or not," one person wrote.
"Sitting in SFO, [Aer Lingus] plane just hit a wall coming in & our flight has been delayed by 4-5 hours, zero communication, there are only 3 ppl at the check in desk but no updates. We are all flying for a friend's wedding on Friday, no update on if we will get home! Disgrace!' someone else tweeted.
The flight was eventually cancelled and passengers were put on another flight out the following day.
FOLLOW US ON FACEBOOK FOR MORE FOX LIFESTYLE NEWS
The airline also apologized for the inconvenience in a statement to Fox News.
"Regrettably, Aer Lingus cancelled EI146 from San Francisco to Dublin on Wednesday 23 May, while a full investigation into the incident was underway. Guests were accommodated on an additional flight, EI2148, which departed San Francisco yesterday evening local time and has arrived in Dublin today, Friday 25 May shortly before 3 p.m., Irish local time. Aer Lingus apologizes to all affected guests for the inconvenience caused by this incident."