Act Like a Celeb and Rent an Island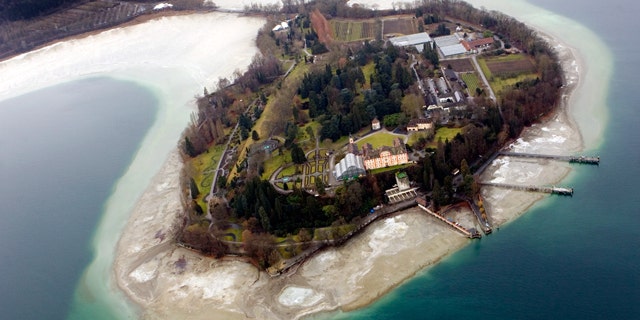 NEWYou can now listen to Fox News articles!
Ever dream about vacationing like a celebrity on your very own private island? Do you picture yourself with toes in the sand, listening to the palm trees sway and gazing at a blue sea? Well, believe it or not, renting a private island can happen -- and it's not just for celebrities and millionaires.
Renting a Private Island
There are private islands available to rent in all shapes and sizes. Depending on your budget, islands can range from rustic and untouched-by-the-world to glamorous and all-inclusive. We've chosen five private islands to explore, ranging from family-style vacations to more private extravagance. All are readily available; it's just up to what you desire.
Keep up with the latest travel news on the FOX Business Travel Facebook page.
The Rustic Rental
Where: Enedrik Island, Marshall Islands, Oceania.
Cost: From $499 per week May to October, $999 November to April.
How to get there: Fly to the Majuro airport, and then take a 75-minute boat ride to the island.
Size: 14 acres.
Guests: The cabin can accommodate up to eight people, and the island can be booked for one group at a time.
Amenities: Rustic, rustic, rustic! There is a cabin for use on the island, water for washing and a conventional flushing toilet -- but otherwise, all supplies must be purchased and brought onto the island. This is truly a return to nature in its purest form. If that excites you, then imagine the peace, tranquility and adventure of being alone on your own island for an entire week. You can even bring your tent if you'd prefer to sleep under the stars.
Unique features offered: Inexpensive and offering complete privacy, Enedrik Island is a real adventure vacation. It includes a private lagoon for snorkeling and views for breathtaking sunsets. It's a perfect fit for the outdoor-loving naturalist.
Extravagant Vacation
Where: The Rania Experience, Maldives.
Cost: From $66,500 per week.
How to get there: Fly into the Maldives airport, where you'll be met and escorted to a private charter seaplane for the 35-minute flight to your vacation island.
Guests: The island can accommodate up to 12 guests and can be booked for one group at a time.
Amenities: The main "One Rania" suite consists of a master bedroom and two guest rooms. There are also three beach villas available, each with a king-size bed. The private island employs a full team, including your own personal chef who will create whatever you want to eat, whenever you wish. Unlimited drinks, spa treatments, snorkeling, diving and speed boat cruising are all included in the price. But the most spectacular amenity is the 86-foot Gulf Craft luxury speed cruiser.
Unique features offered: Featured in "The World's Most Extravagant Island Rentals" by Private Islands Magazine, this island provides a truly extravagant vacation. The crew attends to your every need, from captaining yachts to instructing private diving classes. Even with the 25 or so staff members, there's still plenty of privacy.
Family Vacation
Where: Coupon Key, Florida Keys, Fla.
Cost: $10,500 per week.
Guests: The island can accommodate at least nine guests and can be booked for one group at a time.
How to get there: Fly into Key West International Airport, and then take a 25-minute car drive and a boat ride.
Size: 14.5 acres
Amenities: You'll have a two-story home with nine bedrooms and four bathrooms with full air conditioning and satellite TV. The private island home is fully furnished with a large dining room and an upstairs bar that opens to a private sundeck. It comes complete with all the amenities a guest home would need, from beach towels to toiletries.
Unique features: The home includes a 360-degree wraparound porch, a 400-square-foot private sundeck and spectacular Gulf-view sunsets.
Historical Site Vacation
Where: Little Deadman's Cay, Bahamas.
Cost: $1,975 per week.
Guests: The cost is for two adults, but the home can accommodate up to six.
Size: 9.5 acres.
How to get there: Fly into the Nassau airport, then take a chartered flight to Little Deadman's Cay.
Amenities: Little Deadman's Cay features a private home with three bedrooms and one bathroom. It's fully furnished and features ceiling fans, an additional outdoor shower, kitchen, fireplace, two patios, a gazebo, wooden pier and dock. The island offers plenty of water-loving options, including a beach, a site for snorkeling and two natural channels that create Olympic-sized pools for swimming.
Unique features: This private island is a historical site. The home is built where the original settler -- a sailor who shipwrecked and made his way to the cay -- built his home.
Eco-Vacation
Where: Eueiki Island, Tonga.
Cost: Depending on the time of year, prices start at $16,800 per week for the entire island, or you can rent a single "bungalow" for $300 per night.
Guests: Each bungalow accommodates up to two people, for a total of 16 people if renting out the whole island.
Size: 24 acres.
Amenities: Each of the bungalows nestled along the beach has hot and cold running water, a private bathroom with a shower, fans and a covered porch. Breakfast, lunch and dinner are included in your stay. To make it a true eco-vacation, staff from the resort gives guided reef walks that also serve as food-gathering expeditions. Imagine collecting an octopus, sea urchin or other local delicacy to dine on later in the day. You can also gather fruits like papayas, mangoes and limes.
Unique features: This private island boasts that it's a true eco-resort. Visitors use solar power, collect rain water, eat local food and recycle. The Tongan government acquired the island in 2001, and the owners are the first human inhabitants of the island. Situated in the heart of the South Pacific, this island provides peace and serenity without disturbing the environment.
MORE FROM BANKRATE.COM
Bankrate's content, including the guidance of its advice-and-expert columns and this website, is intended only to assist you with financial decisions. The content is broad in scope and does not consider your personal financial situation. Bankrate recommends that you seek the advice of advisers who are fully aware of your individual circumstances before making any final decisions or implementing any financial strategy. Please remember that your use of this website is governed by Bankrate's Terms of Use.