A significant chunk of Hawaii's houses are used as vacation rentals, report says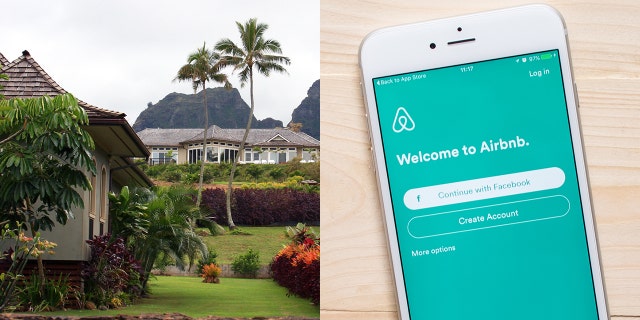 A new report found that more and more Hawaiian homes are being converted into vacation rentals, raising questions about the permissibility of the practice in the state.
The report, by the Hawaii Appleseed Center for Law and Economic Justice, finds that 1 in 24 homes in Hawaii — or just over 4 percent — are being listed as short-term rental units on home-sharing and home-rental websites like Airbnb, according to Hawaii News Now.
On islands such as Kauai and Maui, that number rises to just 1 in 8 homes (12.5 percent) and 1 in 7 (14.2 percent) respectively.
NOW'S YOUR CHANCE TO LIVE IN A REAL-LIVE IRISH CASTLE
"That rate of expansion of vacation rentals, taking that critical affordable housing away from our residents, really shocked me, to be frank," said Victor Geminiani, who claimed that more than half of the state's 23,000 vacation rentals were owned by non-residents.
He further argued that just a fraction of those were "actually legal."
The Hawaii Appleseed Center for Law and Economic Justice concurred, writing in a press release that every vacation rental has a negative impact on the local economy, raising prices in the area and leaving locals without afforable housing.
"The loss of long-term rentals to VRUs means higher housing costs for Hawai'i residents. Although Hawai'i derives some benefits from VRUs through increased tourism spending and tax collection, the benefits are far outweighed by the costs."
In their report, the Hawaii Appleseed Center suggested that Hawaii should "consider adopting measures that will help reverse the damage caused by the proliferation of illegal VRUs [vacation rental units] in the state," in part by requiring the VRU owners to be present whenever a renter occupies the space, and by informing communities about their rights to file complaints against illegal rental units.
Democratic State Senator Glenn Wakai further argued that locals have had "enough already" when it comes to the "large" and "loud" vacation rentals, according to Hawaii News Now.
SEE IT: 'ONCE IN A LIFETIME HOUSE' BEING SOLD ALONG WITH ANTIQUES, CLASSIC CARS
Recently, the state's legislature has also introduced a bill that would force home-rental websites to divulge the personal information of VRU owners, which would help authorities determine if they're operating legally.
Airbnb, on the other hand, has disputed the Hawaii Appleseed study's findings, and says it has instead proposed a set of "common sense regulations" for Hawaii's home-owners and renters as an alternative solution.
"The numbers released in this new study are unfounded and patently false," said Airbnb in a statement obtained by Fox News.
"Other recent studies have shown that Airbnb's activity in the state has minimal impact on the availability of housing for local families. In fact, Airbnb has helped 66 percent of hosts in Hawaii afford to stay in their home with the supplemental income they earn by sharing their home.
FOLLOW US ON FACEBOOK FOR MORE FOX LIFESTYLE NEWS
"What's more, data shows that visitors using Airbnb are critical to the Hawaii economy and spent an estimated $649 million while visiting in 2016. Efforts to ban alternative accommodations would be devastating for the local economy, hurting small businesses and local residents.
"That is why we continue to work towards the adoption of common sense regulations for the industry that balances the preservation of affordable housing and neighborhood character while also providing economic opportunity for locals."