9 amazing beaches you've probably never heard of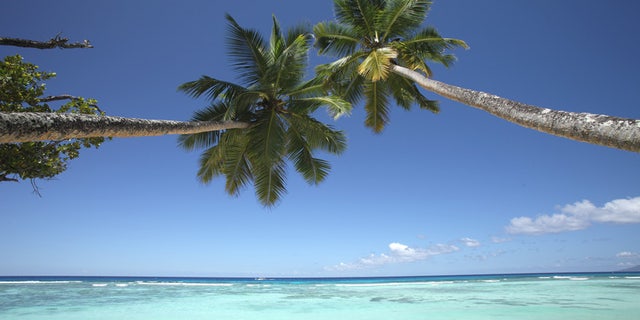 We've all been there: Beaches so packed with bodies it's impossible to take a decent picture without forty random photobombers in the background.
But there's good news. About 71 percent of the Earth's surface area is water, so there are plenty of empty, albeit scenic stretches of sand silently waiting to become your next cover photo. And what they lack in crowds, boardwalks, surf shops and ice cream trucks, they more than make up for in Mother Nature.
Below are nine lesser-known beaches worth knowing, along with tips for getting your toes in their sand.
1. Secret Beach, Dominica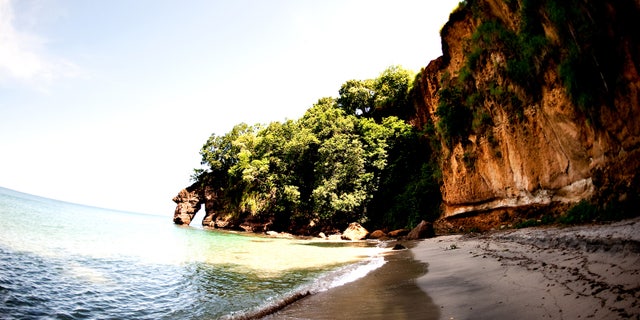 Dominica is a far cry from the Dominican Republic people often confuse it with. Pronounced "doe-min-EE-ka," it's a Caribbean island relatively untouched by resorts. Known as the "Nature Island" because, appropriately, nature has been left alone to do its thing-- Secret Beach is a wonderful example of that. This private cove near Dominica's Secret Bay boasts unique rock features like a natural bridge and a sea-cliff cave filled with rich marine life. So even if the thought of putting on a snorkeling mask and breathing through a plastic pipe scares you, you'll definitely want to snorkel here.
Getting there: Guests staying at Secret Bay can take complimentary kayaks or paddle boards to Secret Beach. Otherwise, go to Portsmouth to charter a fishing boat from the Indian River Visitor Center or rent a kayak or sailboat from WaveDancer Water Sports & Park at Coconut Beach.
GREAT WHITE SPOTTED LURKING NEAR CALIFORNIA BEACH
2. Benijo Beach, Tenerife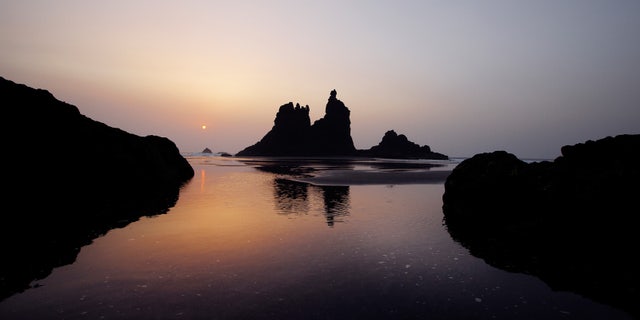 When it comes to beaches, Tenerife isn't really on the tip of most Americans' tongues. But this Canary Island off the coast of North Africa boasts 70 beaches including Benijo beach, something Sergio Barros of Quest Travel Adventures likens to a natural experience at its purest. "It has fabulous views of the Roques de Anaga rock formations and its sunsets are magical. Especially when the glimmering sea contrasts with the red horizon and the dark outline of the volcanic rocks rising from the ocean depths." Note: This beach is popular among naturists, so you may see a naked beachgoer or two.
Getting there: Tenerife is a four-hour non-stop flight from London. WOW air also offers Newark to Tenerife fares starting at $239. From Tenerife, drive the winding mountain roads to the village of Taganana where you'll find a path of steep stairs down to the beach.
3. Kennedy Island, Solomon Islands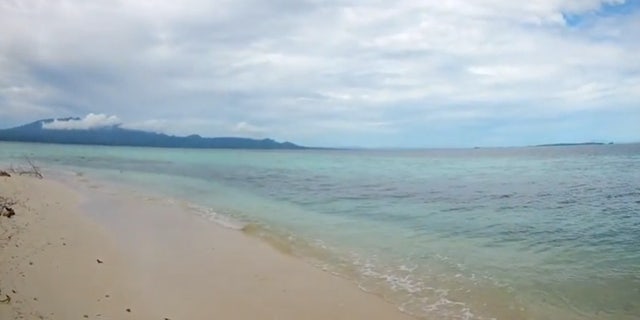 Although it's named for one of the most beloved U.S. presidents, Kennedy Island receives only a handful of American visitors each year. (It has just six reviews on TripAdvisor.) While the uninhabited island has great snorkeling, most visitors come for the historical significance. "JFK, who would be 100 years old this May, was stationed nearby when his patrol boat was struck by a torpedo and he swam to this island," says recent visitor Lisa Niver of We Said Go Travel.
Getting there: From Fiji, fly Solomon Airlines to Gizo where you can pay a tour operator about $30 to take a half-day boat trip to Kennedy Island. You can also stay at Fat Boys, a budget-friendly resort that takes guests to the island.
4. No Name Cay, Bahamas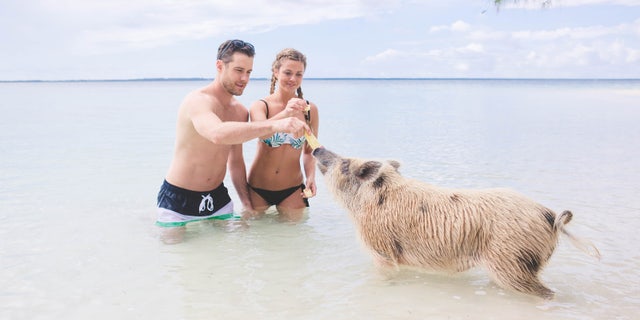 The only inhabitants of this aptly named beach are Bahamian swimming pigs. Although these feral pigs are friendly (yes, you can doggie-paddle with them), they don't appear on Instagram nearly as often as Exuma's aquatic swine. In other words, No Name Cay is not yet an international swimming pig sensation. Still, it's only a matter of time before the beach, which locals have deemed "Piggyville," becomes a major tourist trap.
Getting there: The most direct way to get to No Name Cay is to fly into Marsh Harbour from Nassau or select cities in Florida. From there, head to Abaco Beach Resort and Boat Harbour Marina to rent a boat or book an eco-tour. It's just a 30-minute scenic ride from the marina.
FOLLOW US ON FACEBOOK FOR MORE FOX LIFESTYLE NEWS
5. Praia Formosa, Santa Maria Island, Azores, Portugal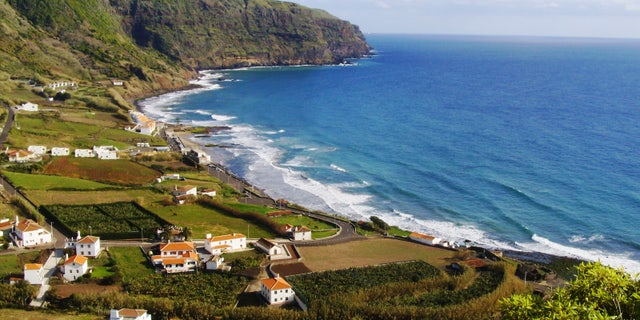 Praia Formosa on the island of Santa Maria was once home to a 16th century fort built to deter pirates. Today, visitors who navigate the winding cliffside road down to the beach can walk among the remaining ruins. They can also search for sea life in the pollution-free tidal pools. In fact, Praia Formosa was awarded Blue Flag status — indicating it meets the most stringent international water quality standards set by the Foundation for Environmental Education.
Getting there: The fastest way to get to the Azores from the U.S. is to fly nonstop on Azores Airlines. It's a four-hour flight from Boston. From the Azores, take a 20-minute flight to Santa Maria where you can rent a car or take a 20-minute taxi ride to Praia Formosa.
6. Silhouette Island Beaches, Seychelles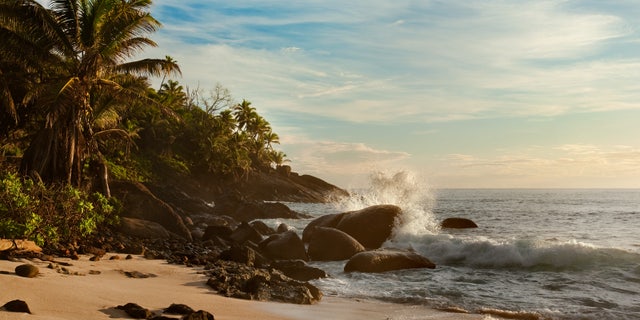 Silhouette Island may be the third largest in the Seychelles, but it still only has 200 inhabitants. Most of them work at the Hilton Seychelles Labriz Resort & Spa, the only resort on the island, 92 percent of which is protected as a national park. The island's beaches are so intimate that the word "virgin" is often used to describe them. Although, if you ask the 125-year-old Aldabra tortoises who live here, they'd say the beaches are no new frontier.
Getting there: Brace yourself. From the East Coast of the U.S. you're looking at 20-plus hours of flying time just to get to the Seychelles' Mahe Airport. From there, drive 30 minutes to Bel Ombre where you can catch a 45-minute jetty to Silhouette Island. Or, skip the boat and take a 15-minute helicopter ride directly from Mahe Airport.
7. Whitehaven Beach, Whitsunday Islands, Australia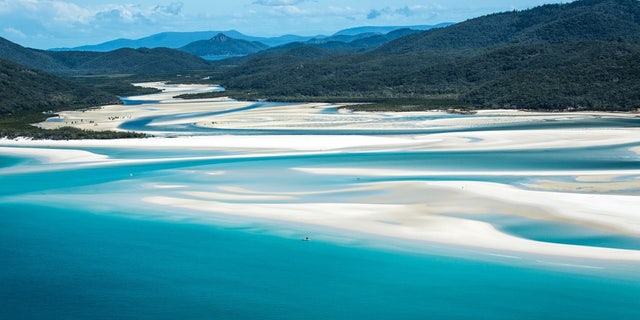 "Spectacular 50 Shades of Blue" reads a March 2017 TripAdvisor review for Whitehaven Beach. With more than 1,500 TripAdvisor reviews (mostly with 5 out of 5 bubbles) this Whitsunday Island beach is more remote than it is secret. There are no buildings, roads or telephone lines in sight. Just seven miles of sand so white (it's 98 percent silica) it makes other white-sand beaches look dingy.
Getting there: From the U.S., fly into Brisbane where you can catch a two-hour flight to Hamilton Island in the Whitsundays. From Hamilton Island, book a catamaran cruise ($99 for half day) or splurge and take a helicopter ($330) to Whitehaven Beach.
8. Mergui Archipelago, Myanmar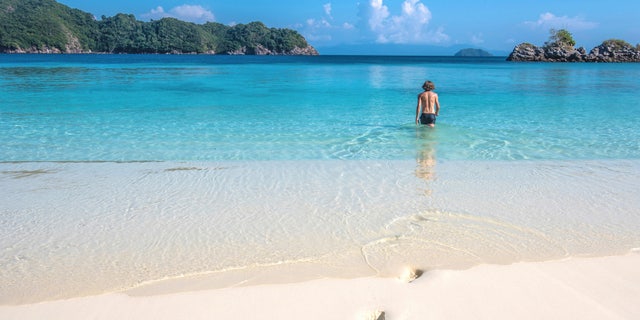 Myanmar shares a border with Thailand and the Bay of Bengal, so it makes sense it also has world-class beaches. But unlike Thailand, Myanmar has a fraction of the tourists since it just opened its borders in 2015. "Presently, the Burmese government has a policy against developing tourism in Mergui," says Robert Schrader, an American travel blogger living in Bangkok. "You not only need to get a special visa to enter the archipelago; you either need to be staying at the one luxury resort there, or be traveling by private yacht as I did. It's exclusive, but not only for exclusivity's sake."
Getting there: To get to Mergui from the U.S., fly to Yangon (one-stop via Tokyo, Beijing, Hong Kong or Dubai from major U.S. cities), then take a domestic flight to Kawthung where you can find tour operators offering private boat transfers.
THE 7 BEST BEACH CAMPING SPOTS IN AMERICA
9. Cayo Costa State Park, Florida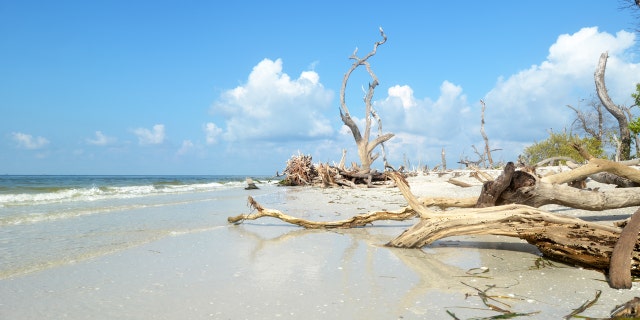 Although it's the third most populated state, Florida still has miles of beach not covered in footprints or fishing lines. Cayo Costa State Park, an off-the-beaten-path featuring nine miles of beach, is only accessible by water. On this 2,426-acre island, overnight accommodations are limited to tent sites or primitive cabins owned by the Florida Park Service. Keep your eyes peeled for dolphins and manatees while boating to the island-- and for fossilized shark teeth while shelling.
Getting there: From Fort Meyers, head to Captiva Island, Punta Gorda, Boca Grande or Pine Island, where you can catch a half-day water taxi for $25 per adult. (There's an additional $2 state park entry fee.)