8 tips for first time cruisers on a Carnival ship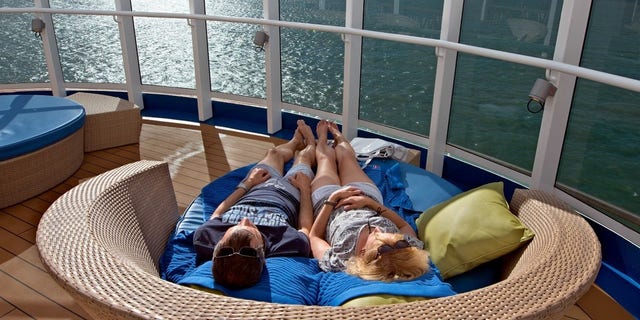 NEWYou can now listen to Fox News articles!
Whether you're zooming down waterslides or joining a conga line by the pool with a bucket of beer, you're in for a lively vacation on Carnival's party-centric ships. But if you're new to cruising, these big ships can seem a little daunting when you first board. Here are some helpful tips for your first Carnival cruise that will have finding your sea legs in no time.
1. Do your research.
There are 25 ships in Carnival's fleet, and they're not all created equal. Check out what's offered on your ship before you board, so you'll know what to expect. The new Carnival Vista is decked out with an IMAX theater and an onboard brewery, for example, while an older ship that's more budget friendly will have fewer bells and whistles.
2. Reserve activities and book tables early.
If you want to have dinner at a specialty restaurant, or the exclusive 16-person Chef's Table, you should schedule in advance on your online Carnival account to make sure you get a space. Want to get a jump on booking excursions before all the good ones are gone? You can do that there, too.
3. Download the app.
With the Carnival HUB app, you can text your travel companions for free, check the daily schedule and deck plans, track how much you've spent, and get recommendations for upcoming ports of call. There's a one-time fee of $5 to download the app, but we think the convenience factor is totally worth it.
4. Pay to skip the lines.
With Carnival's "Faster to the Fun" Program you don't have to have platinum loyalty status to skip the lines. For $49.95 for a two- to three-day cruise and up to $79.95 for an eight-day or longer cruise, everyone in your stateroom gets to skip the lines at embarkation, disembarkation, and at guest services, and you get priority tender and stateroom access, too.
5. Consider the drink package.
Drink two soft drinks per day? Then the line's soda package is worth the $6 per day charge. (The package is only $4.50 for kids.) The same is true of the alcohol package — it's $49.95 per person per day if you order in advance online, and you get up to 15 drinks per day. (Not that we're suggesting you drink them all!)
6. Some of the best food is actually free.
In our opinion, the food at Guy's Burger Joint and Blue Iguana is some of the best on board — and these poolside spots are complimentary. Just don't be surprised to find lines, since the burgers and burritos are made to order.
7. You don't have to disconnect.
This isn't your grandmother's cruise ship. Today, the Wifi is 10 times faster than it used to be on Carnival ships, and packages are way more affordable than those ancient "75 cents per minute" rates. Best of all, if you're most interested in checking Facebook and posting to Instagram, you can choose a social media for package for just $5 per day, and access to internet and email is just $16 more per day.
8. Formal night isn't that formal.
Don't show up decked out in a ball gown on this cruise line ... ever. These ships are generally pretty informal: Most people wear shorts and flip flops most days in the afternoon — and, to be honest, you'll probably see some shorts on nights designated as "cruise elegant," too.