7 stylish must-haves for your beach bag
Summer is finally heating up and that means showing a little skin. Whether you're be packing for a seaside day trip or for an exotic coastal excursion, here are seven stylish fashions you need in your bag this summer to look fabulous.
1. The new beach towel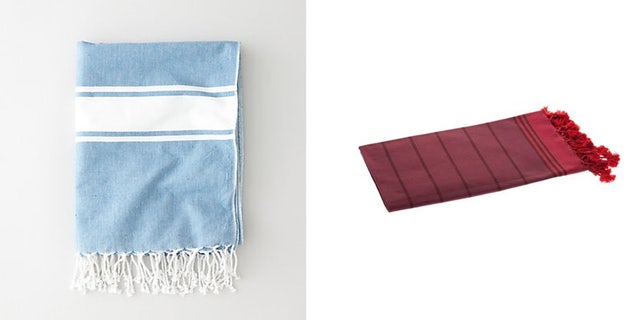 Big, bulky terry cloth towels are so out of date. Turkish towels take up half the space and are twice as absorbent. Not only are these nifty little towels perfect for drying off your body post dip, but these 100 percent cotton hand woven fabrics serve as beach blankets, wraps and can be even used as a stylish sofa throw or table runner. They come in an array of styles and prints, but my favorites are the Anatolia Peshtemal Towels from Cotton and Olive in striped raspberry ($42) cottonandolive.com and the denim Fouta Turkish Towel from Steve Alan ($45) stevealan.com.
2. Rock the rash guards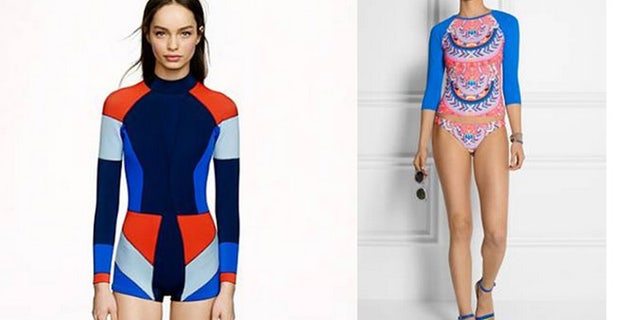 As safe sun practices are becoming increasingly chic, rash guards have hit the style spotlight this season. J Crew's S/S14 collection includes a stylish option for those who want to cover up, and the SPF 50+ durable little shirts are offered in a huge variety of colors and fabrics, from nylon sleeveless, to cotton half-zips--even a full-body neoprene wetsuit, designed by Cynthia Rowley for J Crew. I love the sexy Colorblock Wetsuit in Navy by Cynthia Rowley ($210) jcrew.com. To show a little more skin, and to coordinate with your bikini, Mara Hoffman's Printed Stretch Rash Guard ($150) available at netaporter.com will also do the trick. Being UV responsible has never looked so good.
3. Wrap you head around this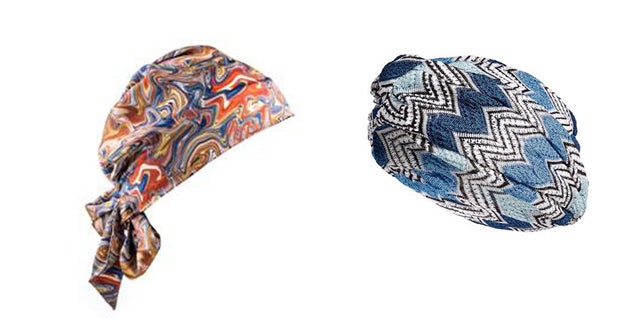 Rather than the traditional large brimmed hat, a new take on head, or should I say hair protection is the wrap. To protect tresses from the elements, try Eugenia Kim's Gigi Head Wrap ($165) beckleyboutique.com. My other pick is the Missoni Mare Crochet-Knit Turban ($250) at stylebop.com, for a more boho look. Headscarves have all the style of a straw hat, in a little portable package that makes it much easier to tuck into bag.
4. The polished toe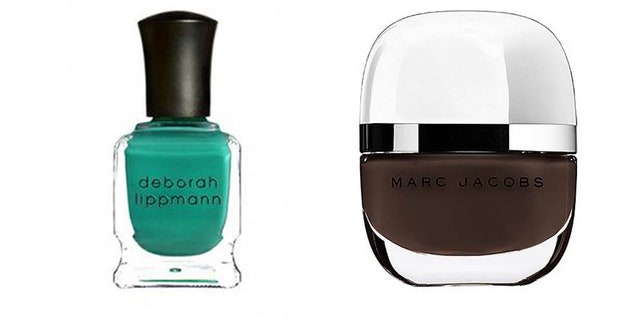 We all know the polished toe is one of the best accessories of summer. This season's hottest shades are flame orange, teal, and surprisingly chocolate brown. The latter two can be hard to pull off for some, so opt for a shade according to your skin tone. Teal works for tanned tootsies, whereas coco brown suits a more fair maiden. Drop a bottle in your tote in case of the need for touch-ups or to spice up your summer look. Try Deborah Lipmann's polish in She Drives Me Crazy, ($18) Deborahlippmann.com and Marc Jacobs Nail Lacquer in Bark! ($18) from sephora.com
5. Tinted facial sunscreen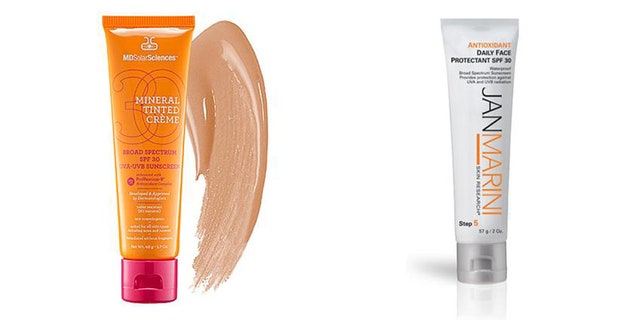 As a self-proclaimed (and ashamed) sun worshiper, summer is my time to shine. Basking in the sun is a highlight of the season, but now I've come to terms with the fact that protection is a must. Tinted sun cream is the best of both worlds. MDSolarSciences Mineral Tinted Crème Broad Spectrum SPF 30 UVA-UVB Suncreen ($32) available at sephora.com is perfectly light with the ability to even skin tone while giving you a glowing look. This formula is water resistant and is free of parabens, sulfates, and other nasty chemicals, leaving your skin looking tanned but healthy. For a similar product check out Jan Marini's Antioxidant Daily Face Protectant Broad Spectrum SPF 33 ($54) offered in three colors to match your exact complexion from janmarini.com.
6. Keep it rocking with portable speakers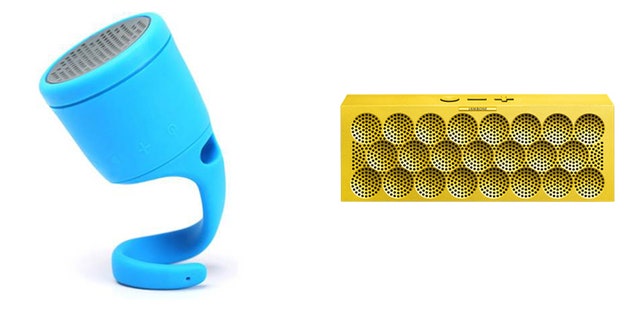 To take full advantage of summertime fun, add an outdoor portable music player. Today technology gives us lots of savvy options at affordable prices, with little devices that deliver a big kick. The Boom Swimmer for $59.99 from crutchfield.com is completely waterproof and plays music wirelessly from your iPhone or tablet. Its flexible design allows you to attach it to almost anything, whether it be your beach cruiser or lounge chair, and to top it off the electric blue color screams summer. If you're willing to dish out a little more cash, the Mini Jambox by Jawbone is also a great beach companion. I'm a sucker for anything offered in multiple colors, and with the Mini Jambox you can pick from nine. Get yours from jawbone.com for $129.99.
7. Bring beach-friendly jewelry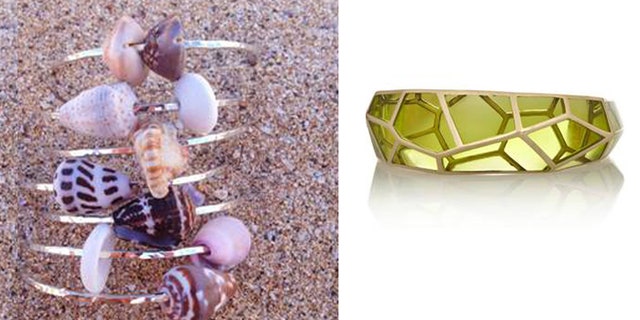 When at the beach or pool, less is always more. Nothing is tackier than loading up on the bling when at the seaside, so here are two great options to keep your bikini the star of the show. I like chunky resin bracelets for an extra glam look, plus the resin holds up in the waves and sand. This Isharya Louvre Gold-Plated Resin Cuff in Leaf Green ($74) from theoutnet.com ticks all the boxes, this little accessory goes a long way. I also love Kaipo'i Designs shell bangles. These little beauties are handmade in Hawaii and are perfect for the relaxed beach babe. You can find yours at kaipoidesigns.bigcartel.com for $60 and up.