7 Classic American Vacations on the Cheap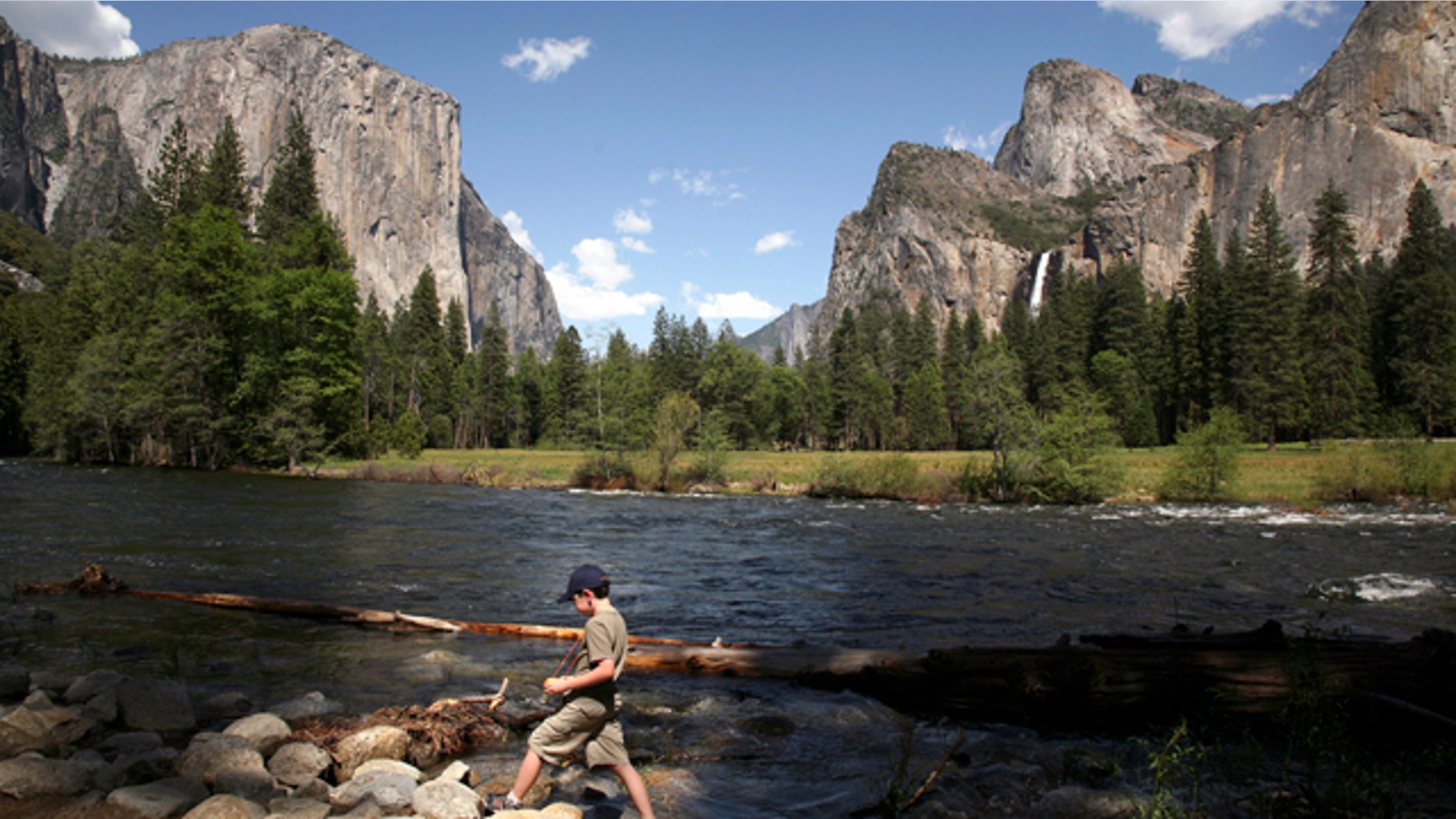 Move over, staycation. Americans are ready to travel again.
Spending on domestic travel by U.S. residents is projected to grow by about 5 percent in 2011, according to the U.S. Travel Association in Washington, D.C. Travel spending dropped nearly 8 percent in 2009, due to the recession.
People are willing to spend again on American vacations, albeit more smartly, says Cathy Keefe, spokeswoman for the U.S. Travel Association.
A poll by travel website Travelocity.com confirms people are watching their vacation dollars closely, with 60 percent having a predetermined travel budget for 2011, up from 44 percent in 2010.
"People have been taking shorter trips, staying closer to home and staying with friends," she says.
The good news? "There are a tremendous number of bargains out there for travelers," Keefe says.
Here is a quick guide to classic American vacations for less at some of the United States' most-visited destinations.
Yosemite National Park
Four million people visited Yosemite National Park last year to soak in the park's nearly 1,200 square miles of wildlife, waterfalls and towering sequoia trees as well as to hike, camp and ski.
"It's nature's greatest theme park," says Jeffrey Hentz, executive director of the Yosemite/Mariposa County Tourism Bureau.
It's also affordable. Admission costs $20 per car for a seven-day pass. Once inside, the park has a free shuttle to ferry visitors between all of the major attractions.
To stretch your travel dollars, visit during the off-season from September to April. "A room that is $200 in the summer can drop to $40 to $60 a night in the off-season," Hentz says. Camping is a year-round saver, with spots starting at $10 to $20 per night. But there is limited space so book early, he says.
Many visitors on this American vacation save on food by picnicking, Hentz says. Local tourism groups also offer package deals on lodging and activities, and coupons for attractions and restaurants.
Niagara Falls
Eight million people visit Niagara Falls State Park every year to watch up to 700,000 gallons of water cascade over the falls per second. The natural wonder "is a must-see that won't break the bank," says Jennifer Starkey, spokeswoman for the Niagara Tourism and Convention Corp. in Niagara Falls, N.Y.
"There are about a hundred free events, attractions and activities each year, and the majority of other attractions cost less than $20," Starkey says.
To stretch your travel dollars on this American vacation, the Niagara Falls State Park sells a Niagara Falls USA Discovery Pass for admissions to many major attractions, such as the Cave of the Winds observation deck, Maid of the Mist boat tour and the aquarium. It costs 30 percent less than separate tickets.
Hotel rooms near the falls can top $200 per night in summer, but the farther from downtown Niagara Falls, the less expensive the rooms, Starkey says. Visit during slower months, such as April, May, September and October, and the prices of hotel rooms are lower. Prices hit rock bottom in winter.
"Not all of the attractions will be open then, but the falls are always free," she says.
National Mall, Washington, D.C.
Washington, D.C., might be the ultimate budget vacation spot. "Apart from your meals, you're probably not going to spend anything during the day," says Kate Gibbs, spokeswoman for Destination DC, a tourism organization. "Most of the great attractions -- the National Mall, the 19 Smithsonian Museums, the National Zoo and Capitol Hill -- are all free."
To stretch your travel dollar, look for one of the many hotels offering stay-two-nights-and-get-one-night-free deals, Gibbs says. Hotel rates also drop from December to February, the city's slowest tourist season, even though there is still plenty to do.
In December, the city has holiday decor, free concerts on the National Mall and ice skating. February is the monthlong "Date Nights DC" event where entertainment venues and restaurants offer special discounts, such as two-for-one tickets and dinners. The Cultural Alliance of Greater Washington also sells half-price tickets to local theater events year-round.
It's easy to save on transportation on this American vacation, Gibbs says. In addition to the Metro subway system, the city has the DC Circulator bus line that stops at most of the major sites and only costs $1 to ride.
Badlands National Park and the Black Hills
Western South Dakota is home to Mount Rushmore, the Crazy Horse Memorial, Badlands National Park and the Wild West town of Deadwood, S.D., in the Black Hills. It's also a place where buffalo literally roam, at least in Custer State Park. And, it's all packed into 100 square miles.
There are so many historic sites and museums so close together, "that the area offers a lot of bang for every vacation dollar," says Nort Johnson, executive director of the Black Hills, Badlands & Lakes Association in Rapid City, S.D.
To stretch your travel dollars, avoid the summer rush and travel from late August until May for this American vacation."You can get exceptional bargains," he says. "Attractions and hotels have a lot of spare capacity and are willing to make deals."
Staying at one of the many mom-and-pop motels in smaller towns is also a sure way to stretch hotel dollars in any season, Johnson says. Camping is affordable year-round, starting at about $15 per night.
Local tourism organizations also offer coupons for local attractions and package deals with discounted hotel stays and attraction tickets.
Great Smoky Mountains National Park
The Great Smoky Mountains National Park is the most-visited national park in the U.S. People are drawn to this American vacation by the more than 800 square miles of hiking trails and by Tennessee tourist hot spots Pigeon Forge and Gatlinburg.
"It's an excellent choice for an affordable vacation as admission to the park is free, and you can hike, bike, take scenic drives, tour historic sites, fish, bird-watch and enjoy the park's wildlife," says Deb Huso, author of the "Moon Blue Ridge & Smoky Mountains" handbook. "The park also offers horseback riding and bike rentals for a reasonable charge."
To stretch your travel dollar, look for food and lodging outside of busier, more expensive towns such as Gatlinburg and Pigeon Forge, Huso says.
"The Smokies are pretty affordable in terms of lodging and dining if for no other reason than the sheer number of options. Your best bet may be a vacation rental. You'll get more bang for your buck, and you can cook in," Huso says.
Camping is another cost-cutter. Spots cost $20 per night in the park and start at $15 per night outside the park in peak season.
New Orleans
Fine food, never-ending nightlife and well-preserved history draw millions to New Orleans every year. "The Big Easy doesn't have to dent your wallet either," says Julia Kamysz Lane, author of "New Orleans for Dummies."
To stretch your travel dollars on this American vacation, spend $1.25 on the Regional Transit Authority's St. Charles Avenue Streetcar ride to the Uptown section of New Orleans. Then take a self-guided walking tour of the Garden District and Audubon Park. Or, sign up for a free guided tour of the French Quarter conducted by national park rangers, Lane says. The French Quarter is part of the Jean Lafitte National Historical Park and Preserve, which also includes a nearby nature preserve with free hiking and walking tours through the Southeast Louisiana bayous.
Dine in the city's many famous restaurants, such as Commander's Palace and Galatoire's, for less by going for lunch. "Some restaurants also offer early bird or summer dinner specials to lure in diners," Lane says.
To save on lodging, steer clear of the French Quarter and instead aim for the nearby Central Business District or the Garden District. "It's easier on the budget, and you'll experience the city more like a local," she says.
The Big Apple
New York is a big tourist draw, but "the city's reputation of being expensive is fairly earned," says Ethan Wolff, author of "Frommer's NYC Free & Dirt Cheap."
"But there are a lot of inexpensive and free experiences," he says.
Take in the scenery from the Staten Island Ferry. "It's a free ride with a gorgeous view of New York harbor and the Statue of Liberty," Wolff says.
See more free sights by walking from Chinatown to Little Italy, then to SoHo and Greenwich Village.
Times Square and Central Park are free to explore as well, and the nonprofit Big Apple Greeter program offers free guided walking tours through historic neighborhoods. A subway pass is also a must, Wolff says. A seven-day unlimited pass is $29.
Hotels are rarely cheap for this American vacation, but you can save by visiting in January to March, or in summer, when rooms cost about 75 percent less than busier times.
If a trip to the city's museums is on the to-do list, plan to go on designated free days. For the Metropolitan Museum of Art, the $20 admission charge is "recommended." In other words, you can pay what you want.