11 awesomely creepy places
If your sunny beach vacation is looking a little stale, consider a trip to one of these creepy destinations. Steeped in history and beautiful in their own way, these 10 spots are perfect for the tourist who loves a little terror. Check out an abandoned amusement park project from China or dive deep into an underwater cave in Texas.
One thing is certain, a trip to these spooky spots is not for the faint of heart.
1. Island of the Dolls, Xochimico, Mexico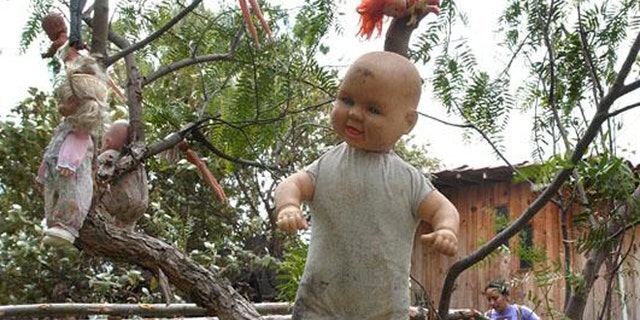 Travelocity called Isla de las Muñecas, or Island of the Dolls, the creepiest place on earth. South of Mexico City, on Xochimico, an island famous for its beautiful gardens, this eerie spot is hidden deep in the canals, far away from the normal tourist routes. Hundreds of dolls, some with severed limbs, some with decapitated heads, hang from the trees or are propped up in the grasses. As legend has it, the place is dedicated to the lost soul of a young girl who drowned in mysterious circumstances around 50 years ago. The dolls are believed to be possessed by her spirit. Today, locals and tourist come to hang more dolls, and get creeped out.
2. Salina Turda, Romania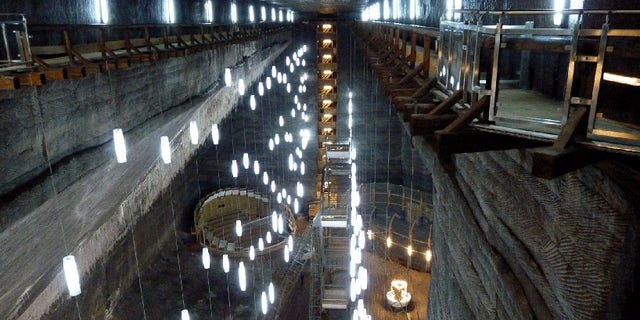 Claustrophobes beware. This amusement park built in an abandoned salt mine is one of the most unusual theme parks in the world. Situated 368 feet below ground, the Romanian attraction features a mini-golf course, Ferris wheel and paddle boats. Make sure to bring a jacket as average temperatures in this underground arena hover around the low 50s.
3. Maunsell Sea Forts, North Sea, United Kingdom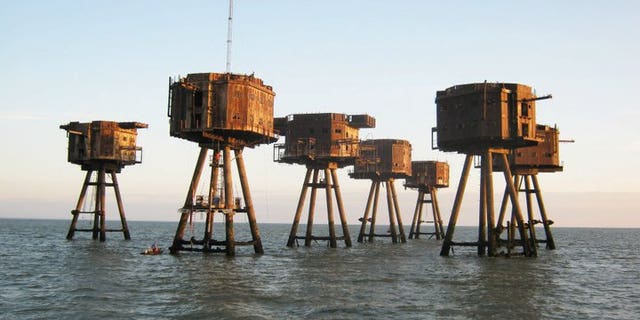 These other worldly sea towers were originally designed to protect England from a possible Nazi invasion during WWII. In 2003, Project Redsands was established to initiate preservation of the old forts. Despite the somewhat mangled appearance of towers, the renovation efforts for the Maunsell Forts will fix the space up for multiple uses, including music recording studios, communications facilities, and a wartime and broadcasting museum.
4. Wonderland, Beijing, China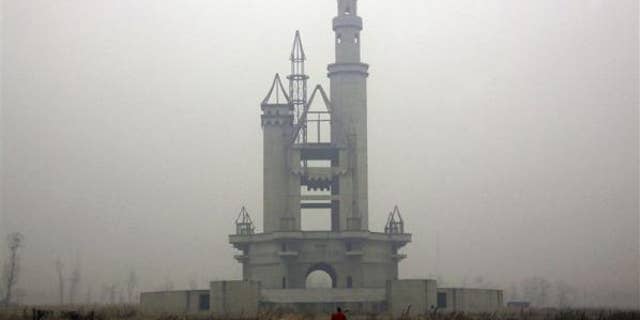 Few things are creepier than abandoned places meant for kids. 'Wonderland' lies on the outskirts of Beijing, but construction was halted in 1998 after funds were withdrawn due to disagreements over property prices among the local government and farmers. Here a farmer walks by a building on the way to tend his crops he grows in a field on the grounds of the vacant site.
5. The Catacombs, Paris, France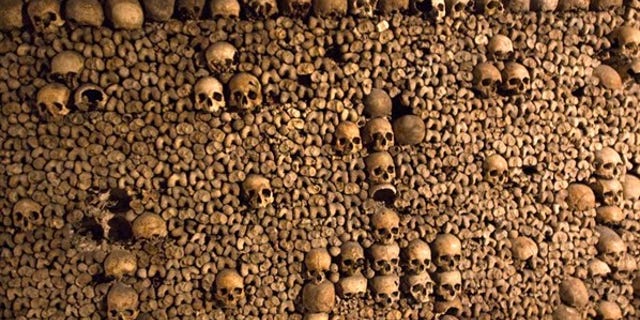 The Catacombs are one of the most well-known creepy attractions in the world. Established in the 18th century, they were built as the city's cemeteries swelled to capacity. An estimated 6 million people are interred underground. Due to the haphazard nature with which the dead were treated, the catacombs are rumored to be haunted. Visitors claim to feel invisible hands grabbing them as they walk by, or feel the sensation of being stalked by an un-dead presence.
6. Akodessewa Fetish Market, Lome, Togo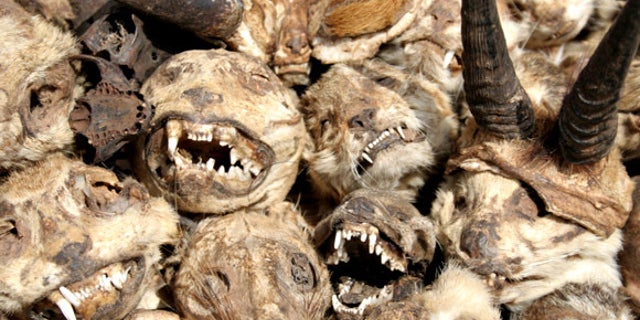 This is one of the world's largest voodoo supermarkets that caters to the whims of those who practice every type of black magic. From monkey skulls to mummified bats to elephant feet – the smell of decomposing mammals is just one reason a visit to Akodessewa will not soon be forgotten. Mali-based Saga Tours and Boston-based Spector Travel run private trips throughout West Africa, with a stop at this famous marketplace. Here you can take in a traditional voodoo ceremony, where practitioners dance and drum until they become possessed and lose control of their bodies.
7. Muynak, Uzbekistan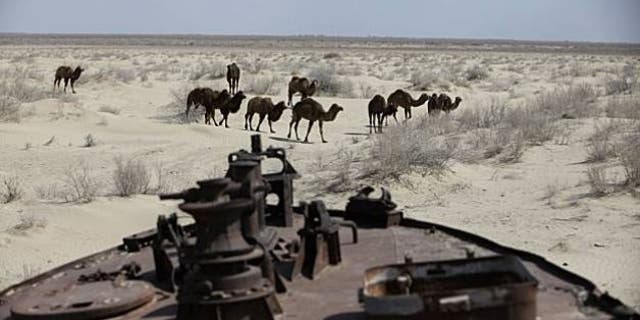 Once the world's fourth-largest lake, the Aral Sea has now shrunk by 90 percent since the rivers that feed it were largely diverted in a Soviet project. Muynak is the former site of a busy seaport but today rusted boats litter the now-desert floor as camels pass by. The area has been named one of the worst environmental disasters by U.N. Secretary-General Ban Ki-moon.
8. Shilin Stone Forest, Yunnan Province, China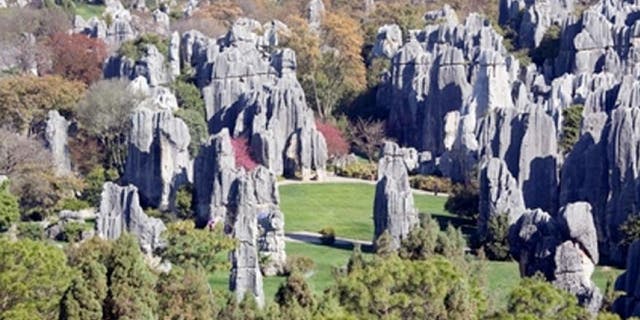 Geologists believe the unique rock formations of Shilin Stone Forest were formed 270 million years ago when earth's constant movement caused large sea waters to retreat and allowed the limestone cliffs to rise into the sky. Local legend has it that the Stone Forest was created by immortals that smashed an entire mountain to bits, to create a labyrinth where lovers could meet in total privacy. Tourists can spend a day discovering the 135 square miles of the natural wonder.
9. Jacob's Well, Texas, USA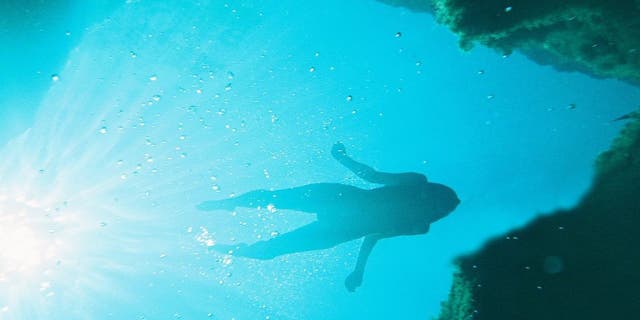 Underwater caves are steeped in mystery and Jacob's Well is no exception. This particular spring is over a 100 feet deep. Looking for a leisurely swim? Not so fast. Novice swimmers have died trying to explore the depths of this natural phenomenon, so proceed with caution.
10. Varosha, Cyprus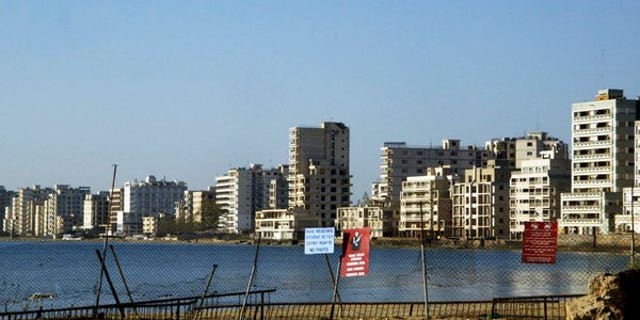 The town of Varosha is a completely uninhabited resort city on the northern coast of Cyprus. After the Turkish invasion in 1974, Varosha was quickly evacuated and the area stands frozen in time exactly as it was 40 years ago. In its heyday, it was a popular destination that catered to stars like Elizabeth Taylor, Richard Burton and Raquel Welch. Today, the abandoned buildings are falling apart, so visitors should visit before all is lost to nature.
11. Goussainville-Vieux Pays, France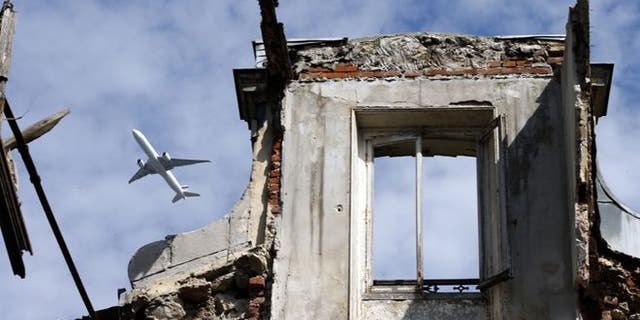 Goussainville-Vieux Pays, just 12 miles north of Paris, is so close to Charles de Gaulle Airport that the town is technically considered part of the runway approach. When the airport first opened in the 1970s, local residents of the small farming town fled after being bombarded by constant noise from one of Europe's busiest travel hubs. Cafes, shops and even a historic church make up this small ghost town.