10 US cities that thrived despite the heat
Think your city is hot? Well, think about this: Some of the greatest American cities have existed long before the advent of methods to cool them.
Desert cities born from boom towns and Southern metropolises were thriving hubs well before air conditioning was invented 111 years ago.
On July 17, 1902, an engineer named Willis Haviland Carrier designed the first modern air conditioning system, which he called the "Apparatus for Treating Air," for the Sackett-Wilhelms Lithographing and Publishing Co. in Brooklyn, N.Y. The machine blew air over cooling coils in order to control the factory's humidity and keep the paper from wrinkling. But it was not until 1931 that H.H. Schultz and J.Q. Sherman would invent the individual room air conditioner that we know today.
For American cities sprouting up in the hottest climate zones of the country, summer was even more of a sweating, steaming mess than it is today. Here some of America' cities that sprung up into meccas of culture and enterprise, despite the blazing heat.
1. Phoenix, Arizona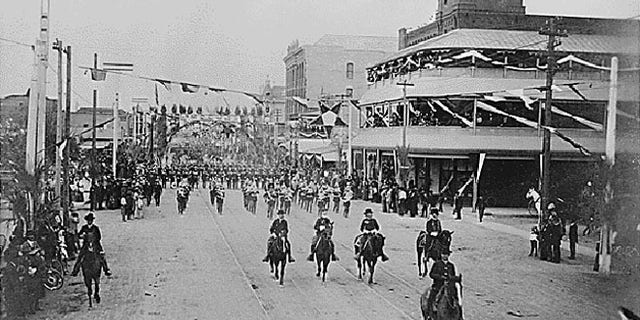 Average monthly high for July: 102°F
The capital, and largest city, of the state of Arizona, Phoenix was first incorporated on Feb. 5, 1881. Had they known what the summer would bring, its founders may have packed up and headed northward. This image from 1888 shows a military parade down the main street of the city. Now imagine cheering the men onward from the sweltering streets and before returning indoors to your nice air conditioned…just kidding. It was hot everywhere then.
2. Las Vegas, Nevada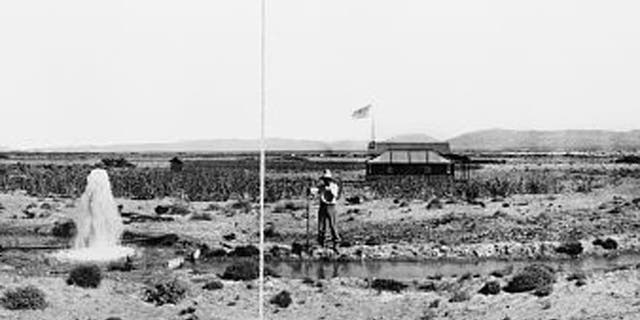 Average monthly high for July: 104°F
This photo from 1910 shows the early stages of what would become Sin City. Of course, it wasn't much to look at back then, no fountains, no casinos, no peep shows. It's just a vast expanse of hot, hot desert.
3. Riverside, California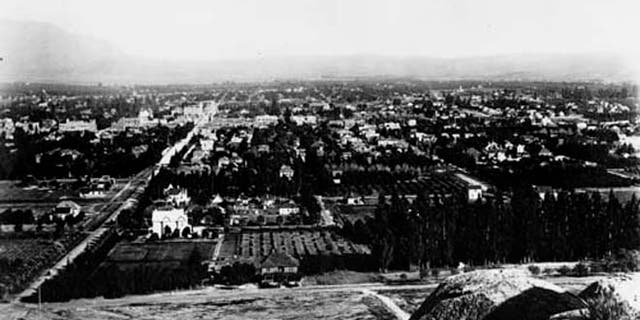 Average monthly high for July: 94°F
Riverside, founded in 1870, is named for its location beside the Santa Ana River. Here it is in 1900. Back in those early years, Riverside was home to many beautiful orange groves. You know what it was not home to? A way to escape the intense inland California summer heat.
4. Dallas, Texas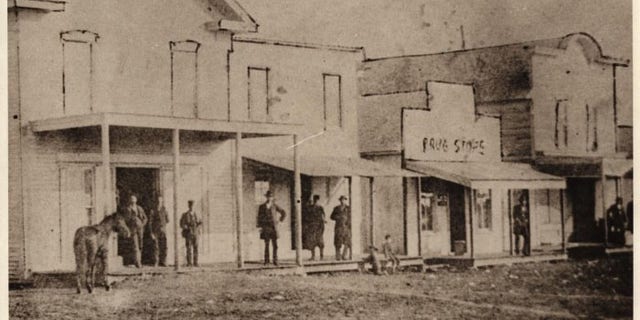 Average monthly high for July: 96°F
This photo was taken sometime between 1880 and 1905. It shows the Richardson neighborhood of Dallas. Here we see a city block with four commercial buildings, all with front awnings and wooden walkways, none with AC units. Summer shopping? No thanks.
5. Sacramento, California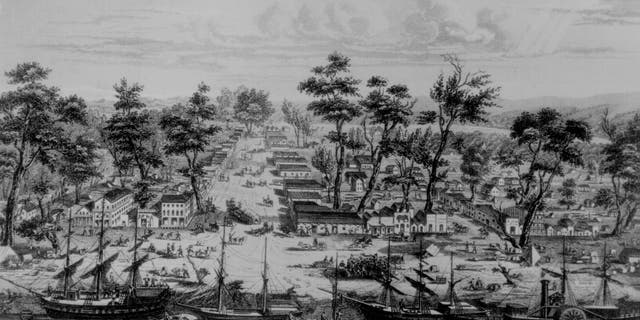 Average monthly high for July: 92°F
Sacramento is California's capital city and was founded by Swiss immigrants during the Gold Rush. The city became a transportation hub during the second half of the 19th century. It was a crucial stop for wagon trains, riverboats, the Pony Express and eventually the First Transcontinental Railroad. If only they all had a nice icey, air conditioned hotel to relax in.
6. Oklahoma City, Oklahoma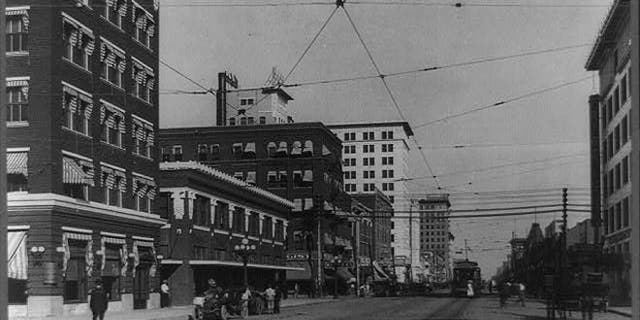 Average monthly high for July: 94°F
Oklahoma City is the capital and the largest city in Oklahoma, which one would expect given the city's name. It was founded with a population of roughly 10,000 people during the end of the 1880's. This photo, taken sometime between 1915 and 1920, shows the city's Grand Avenue business district with the terminal of the Oklahoma Railway on the left.
7. San Antonio, Texas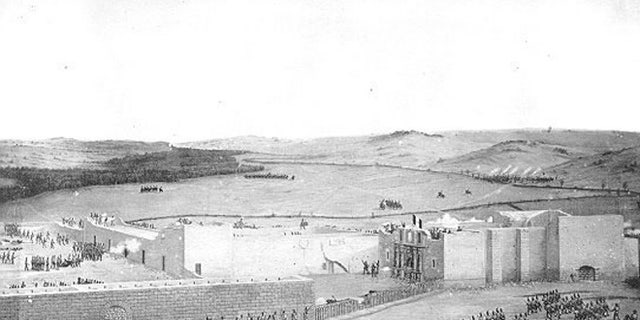 Average monthly high for July: 95°F
Home of the Alamo, San Antonio has a storied past in America. The Alamo was home to both Revolutionaries and Royalists during Mexico's ten-year struggle for independence. The stronghold finally fell to the Texan Army during a siege in Dec., 1835. This image, The Fall of the Alamo, was painted by Theodore Gentilz in 1844. While we should all "remember the Alamo," we must also remember they did it all without AC, now that's a feat.
8. Salt Lake City, Utah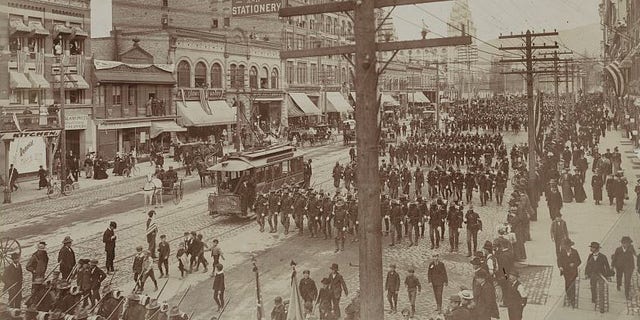 Average monthly high for July: 90°F
Here's a view of downtown Salt Lake City from April 24, 1898. We see the 24th Infantry leaving home to fight in the Spanish-American war. A bustling, crowded metropolis during the time of this photo, Salt Lake City was populous long before the advent of air conditioning.
9. Houston, Texas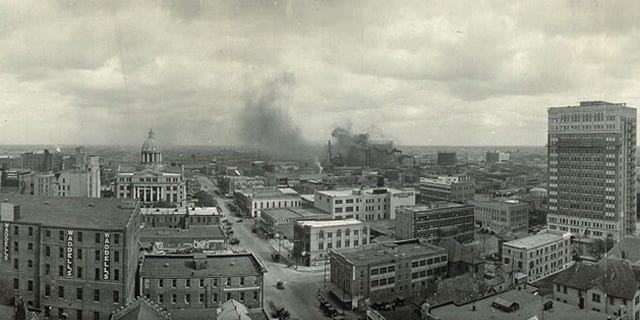 Average monthly high for July: 92°F
This photo was taken from the top of the Keystone Building in the center of Houston in 1924. Ye ol' Houston would have been brutal in the summer, with its humidity. Unlike the dry heat of desert cities, Houston has what is technically classified as a "humid subtropical" climate. Others may call it, the worst place ever to have been born before AC was invented.
10. Kansas City, Missouri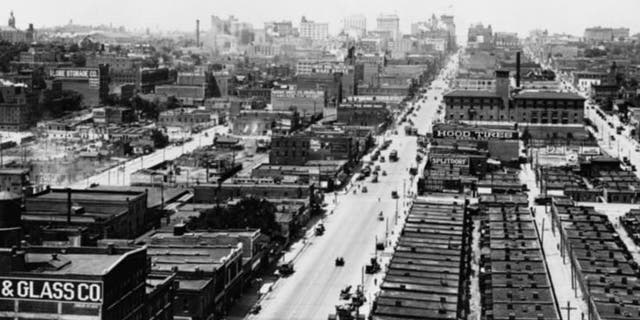 Average monthly high for July: 90°F
This photo from 1915 shows Kansas City's business district. Kansas City is the largest city in Missouri. The city was founded as early as 1838, under the name the "Town of Kansas." It should have been named the "Town of Get Me Out of Here in The Summer Because it Will Be Another Century Before We Get AC."