What Timing! $529 Toshiba Excite 10 LE Hits March 6th, Day Before iPad Event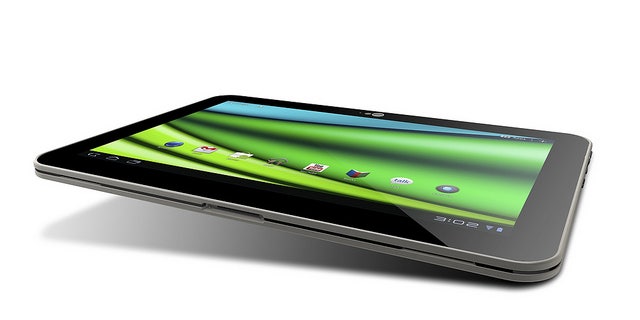 First shown off at CES, Toshiba has announced that its new ultraslim Android tablet, the Excite 10 LE, will be available on March 6 and will start at $529. Originally called the Excite X10, the Excite 10 LE will have a 10.1-inch display with a resolution of 1280 x 800, and will be covered in Gorilla Glass. The tablet is just 0.3 inches thick, and weighs 1.18 pounds, making it a hair thinner and lighter than the iPad 2.
Despite its svelte profile, the Excite 10 LE will come with micro USB and microHDMI ports and a microSD card slot. A 1.2-GHz TI OMAP 4430 processor will run Android 3.2 Honeycomb on the slate, which will be upgraded to Ice Cream Sandwich later this spring. Other features include a 2-MP front-facing camera, a 5-MP rear camera, 802.11b/g/n Wi-Fi, and Bluetooth 2.1 + EDR. Its measurements are 10.1 x 6.9 x 0.3 inches, and the 25-watt-hour battery will get up to 8 hours of runtime, according to Toshiba.
The Excite 10 LE will be sold in two configurations: A 16GB model will have a starting price of $529, and a 32GB model will cost $599.
Given that Apple's iPad 3 will likely sport a much higher resolution display and that other Android tablets (like the Transformer Prime) are packing quad-core processors, the Excite 10 LE could be a tough sell. But we'll withhold judgement until we get a device in our hands for review. In the meantime, click through for a gallery of Toshiba's newest tablet.