'We got carried away with ourselves': Bono says sorry for pushing album to iTunes users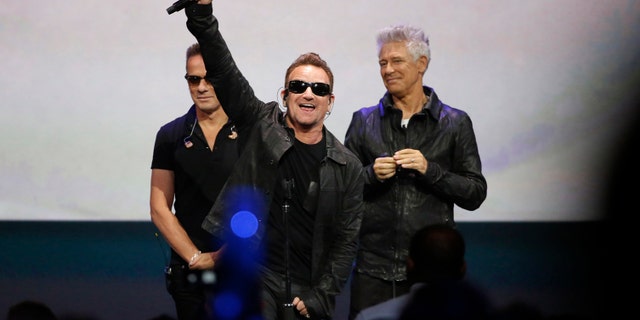 It seems like Bono has just added the free 'Songs of Innocence' iTunes download to his list of life's regrets, though if he had to rank them, it's probably his 1980s mullet that still causes him the most anguish.
In a light-hearted Q&A session on Facebook, the U2 frontman admitted the band "might have got carried away" with itself in doing a deal with Apple to launch its new album on iTunes for free, an arrangement that resulted in the tracks being automatically downloaded to millions of smartphones around the world.
Related: Apple says 81m iTunes users have 'experienced' the new U2 album so far
Bono's explanation as to why the band turned up on stage with Tim Cook last month to announce the freebie came in response to a question from one Harriet Madeleine Jobson, who asked: "Can you please never release an album on iTunes that automatically downloads to people's playlists ever again? It's really rude."
Here's Bono's response from the video:
"Oops. I'm sorry about that. I had this beautiful idea. Might have got carried away with ourselves. Artists are prone to that kind of thing. A drop of megalomania, a touch of generosity, a dash of self-promotion and deep fear that these songs that we poured our life into over the last few years mightn't be heard. There's a lot of noise out there. I guess we got a little noisy ourselves to get through it."
Related: Celeb tech endorsements are better for laughs than sales
Apple apparently received so many complaints about the automatic download that it ended up posting a special webpage explaining to upset iTunes users how to remove the album from their music library.
Of course, not everyone was upset about getting the band's new album for the princely sum of nothing.
Andrew Ronzino, for example, was evidently delighted to see the Irish rockers' latest work land in his music collection. Writing in the comments section of the band's Q&A video, Ronzino said: "Not everyone hated getting a FREE U2 album. I, being a fan, was very grateful. Thank you! You guys are awesome people, as well as an awesome band."