US Sends Troops to Help Find Nigerian Girls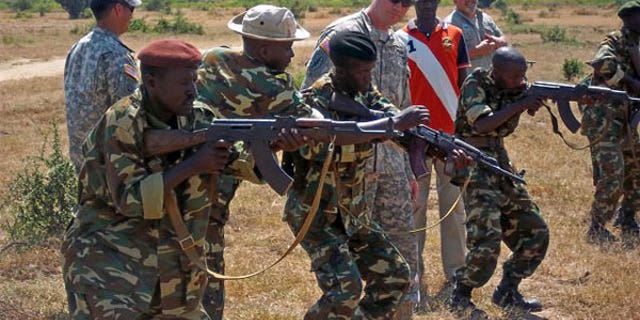 A small advisory group from U.S. Africa Command was heading to Nigeria on Thursday to take up a non-combat role in the hunt for more than 200 schoolgirls abducted by the Boko Haram terror group.
About 10 counter-terror and intelligence specialists from AFRICOM will link up with 11 other troops previously assigned to the U.S. Embassy to form a team prepared to assist the Nigerian security forces in finding and rescuing the girls, Pentagon officials said.
More than 200 girls aged 16-18 were abducted from their school in northeastern Nigeria on April 14. Army Col. Steve Warren, a Pentagon spokesman, said the formation of the team on the ground shows the Defense Department is "sharply focused on this horrific incident."
The initial kidnappings of the girls failed to provoke international outrage. That changed when a video emerged earlier this week showing their grinning captor, Boko Haram leader Abubakar Shekau, boasting that he might sell the girls at auction.
At the opening of the World Economic Forum in Abuja, the Nigerian capital, President Goodluck Jonathan told the delegates attending under heavy security that he viewed the abductions as an opportunity to strike a blow at Boko Haram.
"I believe that the kidnap of these girls will be the beginning of the end of terrorism in Nigeria," Jonathan told the forum meant to showcase business opportunities in Nigeria that has been overshadowed by the plight of the girls.
Jonathan thanked the U.S. and also Britain, France and China for offering help in the search.
Pentagon officials stressed that the U.S. military team was strictly advisory and barred from combat, but two veteran diplomats with long experience in the region questioned whether the Nigerians would listen to the advice.
"They believe that they have had a handle on the problem," Johnnie Carson, the former African Affairs chief at the State Department, said of the Nigerians. "Time has shown that the problem has not gotten any better," Carson said.
"In the past, the Nigerians have been reluctant to accept U.S. assistance" for their own internal political reasons, said John Campbell, the former U.S. Ambassador to Nigeria.
In a conference call with reporters sponsored by the Council on Foreign Relations, both Campbell and Carson said the emergence of Boko Haram in the north reflected deeper fissures in the Nigerian state that have been driven by mistrust between the mostly Muslim north and the Christian south.
In the efforts against Boko Haram, the response of the central government "has always been a security response, and that security response has been heavy-handed and very brutal," Carson said.
The result has been that many people in the north view the Nigerian security forces as "just as predatory and disrespectful of their civil rights as Boko Haram has been," Carson said.
-- Richard Sisk can be reached at Richard.Sisk@monster.com.