Underwater robots function like schools of fish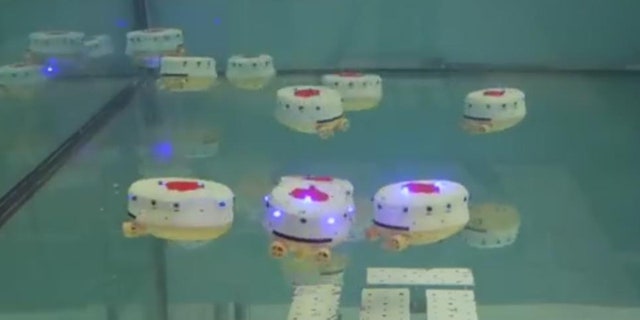 Robotics may soon be giving sea life a run for their money. European scientists have created small underwater robots that are capable of not only learning individually but also of interacting and exchanging information as a group — a function known as collective cognition, which is akin to schools of fish. Over the past year, 22 videos have been released by the EU-supported CoCoRo project that show the autonomous robots performing various demonstrations underwater as a group, which is the largest underwater robot swarm to date.
"We specialize in swarm robotics which exploits individual learning but more prominently the learning and knowledge of the group," project coordinator Dr. Thomas Schmickl told Foxnews.com. "In this context, even individually non–learning robots can achieve collective cognition by, for example, changing the topology of the group. While this was exploited in land-based robotics several times, to our knowledge we are the first ones that exploit this in underwater autonomous robotics."
As they are introduced into the water, the robots — nicknamed "Jeff" — become aware of their swarm size by relaying status data via light emitting diodes (LEDs).
"Our robots are mainly designed for covering a habitat and to search for specific places," Schmickl, an associate professor in the Department of Zoology at the Universtiy of Graz in Austria, told FoxNews.com. "So they are more a swarm-like mobile sensor-network and information-processing network."
In the videos, the robots perform various tasks, such as conducting searches at the bottom of a pool. While using their built-in compasses to look for a target, one of the robots discovers it and alerts the others through LED transmissions. The robo-school then swarms around the desired object.
CoCoRo's hope is that someday these robots can be used to monitor, search, maintain, and harvest resources in underwater habitats. Does that mean we can also expect them to search for wreckage or even survivors of disasters at sea?
"Sunken wreckage is an option, definitely," Schmickl said. "In CoCoRo, we used magnetic and light targets and performed collective searches in transparent and milky (murky) waters. We thought about wrecks, but also about airplane black boxes and waste that was thrown into the ocean."
That said, testing in pools is one thing, but a harsh sea environment is another matter altogether. Though the 3D-printed prototypes were designed to test the researchers' collective cognition–generating algorithms in freshwater pools and tanks ranging from 3 to 10 feet deep, the CoCoRo team decided to give them a go in an Italian harbor as well.
According to Schmickl, this yielded mixed results. While the robots were able to go on search patrols before returning to base, the equipment had difficulty withstanding the rough and corrosive conditions.
"The hardware was stressed and broke after some time, but several days of experimentation were possible," he added. "Of course the open ocean is demanding for strong — and also larger — hardware. So we will see larger AUVs (autonomous underwater vehicles) that today operate alone to pick up algorithms from swarm robotics and employ them in small groups to make search or monitoring efficient." The "Jeff" and smaller "Lily" robots were also tested in lakes and rivers.
CoCoRo has 52 videos produced and are releasing them every Monday on YouTube, calling 2015 the "Year of CoRoCo." They're only halfway through the year with 22 videos available already. Schmickl is understandably excited.
"We think that this is the largest internet video dissemination activity produced by a research project of our size showcasing the 'largest autonomous underwater robot swarm,' which is currently CoCoRo with its 41 units," he said.