Twitter briefly suspends David Duke's account ... then reinstates it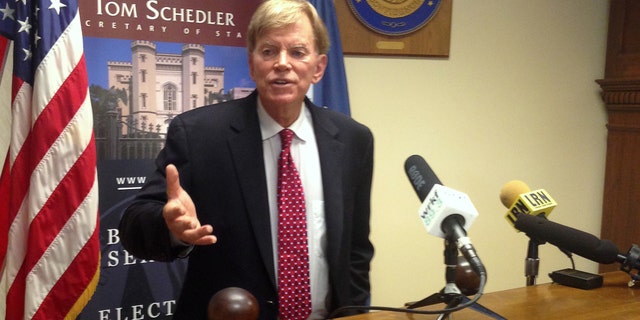 Former Ku Klux Klan leader David Duke was apparently suspended from Twitter for a brief period on Monday.
Engadget reports that the former Louisiana state representative was suspended from Twitter Monday morning. Twitter then restored the account, albeit with a reset follower count, according to Engadget.
TWITTER SUSPENDS SEVERAL ACCOUNTS IN ALT-RIGHT 'PURGE'
"I'm back. Though I have no idea why I was suspended," Duke tweeted Monday afternoon.
I'm back. Though I have no idea why I was suspended. Thank you to all of the wonderful people who offered support. #FreeDavidDuke

— David Duke (@DrDavidDuke) March 6, 2017
Duke's account had over 32,000 followers by late afternoon Monday.
Twitter has not yet responded to a request for comment from Fox News on the circumstances surrounding Duke's apparent suspension and the restoration of his account.
FOR THE LATEST TECH FEATURES FOLLOW FOX SCITECH ON FACEBOOK
Last year Twitter suspended a number of prominent accounts associated with the so-called "alt-right" movement, including the account of Richard Spencer, head of the National Policy Institute, a white nationalist think tank. Spencer's account was subsequently restored.
Last year Twitter also launched new user tools designed to curb hate speech.