TwitPic Founder Tweets Picture of 'Public Nudity Arrest'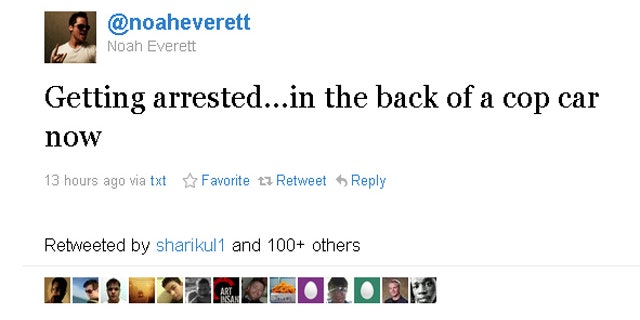 Noah Everett clearly stands by his service -- clothed or not.
Everett, who founded the popular Twitter-centric photo-sharing service TwitPic, posted a Twitter message about getting arrested early Wednesday morning.
"Getting arrested...in the back of a cop car now," Everett wrote. As the founder of a photo-sharing service, he'd be remiss not to share a photo of the event, which he sent a few minutes later -- via TwitPic, of course.
"...I guess you can't walk down your own street half naked...who knew -- I got a free ride home by the nice police officer," Everett then wrote, clarifying in a second Tweet "...by half naked, I mean naked."
It's a great story by the Charleston, S.C., resident -- and it's largely made up.
Charles Francis, a spokesman for the Charleston Police Department, told FoxNews.com a completely different tale.
"Mr. Everett wasn't nude and he wasn't arrested," Francis said. "He had on blue shorts and shoes." So why would Everett claim to be naked and arrested?
"That's a question for Mr. Everett," Francis said, noting that an officer did in fact give Everett a ride home at 1:30 a.m. in the morning, after noticing him wandering down the street shirtless, weaving in and out of running sprinklers.
"He was giving the guy an escort home," Francis told FoxNews.com. TwitPic did not respond to a FoxNews.com email for clarification. But Wednesday afternoon, Everett deleted or altered several of the tweets, and posted an update clarifying the situation.
"I was given a ride home as a courtesy by the officer. Lesson learned: watch what you tweet."