Toshiba debuts 'Cloud Portal' smart TV platform on new flagship TVs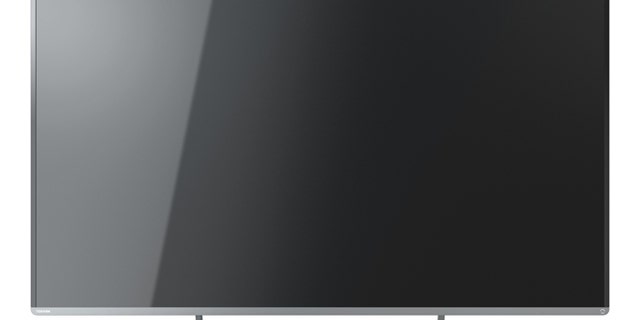 Calling UHD "the new premium" LCD TV, Toshiba hit CES 2014 today with two Ultra HD TV series, plus a new flagship 1080 line that will include a new Cloud Portal smart TV platform. Premium sets will also get Radiance, a new full-array LED backlight system with local dimming.
Toshiba also said that its current L9300-series UHD sets will be getting a free firmware update that will make the inputs HDMI 2.0 compliant so the TV can accept 60 frames-per-second video.
Toshiba's new flagship TVs will be in the L9400 series, offered in 58-, 65-, and 84-inch screen sizes. The TVs will use "Radiance 4K" panels, with a thin poster-frame design and an angled stand. The sets, which will arrive in the June-July time frame, claim to have twice the brightness of most conventional sets for better contrast and more vibrant colors. The TVs will have the full-array LED backlights, which Toshiba calls Quantum Black technology.
Jus below the L9400 sets is the L8400 series, offered in 50- and 58-inch screen sizes. Like the flagship models, these sets will Toshiba's Cinema Quality (CQ) 4K upscaling engine, plus HDMI 2.0 inputs and built-in decoding of the new, more efficient H.265 (HEVC) video format. The TVs will also have Bluetooth and voice control capability over basic controls and functions.
Find the right set for your needs and budget with our TV buying guide and Ratings.
Those not looking for a UHD TV this year can consider Toshiba's flagship L7400 1080p series, which will arrive in March with a choice of either 47- and 55-inch screen sizes. Like the UHD TVs, these sets get the Radiance LED backlights, plus the new Cloud Portal smart TV platform. (Toshiba will also have a lower-level smart TV platform as well.) In addition, all TVs in these three series get a new "labyrinth" speaker system, which seems to use a folded-horn technology to improve audio performance, something that was generally lacking s been lacking in the Toshiba TVs we tested last year.
The TVs also feature something called sonic separation, which purports to separate voices from background sound to improve the intelligibility of dialog. But the technology, which operates via a sliding control, can also be adjusted to eliminate vocals as well, providing the TVs with a karaoke feature.
We're looking forward to getting some of these new Toshiba sets into our labs for testing, especially to see how the sound enhancements work out.
—James K. Willcox
For all the show news, trends, and analysis visit our insider's guide to CES 2014.
Copyright © 2005-2014 Consumers Union of U.S., Inc. No reproduction, in whole or in part, without written permission. Consumer Reports has no relationship with any advertisers on this site.