This technology could be 100 times faster than WiFi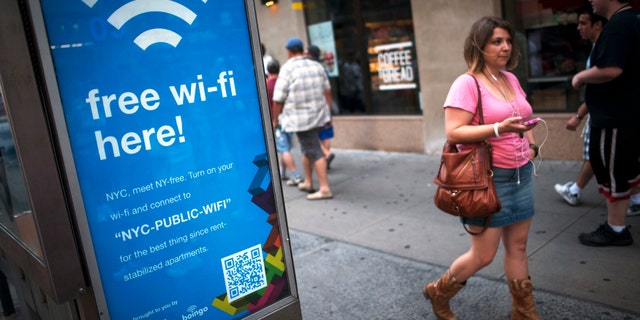 NEWYou can now listen to Fox News articles!
It's been the stuff of science fiction for some time, a system that would transfer data through LED light bulbs and be up to 100 times faster than Wifi.
Now, a startup from Estonia is taking this technology – known as Li-Fi – from the lab and commercializing the concept. Li-Fi refers to the wireless communication system which uses light as a medium of transport instead of traditional radio frequencies.
Velmenni, which was named a finalist in this year's Slush 100 startup competition, has designed a system called Jugnu that it describes as the next generation of smart LED bulbs. Able to transfer data through visible light, the system allows for the transfer data to other bulbs, mobile phones, and internet. It is also working on an android app which would receive data from Jugnu.
Related: More cruises offer free unlimited Wi-Fi
"We are doing a few pilot projects within different industries where we can utilize the VLC (visible light communication) technology," Deepak Solanki, CEO of Velmenni, told IBTimes UK. "Currently we have designed a smart lighting solution for an industrial environment where the data communication is done through light. We are also doing a pilot project with a private client where we are setting up a Li-Fi network to access the internet in their office space."
Li-Fi, which was invented by the University of Edinburgh's Harald Haas, isn't going to completely replace Wi-Fi the transfer of data The transition, when it occurs, will take time, since devices would have to be retrofitted for the new technology and the world would have to replace all these incandescent light bulbs with LED bulbs.
Related: What to know about your airline's Wi-Fi plans
Haas, in a 2011 TedGlobal talk, argued LiFi would make systems more efficient and be more secure, since light doesn't penetrate through walls.
Related: 5 airport Wi-Fi hacks you need to know
"All we would need to do is to fit a small microchip to every potential illumination device. And this would then combine two basic functionalities: illumination and wireless data transmission," he told the audience. "And it's this symbiosis that I personally believe could solve the four essential problems that face us in wireless communication these days. And in the future, you would not only have 14 billion light bulbs, you may have 14 billion Li-Fis deployed worldwide -- for a cleaner, a greener, and even a brighter future."