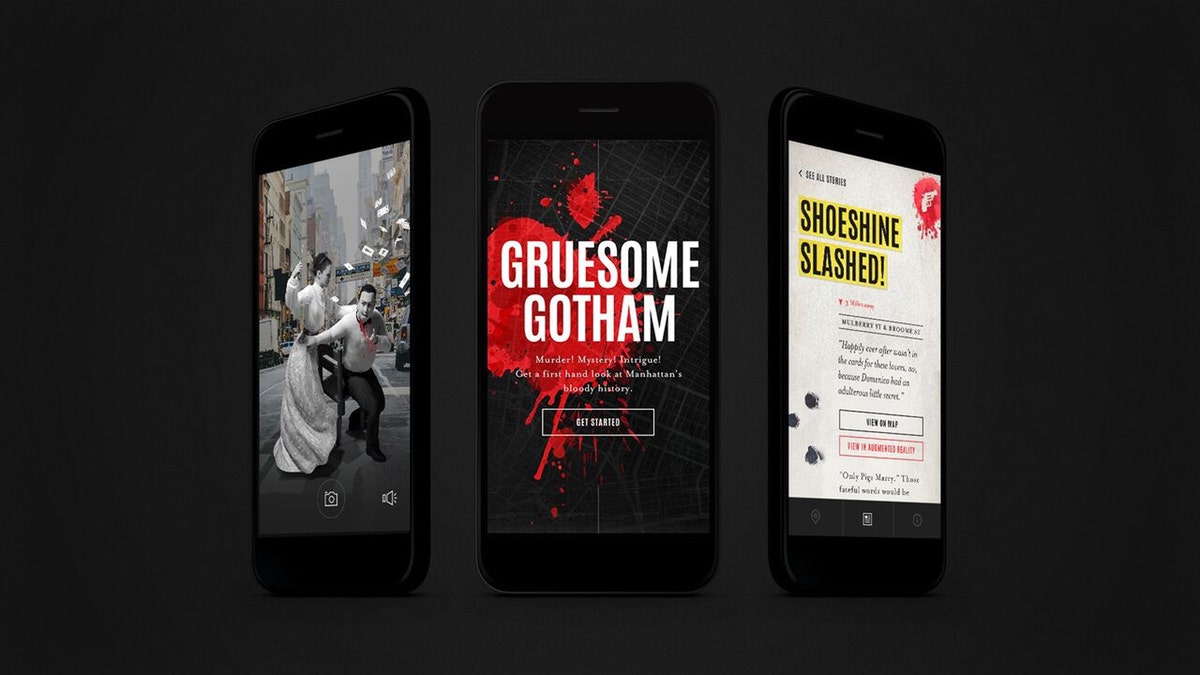 It's an app to die for!
Rolled out in time for Halloween, Gruesome Gotham transports users to the grisly crime scenes of six salacious slayings committed on the streets of Victorian-era New York City.
Getting in on the gorefest is easy. After you download the free app, a map with murder-weapon icons appears.
When you get close to the crime scene, the bloody fun begins.
"You see the actual murder scene, with a spooky voiceover narrator, explaining the act of the crime," said Emily Hom, spokeswoman for Tribeca-based Firstborn, which developed the augmented-reality app. "We chose real crimes that pop visually."
The company selected crimes that took place near the Firstborn office and "around" the route of Tuesday's annual Village Halloween Parade, Hom said, adding, "We figured if people are cheering the parade, they can download the app."
The dirty deeds include:
The 1895 demise of Domenico Cataldo, who had his throat slit by scorned lover Maria Barbella at the Little Italy Saloon on Mulberry and Broome. The doomed Cataldo, unable to scream for help, staggered down the street, choking on his own blood.
Greenwich Village chap Michael Healy perished by parasol on Nov. 9, 1895 after a sicko stranger stabbed him in the eye with an umbrella. The sharp end pushed through the socket and punctured his brain. Healy bled to death at the corner of Bleecker and Grove streets. The canopied killer was never caught.
In 1856, Bartholomew Burke was found dead inside 378 Broadway. His throat had been slashed, his body stabbed and his forehead smashed. The unknown killer used sheers, a hammer and a sword.
Hom said the app is a nod to the "sensationalistic, pulp noir tabloid headlines" of yesteryear.
"The New York Post was an inspiration," she said.
The app, which uses your camera phone to "see the experience," was created with the help of Apple's ARKit and is free to download for iPhones 6S or above, Hom said.
Quipped Hom: "If there's a thirst for more blood, we may add more murders to the app."
This story originally appeared in the New York Post.