Subterranean terror: Can tech defeat hidden underground threats?
Nuclear weapon installations, cross-border smuggling tunnels, subway systems, cave networks ... just a few places that adversaries can pose an underground threat to security.
Many of these concealed underground threats are extremely difficult to detect and locate. And frequently, they can be dangerous for U.S. forces - both abroad and on home soil - to investigate and to stop adversaries in these locations.
Underground conditions pose challenges such as poor visibility and communication. Access can be very difficult, the conditions unpredictable and the terrain extremely constrained, sometimes permitting only one man at a time.
Technology could make stopping threats lurking underground and preventing illegal smuggling across U.S. borders much easier and far safer.
But there is a serious shortfall in solutions up to the task thus far.
The solution could be teams of robots – air and ground-based highly intelligent drones - deployed into these dangerous places. They could provide their human teammates with detailed maps and real-time visual feeds. Smart robots who could work together to search for threats and report back.
BEE-SIZED BOTS SET TO DOMINATE FUTURE BATTLES FOR CITIES
For this step change in thwarting underground threats to happen, a new generation of bots must be forged. It will require a number of breakthroughs. Developing motor skills to handle rocky, unpredictable terrain just as easily as climbing a ladder will certainly be a challenge.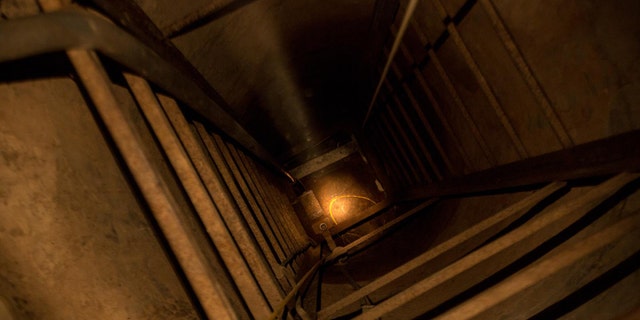 Above ground, a solution that rapidly detects tunnels is long overdue. To crack this problem, it will take some serious American ingenuity on the tech front as well.
Here's a quick look at some subterranean threats, three ways to better equip forces underground and how you could nab more than $3 million in prizes for sharing your bright idea to help keep Americans safe.
So what's the threat?
Cross-border tunnels are a persistent underground threat for the U.S. While the media has been focusing on images of "caravans" at the U.S. border, tunnels beneath the ground are a longstanding concern for authorities.
There is an unseen underground flow of drugs, humans, currency and other contraband smuggled into the United States. The smugglers provide an entry in Mexico and then direct underground access into places like Texas and Arizona.
Some tunnels are sophisticated with railways, sidewalks or their own power sources. Some co-opt existing American underground structures. The majority are constructed by amateurs so the structural integrity is not reliable – which means the threat of tunnel collapse at any moment for U.S. authorities.
HOW DEADLY DRONE SWARMS WILL HELP US TROOPS ON THE FRONTLINE
Without robot support, teams must drop into a dark, uncharted space, without data on the location or weapons status of adversaries – in a place that could collapse. The location of the smugglers is unknown, but they could be heavily armed.
It would be extremely handy to know about factors such as shoddy construction, poor ventilation, vertical shafts, constrained passages, multiple levels and tunnel lengths. Futuristic robot teams could be the solution.
In the military context, tunnels play a role from attack tunnels into Israel through to concerns that if North Korea chose to attack South Korea, tunnels could be an invasion method.
PODCAST: THE KEY TO SAFE SCHOOLS REVEALED BY THIS EXPERT IN US PRESIDENTIAL PROTECTION 
Underground complexes
For the military, revolutionizing detection of hidden underground sites and the methods to deploy forces inside as effectively, efficiently and safely as possible will be vital and could save lives.
Countries like Iran and North Korea conceal their nuclear and weapons facilities underground. Russia even has multiple nuclear sites that are so gigantic that they are like underground cities.
For homeland security, the potential to deploy a new generation of subterranean bots could lead to saving lives in a disaster. If there was a terrorist attack with an explosion, then a subway system collapse could result in structurally compromised tunnels. Search and mapping robots for aid teams could ensure as rapid a rescue as possible.
ARMY SETS SIGHTS ON NEW SNIPER CAMOUFLAGE
Robots could possess enough smarts to search for humans themselves by hunting for heat signatures and other clues.
Caves
In Afghanistan, U.S. forces would sometimes be tasked to deal with adversaries who were operating out of complex cave networks.
Natural caves may become a terrain again, but next-gen subterranean bots could play key roles in humanitarian disaster rescue and exploration deeper into the planet.
PODCAST: BOWHUNTING + BEARS WITH A TEXAN ARMY RANGER 
What sorts of solutions?
Currently, there are some exciting projects underway. Micro drone swarms could deploy in advance of the human teams. They can travel and collect data on a number of adversaries, firepower, explosives and other threats while building a 3-D map for the team.
Ground drones could deploy with the teams providing eyes so that teams can see lurking threats and potential danger around corners.
$3 Million  
DARPA is pioneering and paving the way with their new Subterranean, (aka "SubT") Challenge. teams will compete for more than $3 million in prizes in the three circuit events and an integrated final course.
ARMY SETS SIGHTS ON BIGGER, BOLDER, HARDER HITTING BULLETS
The Systems track winner will receive a $2 million prize, with up to $200,000 in additional prizes available for self-funded teams in each of the Systems track events. Teams will create and demo prototypes that will compete in live competitions in the underground terrain courses. DARPA will be evaluating how they perform in realistic field environments.
Teams in the Virtual track will compete for up to $1.5 million in the Virtual Final event, with additional prizes of up to $500,000 for self-funded teams in each of the Virtual Circuit events. Virtual track teams will develop software and algorithms using virtual models of systems, environments, and terrain. They will compete in simulation-based events with larger-scale runs in the simulated environments facing larger scenario sizes and durations.
DARPA has selected nine teams to compete in the Subterranean (SubT) Challenge - But self-funded teams are still invited to join in to help the United States find solutions to mapping, searching and navigating. Interested teams can learn more and register here.
What's the competition timeline?
Next fall, the first competition will be the Tunnel Circuit. In 2020, the Urban Circuit and Cave Circuit will be held. The final event is expected to be held in 2021. The teams will compete in courses incorporating challenges from tunnel, cave and urban underground environments.
Subterranean Bots Revolutionizing Above and Below Ground
The competition will yield innovations with potential beyond underground focused tech. This initiative is under the outstanding leadership of Dr. Timothy Chung so there will no doubt be leaps and bounds in robotics including robot perception, autonomous operation and networking.
Not only will these advances help ensure the military and homeland security are equipped with the right sort of tech advantages they deserve – there is endless potential for the innovation in other applications. From drones that can search tunnels, subways and mines when disaster strikes through to accelerating the advancement of robots to take on other dangerous tasks such as Fukushima-type incidents.