Bee-sized bots set to dominate future battles for cities
In future battles, new American warriors may be the size of a baseball, the size of a bumble bee – even the size of a grain of sand.
Micro-bots and milli-bots may be small in size, but they are giant in terms of impact. This next generation of drones will also be smarter, faster and deployable in powerful swarms. The futuristic intelligence on these machines is mind-boggling and will make current "autonomy" look positively prehistoric.
Swarms will be able to work intuitively and collaboratively in teams, with or without humans, to carry out complex missions.
Human ground warriors could have a machine-based teammate – one that is a swarm, including more than 250 small flying, climbing and "walking" machines.
ARMY SETS SIGHTS ON NEW CONCEALABLE MACHINE GUN
Collectively, the swarm can autonomously take on tasks that are dangerous for their human teammates. From conducting reconnaissance in advance of missions through to searching for survivors in collapsed, unstable buildings in humanitarian operations, the potential to reduce risk and save human lives is enormous.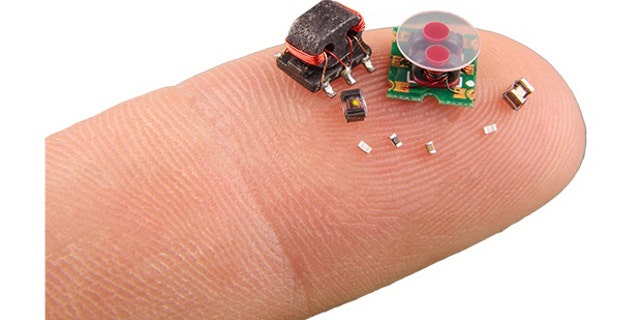 Hundreds, (and eventually thousands) of tiny drones will be able to deploy together. This will involve thinking for themselves, communicating with each other, adapting to each other's movements, reacting to changing circumstances and improvising to achieve objectives by drawing upon a deep tactics library to execute an assigned mission.
Not only will they be able to integrate into human teams, but drone swarms will also be able to conduct their own missions independently.
DARPA has a number of programs that are radically changing the way drones will be used going forward – and these programs continue to make giant strides at a remarkable pace.
HANDGUN DESIGNED FOR THE MILITARY NOW AVAILABLE TO LAW ENFORCEMENT AND CIVILIANS
FLA (Fast Lightweight Autonomy), OFFSET (Offensive Swarm-Enabled Tactics) and SHRIMP (Short-Range Independent Microrobotic Platforms), are three such promising initiatives already delivering remarkable results.
DARPA has selected a number of top teams from around the country to contribute their smarts to creating this new generation.
These little fellas will be absolutely game-changing when the military is required to deploy in urban terrains. They represent a series of remarkable advances and breakthroughs with wide-ranging implications for other technology in the military space and also in the civilian space.
Size, scale, smarts and how they are sent on missions are just four of the big ways that will change. Here's a look at the sort of missions swarms can take on and how they will interact with human warriors.
Sending on missions
The goal is for the drones to be autonomous on an unprecedented level. This will also be evident in how they interact with humans. Directing them will go beyond the tablet. The drones will be smart enough to respond to cues much like a human teammate would.
SAPPHIRE GEM-BASED 'TRANSPARENT' ARMOR PROTECTS SOLDIERS FROM SNIPERS
As things advance, the human warriors will be able to communicate with the drones using verbal cues and gestures. There may use a specific "language" of verbal and physical signals, but nonetheless human and bot interaction will radically leap ahead. It will greatly improve the ease and speed with which operators can deploy them to execute tasks.
PODCAST: VALOR ABOVE AND BEYOND THE CALL OF DUTY – HEAR THIS MEDAL OF HONOR RECIPIENT'S ASTONISHING COURAGE, FIGHTING ALONE, SURROUNDED BY ENEMY FORCES
Smarts
DARPA is also taking drones from zero to hero in terms of intellect.
Ultimately, there is no human warrior with a joystick, an X-box-like controller or a tablet giving detailed directions. The new generation of drones will be truly autonomous – not just able to fly from A to B complying with instructions and coordinates or mindlessly following humans like robot 'dogs' carrying heavy loads.
These drones will be able to think for themselves, adapt to the environment and each other, problem solve and work collaboratively to accomplish missions – all without a human giving detailed instructions to each one or piloting them remotely.
Recon
Urban and subterranean environments can present a lot of potentially dangerous unknowns. So stealthy, smart and small combat units will have the powerful advantage of unprecedented data in advance thanks to these little drones.
AUSA 2018 IN PICTURES: THE BIGGEST LAND WARFARE SHOWCASE IN YEARS
Tiny bots can crawl under cracks below doors, fly through partially opened windows, discreetly perch on a combatant's shoe, even infiltrating a heavily fortified bomb making lab. The bots can act as teeny tiny spies collecting crucial visual, audio and other data with their advanced sensors.
In advance of human raids into areas where little is known, such as the interior of a city building or an underground WMD base, for example, micro-bots and milli-bots can be deployed by units to rapidly explore unknown areas. They can build maps and feedback other vital data.
Another example would be hostage rescues where the bots could surreptitiously deploy into the enemy held area, map it out, identify the exact number of combatants, how they are armed, the locations of all combatants and the hostages, the medical condition of the hostages and more.
The bots don't have to be piloted by a warrior with a tablet to do this – they are autonomous. They are given a mission and do what it takes to achieve their objectives and return to their human teammates.
PODCAST: "NO ONE IS COMING, IT'S DOWN TO US" INSIDE THIS BOLD NAVY'S SEALS ADVENTURES
Swarm raids
First-generation primitive swarms may only be able to locate an assigned area, identify points of entry and map the layouts for human assaulters. Some may be able to independently secure perimeters for their human teammates.
However, based on the current trajectory of amazing advances, U.S. drone swarms comprised of a mix of bots could eventually be capable of conducting their own urban raids. This isn't a swarm raiding a dollhouse, this is a swarm capable of six-hour missions in areas covering eight city blocks.
Swarms will also be able to deploy alongside human teams and take on tasks such as suppressing enemy fire, maintaining flank security or even isolating and clearing a building.
Stealthy mode and saving downed pilots behind enemy lines
Since this new generation will be far more autonomous, they won't need communications links to a human "pilot." This will reduce radio transmissions between the bots and the human team.
Reduced radio transmissions makes it harder for enemy forces to detect bot swarms that have covertly infiltrated to monitor them. And very importantly, it reduces the chances of enemy forces detecting the presence of American warfighters in the area, which helps keep them safe.
NEW US NUCLEAR BOMBS AND FUTURISTIC STEALTH AIRCRAFT TO PROVIDE MIND-BOGGLING MILITARY MIGHT
The advanced autonomy also means that if there is a downed pilot behind enemy lines, then the drone swarms can sweep areas searching in radio silence. This can help reduce the risk of the enemy forces identifying the location of the pilot and the presence of U.S. forces on a rescue mission.
Natural disaster swarm rescue missions
Micro-bots and milli-bots can also provide huge humanitarian impact as well in terms of saving lives and helping keep rescuers safe. Tiny bots, for example, can navigate through rubble to help quickly locate survivors trapped in the aftermath of an earthquake