How deadly drone swarms will help US troops on the frontline
No enemy would want to face a swarm of drones on the attack.
But enemies of the United States will have to face the overwhelming force of American drone teams that can think for themselves, communicate with each other and work together in hundreds to execute combat missions.
Teams numbering more than 100 flying drones and ground robots will "swarm" adversaries.
The race to advance drone swarms for use in combat continues to intensify- with countries not so friendly to the United States taking swarm advancement very seriously. Just last year China made a very public demonstration of a flying drone swarm.
Large drones, like the Predators, are now widely known for the tremendous power they have brought in war zones. They have provided both mighty firepower as well as ISR – intelligence, surveillance and reconnaissance.
COMPACT 'CANISTER' DRONE BATTLES TERRORISM
Teams on the ground have found drones that can fit in their backpacks hugely useful. These drones can provide eyes in the sky saving American warfighter lives by flying in advance and revealing where adversaries are hiding to ambush American forces.
What are swarms?
Now "swarms" are on track to join U.S. boots on the ground. DARPA has set out to prove that robots can do far more in combat than just eyes in the sky or robot mules hauling heavy loads on the ground.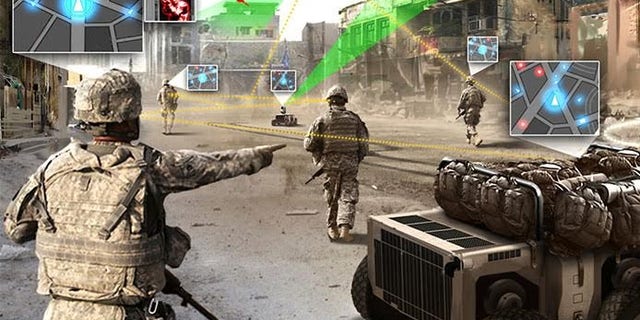 We are on the cusp of an era when "smart," autonomous, robots fly and travel by ground, communicate with each other and work together as a team to accomplish missions.
These robot teams would deploy in teams that could number more than 100 – hence the "swarm" aspect – to overwhelm and defeat the enemy.
DARPA's cutting-edge OFFSET project will be equipping these teams with offensive tactics.
COMPACT 'CANISTER' DRONE BATTLES TERRORISM
Military drones will no longer just provide eyes and ears – DARPA's OFFSET program aims to create more than 100 tactics that swarms of more than 100 robots can use in combat.
PODCAST: FIND OUT HOW TO USE A TOP GUN FIGHTER PILOT MINDSET TO SUCCEED IN 2018  FROM THIS TOP GUN AND SUCCESSFUL ENTREPRENEUR
What kind of advantages do they provide?
Swarms will provide a large number of advantages. One of the foremost is providing far better protection to American boots on the ground.  They will also significantly augment the firepower a team can bring to a fight.
Swarms will also provide new options for precision targeting that will help reduce collateral damage and enhance mission success.
And of course, as you would expect, swarms will also provide even more ISR.
What sort of missions will they undertake?
Here's an example of the sorts of tactics the swarms could learn and use.
Say you have a bomb maker responsible for killing a busload of children, our military will release 50 robots – a mix of ground robots and flying drones…Their objective? They must isolate the target within a 2 square city blocks within 15 to 30 minutes max.
HOW INSECT CYBORGS COULD BATTLE TERRORISM
To achieve this mission, the robots will need to be able to do the sorts of things human teams would do. The swarm will work together to conduct reconnaissance. They will need to identify ingress and egress points – ways the bomb maker could escape.
To achieve this goal, the flying drones could fly out and find the potential escape routes and communicate the data to ground robots who can move into position to block and prevent escape.
The swarm will need to establish a perimeter around an area of operation. This is important for preventing civilian casualties in case the bomb maker is wearing explosives.
PODCAST: GO INSIDE DRONE MISSION STRIKES AGAINST TERRORISTS WITH THIS ARMY INTELLIGENCE EXPERT
Sound impossible?
It may sound farfetched – but drone swarm tech for combat already exists and has already been proven more than possible.
In 2016, the US military launched a drone swarm of 103 Perdix drones from three F/A-18 Super Hornet jet fighters.
HOW TO GET YOUR HANDS ON A HISTORIC M1911 PISTOL FROM THE US ARMY STOCKPILE
The drones weren't massive. They were on the smaller side with bodies of about 6.5-inches with an 11.8-inch wing span.
The "smart" autonomous drones successfully completed a number of missions. They proved they could communicate with each and collaborate to make a decision as a team. They showed they could fly in formations and adapt together. Arguably even more astonishing - they proved they could self-heal.
This drone swarm also demonstrated how powerful they could be in combat. The drones found a target and within a few seconds had the target surrounded and then swarmed it.
Imagine U.S. fighter jets releasing these swarms against enemy fighter jets …within seconds the aircraft would be swarmed.
Where is the project at?
DARPA chose Raytheon BBN Technologies and Northrop Grumman Corporation to lead phase one of this fascinating project.
AMAZING NEW MILITARY HELICOPTERS TO LOOK OUT FOR IN 2018
As part of the process, teams will experiment with the technology to make swarm capabilities real. The next step will take things further – competitors will advance the tactics that swarms will use downrange.
They will work on things like how humans and swarms will team up – the practical aspects of making that work. Another area of focus will be swarm autonomy – this will figure out how the swarms be able to think and act for themselves in real-life combat environments.
Six months will be spent on each of these crucial areas -with a test and integration into experiments.
Under the outstanding leadership of the Tactical Technology Office program manager Timothy Chung, this groundbreaking program will mean a new era in the way future battles are fought. Drone swarms have the potentially to dramatically reduce risk to American warfighter lives.
Got a bright idea?
Do you have an idea that will help ensure American combat drone swarms are the best in the world?
DARPA knows that giant companies do not have a monopoly on great ideas.  So whether you are a student or a small business or come up with something fantastic in your garage … this initiative is open to many competitors with a number of "sprinters" to compete in coming up.
If you have an idea, a tech, that you think will help make sure America has the most advanced and powerful drone swarms on the planet – then head over to the DARPA website and get involved.