Samsung Gear Fit is a stylish hybrid of smart watch and activity tracker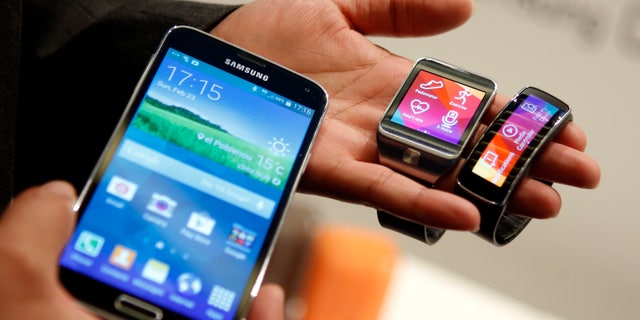 One of the three new second-generation Samsung smart watches, the Gear Fit ($200) is a creative and stylish departure from the original Galaxy Gear. It's just as much an activity monitor as it is a smart watch, and it has a markedly new look—slimmer, sleeker, and lighter at .8 ounces than even even the relatively petite Pebble Watch (1.4 ounces).
It's also, well, pretty. The vivid, slightly curved AMOLED 1.84-inch color display pops against the black watchband. You can change the background color, design, and watch face to suit your mood, or your outfit, and you can buy additional swappable watchbands in orange, red, blue, green, or gray, too. This attention to aesthetics is likely a nod to women (and plenty of men, for that matter) who think of smart watches as bulky and ugly.
That said, the Fit won't do as much as heftier, pricier smart watches; you won't be making calls or taking photos with it. But when connected to a compatible phone, it does notifications: a brief vibration alerts you to incoming e-mails, calls, texts, and updates from a variety of third-party apps. The Fit lets you control media on your Samsung phone. You can also reject incoming phone calls with a swipe on the watch. Most important, though, are its activity-monitor features. The Gear Fit has a built-in heart-rate monitor, pedometer, accelerometer, and gyroscope, with which it tracks several kinds of exercise activities.
When Samsung announced its new Gear smart watches back in February, the company also said they would run not on Android, as did the original Galaxy Gear, but on Tizen, a mobile OS it had a hand in developing. The company told us Tizen will bring "improvements in battery life over the first version and a large app ecosystem, thanks to the open SDK [software development kit] we'll be releasing in March."
We got a preview sample of the Gear Fit into our hands (and on our wrists). We'll lab-test battery life and other features when we purchase one. Meanwhile, here are our impressions.
Activity monitoring
The Fit claims that it tracks walking, running, hiking, and road biking (the latter is unique to the Fit among activity trackers we've tested), thanks to the integrated accelerometer and gyroscope. Other basic workouts, such as riding a stationary bike, spinning, strength training, yoga, and swimming are not options, at least for now. (A nice thing about smart devices is that they can evolve through firmware updates, but Samsung hasn't yet indicated what it might add.)
To try out the tracking, we first did a quick walk around our office's atrium. The distance-recording feature appeared to be accurate. And the pedometer feature also appeared accurate (within 2 percent) when we did a short 200-step check. We noted that the watch didn't restrict or interfere with hand or wrist movement during exercise and stretching. Your fitness info is uploaded to the phone at regular intervals that you specify: transfer/sync intervals are 3, 6, 12, or 24 hours, or 3 days. The Fit can also display your progress without connecting to another device, which only a few other trackers can do.
Check our lab-tested reviews of six smart watches, including the original Samsung Galaxy Gear.
The Gear Fit also features an infrared heart-rate monitor on the underside of the watch. We had to keep very still for the Gear Fit to take an individual heart-rate reading (we could walk normally for continual heart-rate monitoring). And make sure the watch is snug to your wrist; the monitor under-reported our heart rate when we wore the Fit loosely. Unfortunately, the Fit traps sweat when it's tight, which could lead to irritation.
Ease of use
Setting up the Gear Fit was an easy matter. Once fully charged, it paired quickly via NFC with a Samsung Galaxy S 5 smart phone. It's also compatible with the S 4 and S3, Note 3, and numerous other Samsung phones and only Samsung phones, which is certainly a limitation. When we went out of Bluetooth range, the connection dropped, of course—but the Fit keeps on monitoring, and it reconnects on its own as soon as you're back within range. You'll set up a simple user profile before starting to monitor activities.
True to its name, the Fit fits nicely on the wrist, thanks to the slightly curved, oblong display. We found reading the display a bit awkward at first, since it's perpendicular to your eyes when you lift your wrist to view it. The touchscreen is responsive to swipes and taps, and the interface is nice and simple.
Check our review of the new Samsung Galaxy S 5 smart phone.
The display stays off most of the time (to conserve battery life, we'd assume). It's supposed to turn back on when you lift your arm to look at your wrist, but that doesn't always work; we often had to use the power button to turn it on. That said, battery life seems pretty decent: the Fit only needed a new charge every two or three days, even when we used it heavily.
Bottom line
By paying attention to style, fit, price, and ease of use, Samsung has made the Gear Fit a more mainstream-friendly smart watch than we've seen so far. And by focusing on fitness features, the Gear Fit has a more obvious reason to exist than most other smart watches too.
The Fit's software is in its infancy, though it has a lot of room for growth. Apps that fully utilize the Gear Fit's accelerometer and display could make an even better hybrid activity monitor-smart watch. We'd like to see apps, similar to RunKeeper, use the Gear Fit as a way to display activity data such as exercise time, lap time, and distance run, and control functionality such as pause and stop.
The heart-rate-monitoring feature works for simple individual readings when fit correctly. But inconsistencies in heart-rate accuracy of a loosely fit Gear Fit and previous infrared heart-rate monitors we've tested during active exercise raises concerns that Wrist Infrared Heart Rate Monitor technology may need to be improved.
—Carol Mangis and Alex Willen
Copyright © 2005-2014 Consumers Union of U.S., Inc. No reproduction, in whole or in part, without written permission. Consumer Reports has no relationship with any advertisers on this site.