Red Sox used Apple Watches to steal signs from Yankees, report says
The rivalry between the Boston Red Sox and the New York Yankees has been taken up a notch, with both teams accusing the other of spying.
Major League Baseball investigators have found the Red Sox used electronic devices to steal hand signals from opposing catchers on the Yankees and other teams, the New York Times reported on Tuesday.
The investigation started about two weeks ago after Yankees General Manager Brian Cashman submitted a complaint that included video taken during a three-game series in Boston last month.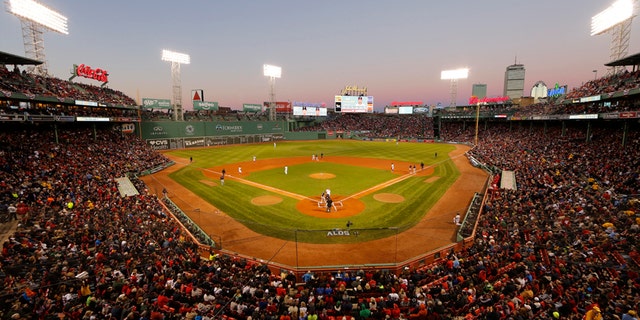 The video purportedly showed someone on the Red Sox training staff using his Apple Watch in the dugout to relay messages to players, who may have used that information to know the type of pitch that was going to be thrown, according to the Times.
RED SOX ANALYST SAYS JAPANESE YANKEES PITCHER SHOULD 'LEARN BASEBALL LANGUAGE'
Investigators reportedly corroborated the Yankees' claims using video used for instantly replay and broadcasts, before confronting the Red Sox. The Red Sox admitted that their trainers had used signals received from video replay and relayed that information to players for several weeks.
The Red Sox responded to the Yankees on Tuesday by filing a complaint of their own —alleging the "Bronx Bombers" uses a camera from the YES Network, co-owned by Yankee Global Enterprises, to relay signs during games.
Red Sox Manager John Farrell told Fox News that he understands electronic devices are prohibited in the dugout.
"[We're] aware of the rule. Electronic devices are not to be used in the dugout. But beyond that, the only thing I can say, it's a league matter at this point," Farrell said.
Red Sox President of Baseball Operations Dave Dombrowski confirmed the accusations at a press conference Tuesday afternoon.
"Do I think sign stealing is wrong? No, I don't," Dombrowski said, according to Fox 25 Boston. "People are trying to win it however they can, it's an edge we can gain."
Dombrowski added that the investigation is not new, and insinuated that the story might've been leaked by the Yankees because "the commissioner was in town today."
MLB rules allow for players to observe catcher signals and relay that information, but using technology to see the signals is prohibited.
The Times reported that it's unclear what penalties MLB Commission Rob Manfred will give the Red Sox, or how he'll respond to the counter-complaint from the Sox.
Boston is currently ranked first in the American League East, with the Yankees in second.
The Yankees did not respond to a request for comment.
Fox News' Samuel Chamberlain contributed to this report.