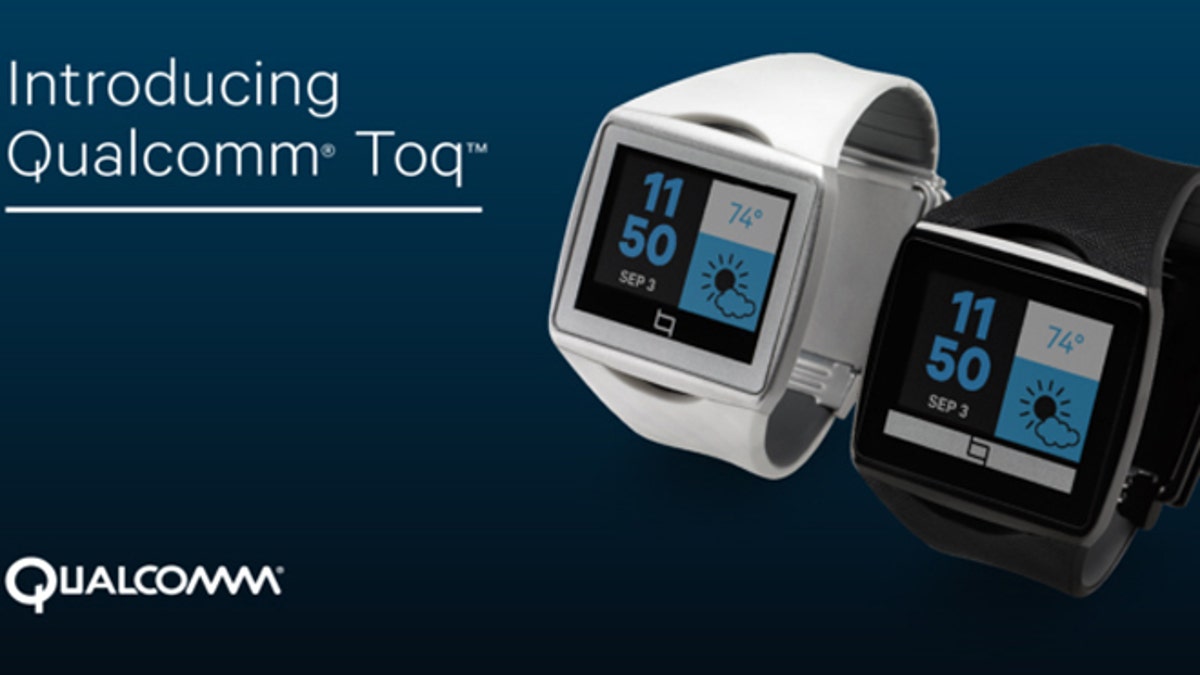 Another day, another new smart watch, it seems: Today Qualcomm introduced us to the soon-to-ship Toq smart watch, expected to be on sale sometime before the holidays (online only) at a price of $350.
The company told us the Toq is a "proof point" for Qualcomm technologies—but that doesn't mean it won't be competitive in the smart-watch category. For one thing, the Toq's touchscreen display uses Qualcomm's Mirasol technology. The display (colorful, though not as colorful as LED) was very responsive when we tried swiping and tapping. Since it's reflective, it's easy to see in bright light, and far less of a drain on battery power than backlighted screens. In a dark room, you can double-tap the top of the watch to get a backlight.
Wireless charging, in this case via magnetic resonance, is another strong point. To charge the Toq, you simply place it on a charging pad that's included with the watch. Qualcomm told us the watch can get "multiple days" of battery life on a single charge, though the rep wouldn't commit to anything more specific than that. In comparison, the Samsung Galaxy Gear smart watch has a claimed battery life of "over 24 hours" of continuous use, and the Pebble smart watch claims "5 to 7 days." When we get a retail model of the Toq in our labs, we'll be testing battery life and will let you know our results.
Find the right smart phone for your needs and budget with our cell phone buying guide and Ratings.

Aiming for interoperability, Qualcomm says the Toq will work on phones across the Android platform (version 4.0.3 and above), and with whatever apps are already on your phone, as opposed to having apps built only for its watch. You configure the watch via your phone and let it know which apps you want notifications from. And the Toq will work with Qualcomm's AllJoyn technology, which allows the watch to connect to and interact with other AllJoyn-enabled gadgets and appliances.

The Toq doesn't act as a phone itself, but it lets you respond to incoming calls with your choice of preset texts ("I'll call you back soon"). It does not have a built-in camera, like the Galaxy Gear, but that lets the watch's face stay thinner. So does the Toq's battery placement at the bottom of the watchband, which felt fairly comfortable in my short time wearing the watch.
We'll acquire one as soon as possible and let you know how it fares in our lab tests.
—Carol Mangis
Copyright © 2005-2013 Consumers Union of U.S., Inc. No reproduction, in whole or in part, without written permission. Consumer Reports has no relationship with any advertisers on this site.