Panasonic ToughPad FZ-G1 Hands-on: First Fully Rugged Windows 8 Tablet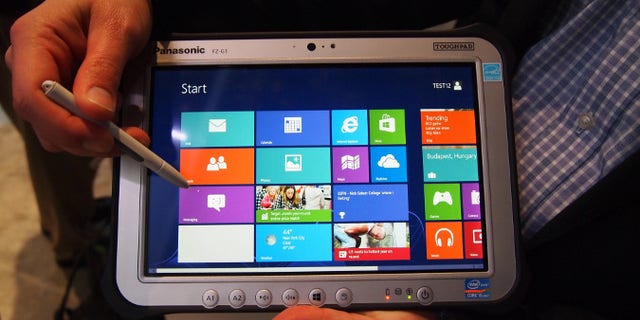 Anticipating that the enterprise market will want a fully rugged and secure Windows 8 tablet, Panasonic at CES 2013 unveiled the ToughPad FZ-G1, the first Windows 8 tablet designed for field workers who need a durable design to withstand the elements. Its 10.1-inch screen has a brightness rating of 800 nits, which should be more than sufficient for outdoor use, and its resolution of 1920 x 1080 will satisfy those who need a crisp display. An included active digitizer (which has a dock in the back of the tablet) will make selecting desktop icons easy, too.
For a fully rugged tablet, the FZ-G1 feels surprisingly light. While its weight of 2.4 pounds is more than twice that of most other 10-inch tablets, it didn't feel overly burdensome. The rubber bumpers along the edges also help to soften the magnesium alloy chassis.
The FZ-G1 is MIL SPEC rated for drops of up to 4 feet, wind, rain, and dust, and temperatures from 14 degrees to 122 degrees Fahrenheit. Just as important as its durability, though, are its security features, which include vPro and TPM. The tablet will run Windows 8 Pro, and come with a 1.9GHz Intel Core i5-3437U processor, 4GB of RAM, and can be configured with either a 128GB or 256GB SSD.
The tablet measures 10.6 x 7.4 x 0.75. It comes standard with one USB 3.0, HDMI, and a headphone/mic jack, and a third port can be configured to include either a microSDxC card reader, USB 2.0, LAN, Serial, or GPS. Wireless connectivity includes Bluetooth 4.0, 802.11 a/b/g/n Wi-Fi, and optional embedded 4G LTE or 3G.
Panasonic estimates that the FZ-G1 will last up to 8 hours on a charge, and users can replace the battery.
All this, though, doesn't come cheap: The ToughPad FZ-G1 will be available in February for an estimated price of $2,899.