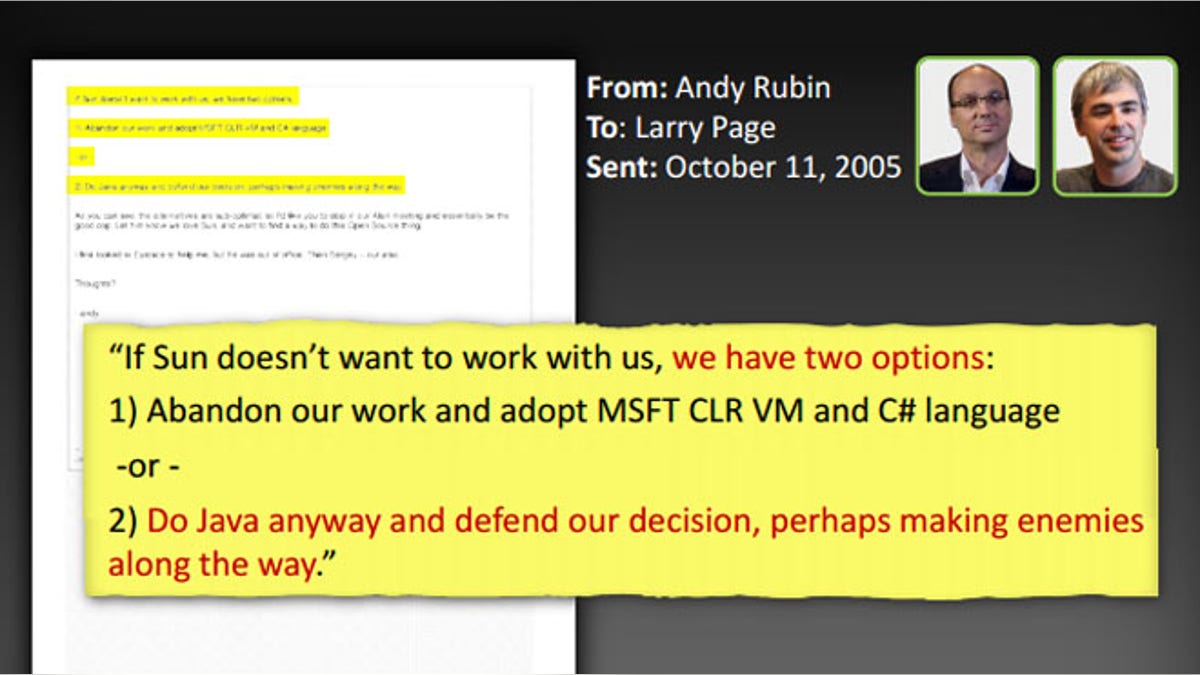 It's the tech trial of the century.
Some of the most powerful figures in tech faced off in a San Francisco court Tuesday to argue a patent lawsuit that's being called the "World Series of intellectual property trials." The case is straightforward, though the implications could cost tens of millions or more: did Google knowingly violate Oracle's patents on Java, or was it fair use of publicly available material?
Larry Ellison, the rakish billionaire head of database software firm Oracle, took the witness stand himself Tuesday morning, to argue his case that Google's Android mobile operating system infringed on his company's patents for the programming language he bought (along with Sun Microsystems) in 2009.
"If people could copy our software and create cheap knockoffs of our products, we wouldn't get paid for our engineering and wouldn't be able to invest what we invest," Ellison testified, according to the San Jose Mercury News.
[pullquote]
Google attorney Robert Van Nest argued in Monday's opening statement that Oracle is more focused on tapping into the success of Android than in protecting its intellectual property.
"They want a share of Android's profits," the attorney reportedly said.
Ahead of Ellison's court appearance, Oracle released a 91-slide PowerPoint presentation that lays out the company's case. The presentation quotes Google executives extensively arguing about the need to either license Java or simply plow ahead full steam -- damn the consequences.
"If Sun doesn't want to work with us, we have two options: 1) Abandon our work … -or- 2) Do Java anyway and defend our decision, perhaps making enemies along the way," Google senior vice president of mobile Andy Rubin reportedly emailed to co-founder Larry Page on Oct. 11, 2005.
Rubin then suggested to Page that the company pay Sun for a license to the technology -- action Google never took. Subsequent emails appear to show various Google employees covering up the use of Java.
"How aggressive do we scrub the J word?," former Google software engineer Dan Bornstein apparently wrote.
Earlier in the day, Oracle attorneys played a video of an interview with Page, who appeared hesitant and chose his words carefully. Ellison began his testimony confidently, but grew frazzled as well, courtroom reporters said.