Officials Warn Facebook and Twitter Increase Police Vulnerability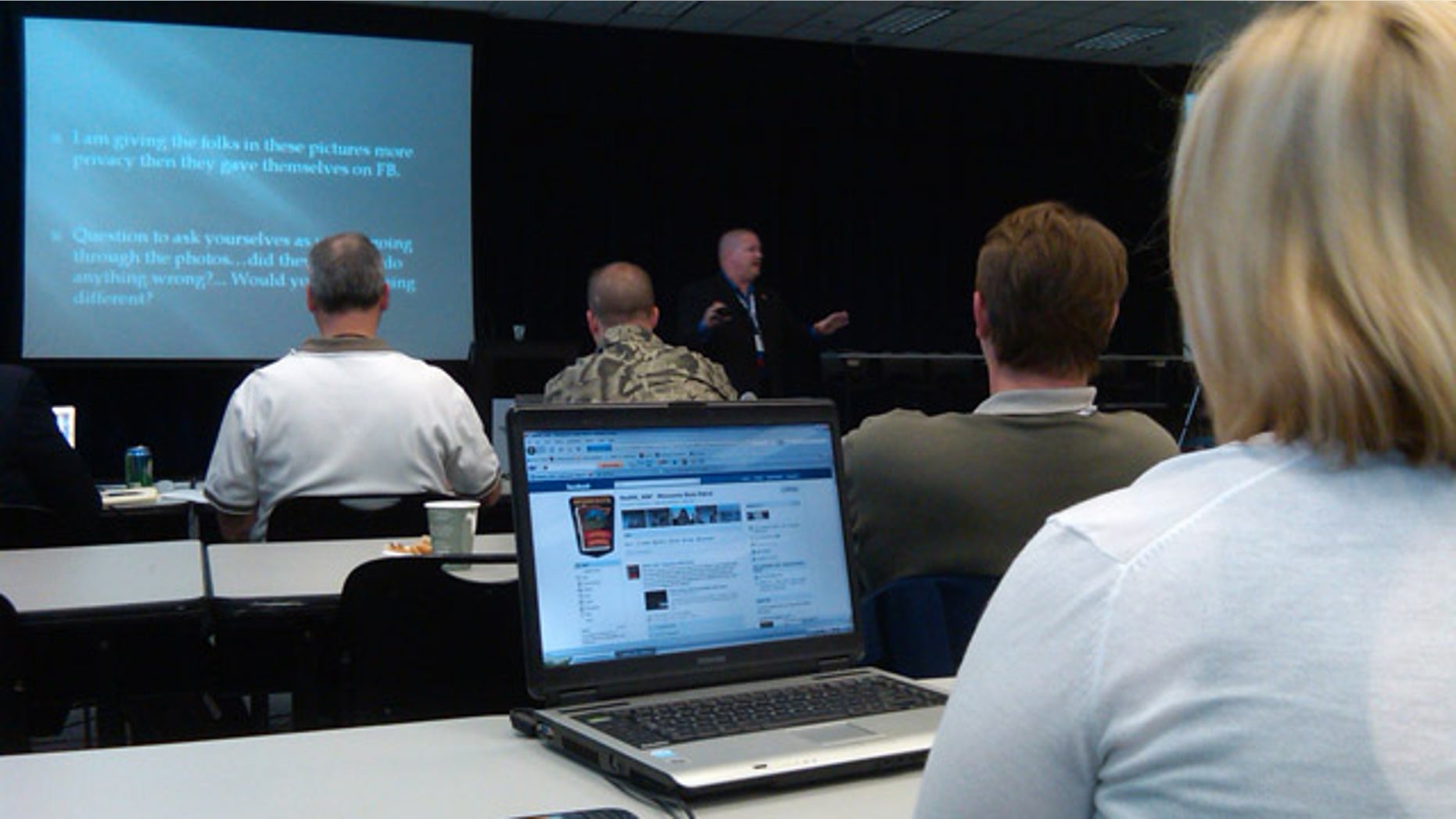 In the midst of what officials call an "appalling" and "alarming spike" in attacks on law enforcement around the country, officials are warning the success of sites such as Facebook and Twitter has made police even more vulnerable.
While police have for some time used social networking sites to identify and investigate suspected criminals, now criminals are using such sites to identify and investigate law enforcement officers, including undercover police. In addition, hostage-takers and suspects who barricade themselves in buildings are monitoring social media to track police movements in real time, and gang members are launching their own surveillance operations targeting police.
Social media "will be used against you," Lauri Stevens -- organizer of this week's Social Media, Internet and Law Enforcement conference in Chicago -- promised police officials who have gathered from across the country and overseas to swap ideas over harnessing the changing media environment and protecting against its dangers.
After police first discovered a DVD inside a suspect's car in October, Phoenix authorities issued a "security alert," telling law enforcement officials that officers were being "targeted" on Facebook and that posting photographs and other personal information on social media "may create serious officer safety consequences."
It also may create serious safety consequences for the friends and family, including young children, of officers who appear in many of the photos on DVDs recovered by authorities, conference attendees were told Tuesday.
"They have brought those dangers right to their families," said Phoenix detective CJ Wren, noting that when officers create Facebook or Twitter accounts they need to realize, "It's my life, it's my family's life."
"Social networking is supposed to be fun ... but you've got to take that extra step now when you are in this business," he told law enforcement officers. "You can have your Facebook locked down as tight as you possible can, but if your friend's not doing it, you're compromised."
As for the DVDs, Phoenix police still don't have a full handle on who produced them or how many were distributed, Wren said. The investigation continues.
Meanwhile, an official from the Milwaukee, Wis., police department noted that some "criminal elements" now monitor social media while they're in the middle of holding a hostage or barricading themselves inside a building.
"It used to be that all you did was cut the power to the structure where the person was holed up and you didn't have to worry about it anymore," said Anne Schwartz, the Milwaukee police department's communications director. "But now, we're finding that people who are taking hostages, people that are barricaded, people that want to kill the police are looking at the Twitter sites, they're looking at Facebook ... because the media like to get on and talk about things as they are happening."
Schwartz cited the case of a December standoff on Interstate 94 in Wisconsin that lasted hours, as a gunman who allegedly stole an SUV refused to surrender. Local news outlets aired live video of armed police hiding behind a door and aired live video of snipers getting into what was supposed to be a secret position, according to Schwartz. All of that information can end up on social media almost instantaneously.
"The element of surprise is everything, and social media is taking away the element of surprise that we need to keep people safe when we have tactical situations," Schwartz said.
Officials also mentioned other ways social media can hurt law enforcement personnel. A gang expert from Albany, N.Y., said gangs in his area are actively conducting "surveillance" operations on police using their mobile devices, and many officials noted that sites like Facebook and Twitter can turn private videos into "viral" sensations.
Nick Selby, a Dallas-area police officer and information security analyst, reflected the threat this way: "I work in Texas. I assume everybody has a gun, [and] I assume everybody has some kind of personal recording device on them."
Wren, the Phoenix detective, worried that such videos add public-perception pressures to police departments and their officers, who could end up being "just a little less effective" as a result.
"When you start worrying about what the perception is, you may second guess that extra second, and that could be an officer safety issue," Wren said.
Despite all the concerns over officer safety, though, organizers of the Chicago conference -- dubbed the "SMILE conference" -- urged law enforcement officers to look at social media more as a tool than a threat.
"It isn't all roses, but hopefully you'll become convinced that the good outweighs the potential negative," Stevens told the police officials in attendance. "It's a huge force multiplier, especially in these economic times where you're losing officers or you're not replacing them as they quit. ... This is a way to make yourselves bigger."
Throughout the conference, officers shared stories of how using social media benefited their departments.
Billy Grogan, the chief of police in Dunwoody, Ga., outside Atlanta, often posts messages and information to his department's Twitter and Facebook accounts. He said doing that helps gain community trust by establishing daily interactions with the public and by reflecting a policy of transparency. He said using social media also keeps the public informed about events unfolding in their community, and it offers a way to "debunk" myths or rumors and promote "feel good type stories."
Other officials cited similar benefits, and Schwartz, the Milwaukee communications director, called social media a "vital part" of her "toolkit."
Judging from the SMILE conference, departments in the United Kingdom are at the forefront of using social media to benefit community policing.
As an example of the benefits, Phil Knox, an inspector with the Northern Ireland Police, said that after his department reported on Facebook that police would be on patrol during a federal holiday, a woman posted a thank-you online. In her post, the woman said that "seeing you about" gave her "peace of mind." But, Knox noted, the woman hadn't actually seen any police. Instead, there was a "perceived visibility" based on what was posted on social media, he said.
Still, a top police official from Scotland, Gordon Scobbie, said concerns raised for police at the conference were "a really, really good wake up call," and he would be taking those warnings back to the United Kingdom with him.
In the United States, many police departments are now contemplating what policies they should -- and legally can -- put into place when it comes to officers' use of social media.