Nuance Unveils Next-Generation Swype Keyboard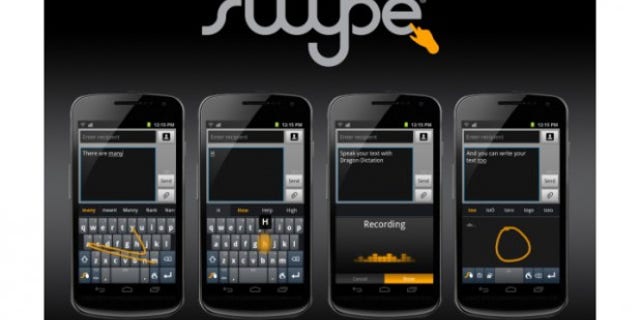 Top voice recognition company Nuance just popped the latest version of Swype months after it took the alternative Android keyboard under its wing. Touted as a "living keyboard," the next-generation Swype now combines both touch and voice input with new capabilities to learn a user's preferences over time. So is it any good? Yes. At the end of the day, Swype has always been the Android keyboard you just had to get on your smartphone -- and its Nuance makeover just made it that much better.
The new Swype is now truly multi-modal. There are three different methods of input to choose from: dictation, handwriting and regular typing. If you're a veteran user of the alternative Android keyboard, the first improvement you'll probably notice is the addition of a next-word prediction bar right above Swype's QWERTY keys. This new feature from Nuance adds a quick list of word suggestions which guesses (often correctly!) the expression you would use next, based on your earlier messaging habits. This also means that the more you use your Swype keyboard, the smarter it gets.
Handwriting lets you draw figures on your Swype keyboard free-hand, and the matching letters appear on your screen thereafter.
Of course, dictation is now on board as well, since this is Nuance's particular area of expertise. Unfortunately, you'll only be able to take advantage of this feature if you have network access. (Nuance processes your spoken words in the cloud and beams a written translation back down to your phone.)
Another cool new feature is the ability to add words to your dictionary -- including spoken words. You can simply tap out an obscure word on Swype, like a friend's uncommon last name, and tap on it as it appears on the prediction bar (in yellow text). This adds the word to your dictionary, both in written and spoken form -- so later on, when you say your friend's last name, Swype can recognize the dictated word and pull it down from the cloud.
For the benefit of the multilingual, Swype is also adding up to 50 additional language packs available for download.
If the abovementioned features have sufficiently piqued your interest, you can grab a beta copy of the new Swype from http://beta.swype.com.